Manchester City final season ratings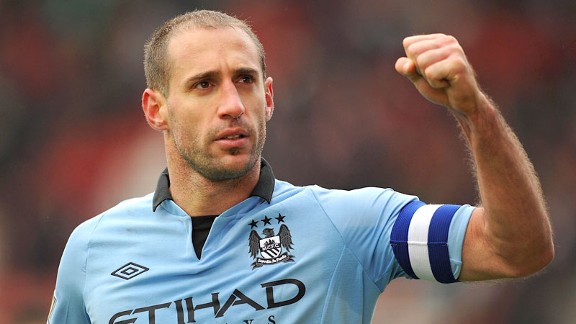 Chris Brunskill/Getty ImagesIn what was a rollercoaster season for Manchester City, Pablo Zabaleta's steady excellence ranked highest.
Pablo Zabaleta: 8.5

Deservedly given a place in the PFA team of the season, even his red card in the FA Cup final should not take the sheen off a superb season. Zabaleta's wholehearted efforts brought him the vice-captaincy and, during Vincent Kompany's absence, there were times he led by example: the equaliser in December's Manchester derby and the late winner in the FA Cup tie at Stoke, for example. Energetic and excellent, the one criticism is that he shouldn't go to ground so often when tackling.

Matija Nastasic: 8

While City's mistakes in the transfer market cost them dearly, this particular cloud certainly had a silver lining. A teenager when signed, Nastasic nevertheless slotted into the centre of their defence with precocious assurance. He quickly became an automatic choice and was a major reason why they boast the best defensive record in the Premier League.

James Milner: 7.5

The sort of player managers like, especially those as interested in tactics as Roberto Mancini, but Milner's talents ought to bring a wider appreciation. In a season when others underperformed, he simply performed, often in the major matches. Milner scored in victories at the Emirates Stadium and Old Trafford. He was arguably the best player on the pitch in the latter, just as he was in home win against Chelsea. Perhaps, if the sacked Mancini had his time again, he would have selected Milner from the start in the FA Cup final.

Gareth Barry: 7

Perhaps his best year in a City shirt. Besides seeing off the challenge from Javi Garcia for his place, Barry ranked among Mancini's most reliable performers, albeit in his own quiet way. Indeed, perhaps the abiding memories come from the rare times he was both conspicuous and culpable: a volleyed own goal in the Capital One Cup defeat to Aston Villa and a still stranger side-foot into his own net at Southampton. Deserves a new contract.

MORE:
Jolly: Man United ratings
Whalley: Everton ratings
Jolly: Liverpool ratings
Delaney: Chelsea ratings
Brewin: Arsenal ratings
Palmer: Tottenham ratings

Carlos Tevez: 7

Scored in fits and spurts but his efforts were unstinting and he was consistently the best of the strikers. The concern may be that he seems to have lost a little of the sharpness that characterised him at his peak. While it hardly matters any more, his relationship with Mancini was repaired after their falling out last season, and the only trouble he caused was by getting arrested for motoring offences.

Yaya Toure: 7

There were times were Toure was a colossus, over-running and overpowering opponents as he did against Chelsea in both the Premier League and the FA Cup. At others, however, he failed to reach the heights he did last year, and as perhaps the best all-round central midfielder in the country he is judged on the basis of the standards he set then. He was poor in the FA Cup final and his Champions League form veered from superb -- away at Real Madrid -- to underwhelming, but nine goals is a fine return and many of them came against elite opposition.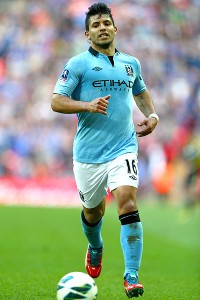 Clive Rose/Getty ImagesAlthough he scored some brilliant goals, Sergio Aguero's season tally dropped from last year.
Sergio Aguero: 6.5

A great goalscorer in his first season in Manchester, Aguero became a scorer of great goals in his second. Two -- against Liverpool and Manchester United -- were sensational but his overall tally is underwhelming. The tone for an injury-hit year was set when he was hurt moments into the game's opening campaign against Southampton and he never recaptured the momentum he had last year.

Gael Clichy: 6.5

Until he was tormented and traumatised by Callum McManaman in the FA Cup final, Clichy had quietly been one of City's most consistent players. He cemented his status as the preferred left-back and, while it came as a surprise to be asked to play as the left-sided central defender in a back three, he adapted reasonably well.

Vincent Kompany: 6.5

The captain struggled for form at the start of the season, when City could not keep clean sheets, and spent two months of 2013 on the sidelines with a calf injury. There is no doubt he was sorely missed in the defeats at St Mary's and Goodison Park. But while there were some performances to illustrate why he had been the outstanding defender in England last season, the senior partner in the heart of the defence could look at his young sidekick, Nastasic, and learn from the quiet simplicity in the Serb's game.

David Silva: 6.5

A fine season by others' standards but arguably the worst of Silva's three years in Manchester. While he made major contributions to the home wins against Tottenham and Chelsea and the victory at Old Trafford, he scored and created fewer goals than last season. Perhaps Samir Nasri's loss of form did not help, robbing Silva of an ally an increasing the responsibility on him. Nevertheless, his new contract represented good news for City.

Kolo Toure: 6.5

Will head for the exit when his contract expires in the summer, but Toure should at least be able to go with his head held high. He proved a capable deputy for Kompany when the captain was sidelined for two months. City's title challenge lasted as long as it did because of the quiet dependability a core of solid characters provided and, although he was essentially a reserve, Toure belongs in that category.

Edin Dzeko: 6

Fourteen goals from 16 league starts is a remarkable return and yet it is evident why Dzeko does not get more opportunities. Often at his most effective as a substitute, he had a golden run of scoring cameos in September and October. Yet the longer the season went on, the less Dzeko contributed, partly because he can be strangely ponderous when he does start games. His future surely lies elsewhere.

Costel Pantilimon: 6

Perhaps his admission that he plans to leave in the summer cost him a place in the FA Cup final. With a terrific semi-final save from Juan Mata, the Romanian helped them get there and only conceded one goal in five games in the competition. Did not always look the most secure but did not let City down either.

Joe Hart: 5.5

Produced arguably the game of his life in October's 1-1 draw with Borussia Dortmund, yet while Hart was one of the few to impress in the Champions League, he represented one of City's weak links in the Premier League. The errors to gift Sunderland, Southampton and West Ham goals were shocking for a player of his calibre. Whereas great goalkeepers win their teams points in a season, the reality is that Hart cost City too many.

Aleksandar Kolarov: 5

Briefly, it seemed Kolarov would be the man who got City's winning goal against Real Madrid at the Bernabeu. It wasn't to be, of course, but it came in a run of early-season games where, as wing-back, winger or substitute, he appeared potent. Yet over the year as whole, he regressed and his defending -- especially in the 2-0 defeat at Everton -- made it hard for Mancini to trust him. Against West Brom, City changed system just because Kolarov was struggling so much at left-back.

Javi Garcia: 5

At least he started well. Garcia made a goal-scoring debut at Stoke and acquitted himself well at the Bernabeu three days later. However, the initial impression proved misleading as the Spaniard's standards dropped. In one respect, the low point came in the away game at Wigan where, while City won, he was awful. He was also a common denominator in the worst league performances. It was no coincidence.

Joleon Lescott: 5

A year in which he went from England's outstanding centre-back at Euro 2012 to a man on the margins of the City team. Lescott's fortunes have declined swiftly and not merely because of Nastasic's fine form. Mancini was reluctant to field the former Evertonian in a back three and was scathing of his failure to jump when Niklas Moisander headed in Ajax's second goal in Amsterdam. After an awful start to the season, Lescott fared better in the second half but he is very much an understudy now.

Maicon: 5

Even accounting for their shared history at Inter and Mancini's wish to experiment with a back three, Maicon was one of the strangest signings of the season, joining a club who already had two of the best right-backs in England anyway. It was a reason why his opportunities were always going to be limited. Injuries have provided another and while his performances have not been as poor as some expected -- indeed his introduction helped change November's home game against Tottenham -- he has nevertheless achieved little.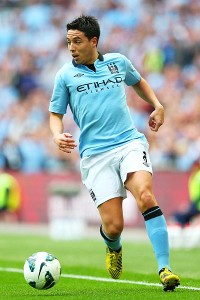 Alex Livesey/Getty ImagesNo player underachieved more at City this season than Samir Nasri.
Samir Nasri: 5

Outstanding in August and April, it is just a shame about the other months. Nasri represents the greatest underachiever at the Etihad Stadium, brilliant at best -- which also included his December cameo against Newcastle -- but infuriating all too often. It is a damning indictment that he went eight months without a league goal -- if, that is, you exclude his most telling contribution of the season, deflecting in Robin van Persie's derby winner. Mancini said afterwards that City had "two-and-a-half" men in the wall. Everyone knew who the half-hearted one was.

Jack Rodwell: 4.5

In two games, at least, there were signs of the considerable potential Rodwell possesses. He scored twice on the final-day defeat to Norwich and he was excellent in the 2-0 home win against Chelsea. And in the match after that, predictably enough, his persistent hamstring problems forced his withdrawal. Injuries have wrecked another season but even when fit, the £12 million signing has endured difficulties: both Southampton and Borussia Dortmund scored from his misplaced passes.

Micah Richards: 4.5

If last season was the finest of his career, this must have been the most frustrating. Two lengthy injuries have meant Richards has spent longer on the treatment table than the pitch and when he made his comeback after five months out, against Wigan in April, Mancini was openly critical of his performance. The manager also rebuked the right-back for complaining about his policy of playing a back three following the shambolic defeat away at Ajax.

Mario Balotelli: 4

A revelation for AC Milan since his January return to Italy but a grave disappointment for City. In his previous two seasons in Manchester, Balotelli's bizarre behaviour was at least married with key contributions. Not this time around and he scored a solitary league goal before condemning City to a quieter life by heading home.

Scott Sinclair: 3

From Steve Daley to Roque Santa Cruz, City have a long and inglorious record of wasting money in the transfer market. Sinclair is the latest addition to an ignominious list of misfits. The deadline-day acquisition was granted two league starts in September before Mancini quickly decided he didn't rate the winger. Since then, he has played 69 minutes of league football in seven-and-a-half months. Nor, indeed, did he get into the side for cup games either.