Laudrup matches Moyes in defensive stand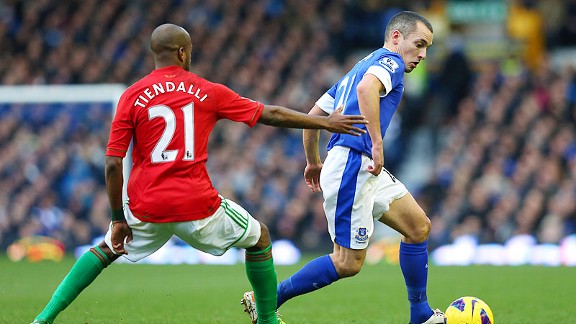 Alex Livesey/Getty ImagesMichael Laudrup's decision to reposition Dwight Tiendalli, left, helped Swansea's defence shut down Leon Osman and Everton
For the second game in a row, Michael Laudrup's Swans parked the bus and came away from a tricky fixture with a result Saturday. The Swans new-found ability to defend en masse and probe for counter-attacking opportunities represents a valuable development in the side's tactical arsenal. This time round, Laudrup managed to match David Moyes' tactical manoeuvring to preserve a 0-0 scoreline and earn a point.

- O'Farrell: Stubborn Swans Stifle Everton

The Swans have always been a good counter-attacking side at the Premier League level, but seem to have found a new ultra-defensive mode which Laudrup has been keen to employ in the right situation. The right situation in this case was a tough away game in the middle of a congested schedule against an opponent that expects to do well against Swansea.

Laudrup's team sheet suggested the Dane had thought long and hard about this game. How to rotate his tiring squad, and get a result against Moyes, who has owned the Swans since the side's ascension to the Premier League.

The first shock was seeing winger Nathan Dyer in the lone striker slot. No recall for free-scoring Danny Graham (later featured as a sub), and Michu back in his favoured spot behind the striker (with Vicente Del Bosque in the stands to watch, no less. Chico aside, Swansea's Spaniards won't thank him for picking this particular game to come and kick the tyres). Right back Angel Rangel got his first start as an out-and-out winger under Laudrup after playing the position a couple of times recently following late-game tactical reshuffles and substitutions.

The employment of Dyer as the forward made sense; the winger's breakaway pace - he is arguably Swansea's quickest player - makes him an ideal choice as a lone outlet for long clearances and chance counter-attacks in such a game. Playing Rangel in a forward position meant fellow right-back Dwight Tiendalli could start behind, giving the Swans two strong defensive players on Everton's dangerous side. Having kept Leighton Baines and Steven Pienaar off the score sheet (along with every other Everton player) it looks like the inspired tactic was a success.

One of Moyes' favoured ways of dealing with the Swans last season was to focus most of the pressure on conduit Leon Britton. Laudrup removed that option by not playing Britton in either of the matches against Everton this season. Although various other factors conspired to spoil the Swans' day last time out, Kemy Agustien and Ki Sung-Yueng started Saturday as the deep midfielders; their added height and physical presence went some way towards containing Marouane Fellaini, as did another superb performance from Chico in defence.

Everton still had their chances, and such is Baines' quality that even facing extra defensive cover on his flank, he managed to generate opportunities, although several were from set-pieces. Michel Vorm held in goal, and - as in their last match against Chelsea, where Swansea employed similarly defensive tactics - it was surprising how Everton failed to convert any of close to 20 chances.

Two clean sheets in a row now for this defensively-astute Swansea side. You might say that to get through one game having given up most of the possession and more than a dozen shots against is riding your luck. Doing it two games in a row starts to suggest the Swans must be doing something right. It's amazing how many good attacking teams have an off-day when they play the Swans. Coincidence?

Final thoughts:

Positives; Another impressive defensive stand. Three good results and two clean sheets in one tough week.

Negatives: None, unless the Swans forget how to play that nice attacking football we used to see when they play slightly easier teams.