Wolf In Cat's clothing spoils Swans perfect start
Michael Laudrup and the Swans perfect winning start might be over, but their perfect unbeaten start continues. However, the Swans did suffer one significant loss on Saturday - that of Neil Taylor, who faces the rest of the season on the sidelines.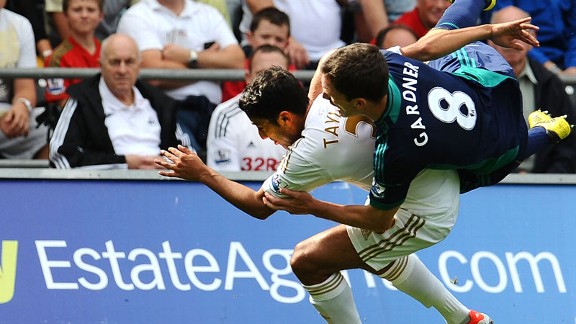 Left back Taylor fell awkwardly whilst apparently fouling Craig Gardner, taking the full weight of the Sunderland man on his ankle in the process. It was a freak injury, though perhaps not quite as freaky
as Alan Tate's similarly debilitating golf buggy accident from a year ago. It's a good thing Tate is healthy this season, as he might be one of the men expected to cover for Taylor, having played the position fairly frequently in the past.

Opportunity knocks strongest for youngster Ben Davies, Taylor's de facto understudy. Davies looked good in relief of Taylor on Saturday and will now be presented with a gilt edged (if not guilt edged) opportunity to do some fast learning at the Premier League level. Team mate Jazz Richards, now nominally a right back, can also play left should Davies falter, and there is also the afore mentioned Tate, though his lack of pace might reduce the Swans resident utility player to centre half cover only.

Regardless of how well Davies acclimatises to his new role, it seems inevitable that Laudrup will now look to bring in another left back in the January window. I would expect a loan deal until the end of the season rather than anything more permanent.

As for the game itself, Sunderland continued to assert themselves as a potential new bogey team for the Swans, who were unable to beat the Black Cats last season. Ash Williams, in an unexpected show of empathy for ex-boss Brendan Rodgers' current plight, did his best Martin Skrtel impression to give Steven Fletcher a chance to justify his price tag. The Swans defence was sloppy also on Fletcher's second goal, Chico more concerned with claiming offside than containing Fletcher despite having position on the striker.

Chico's day got worse when he received a red card for what can only be described as a flamboyant attempt to corral a high ball. Although his boot didn't make contact with Louis Saha's head, the Frenchman sold the ref on red over yellow, which would have been more appropriate in retrospect.

There was controversy elsewhere, too. The Swans were denied two penalty shouts, the second of which would have been harsh (a point blank handball) but the first of which was clear cut; Craig Gardner tripping Wayne Routledge without getting anywhere near the ball.

Routledge himself had a great game. His finish on the Swans first was top class, but equally as good was the dinked through ball from Nathan Dyer to set up the chance. The Swans play through the middle under Laudrup has been spectacular this season, both wide men joining Michu, Graham and a surging de Guzman to overload the centre of the park, threading sublime passes through bewildered defences.

In another example of penetration par excellence, de Guzman's perfect lofted pass allowed Michu to equalise with his fourth goal in three games, this time with his head, a welcome late arrival from a player who had been curiously quiet throughout most of the match.

If not for two defensive lapses, the Swans ought to have won this game, even with ten men. With all due respect to Sunderland, who battled hard in the first half, they were the second best side in the second half only by virtue of the number of teams on the field. Still, a Premier League side cannot give up easy chances at the back the way Swansea did and expect to take three points.

There is still some work to be done defensively and next week's tilt against Paul Lambert's misfiring Aston Villa ought to provide a markedly different challenge than last season's battles against McLeish's kick'n'rush hoodlums. Villa have yet to win a league game and have only scored twice in three league matches so far this season. It sounds like easy street for the Swans defence who need to regain their composure, but could just as easily be a trap for the same reason.

What's more, with a suspended Chico, Kyle Bartley is likely to see his first Premier League action. That change, along with the probable first full league start of youngster Ben Davies, should give the Swans defence two good reasons for extra vigilance, and the additional focus at the back ought to result in a better defensive display next time.

Positives : Strong showing in the face of adversity. Still undefeated.
Ben Davies solid in relief.

Negatives : Poor set piece defending. Williams' rare lapse. Taylor's injury.