Timid offense, lack of defensive focus hurt Swans
It wouldn't be an exaggeration to say that Swansea City outplayed Southampton on Sunday in the Swans' 2-0 away loss. After a disjointed start and Southampton's early goal, the Swans enjoyed superior possession (58 percent to 42), better pass success (84-76) and more shots (17-14, seven on target to four), and yet still lost. So what went wrong?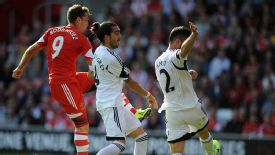 AssociatedSouthampton's Jay Rodriguez scores against Swansea.
Despite playing well as a team, Swansea still make too many individual errors, especially defensively. This time around, it was Ben Davies culpable for Adam Lallana's first (Davies did not track Lallana's run), while both Jordi Amat and Chico Flores were responsible for the second, somehow conspiring to allow Jay Rodriguez to beat them both to the ball and get off an accurate shot.

The Swans probably miss Ash Williams at the back, though that's not to excuse Amat for his part in the farce; that ball should have been easily dealt with by one of the two centre backs. Davies, meanwhile, despite making obvious improvements in his attacking game, needs to pay due diligence to his defensive duties; the Swans still give up twice as many shots from Davies' left flank as they do from Rangel's right (24 percent to 11, the rest coming centrally).

If individual errors can explain why Southampton were allowed to score two goals from four shots on target, it doesn't explain why the Swans weren't able to convert on their seven accurate shots. Artur Boruc might have put in a Man-Of-The-Match performance in the Saints/ goal, but that's at best an unsatisfying excuse.

-Michu gets Spain callup

Once again, Michael Laudrup concentrated on the aerial approach. For once, the Swans crosses found their mark, partly due to Nathan Dyer's superb performance against his old club. Nine of Swansea's 29 crosses were successful, with Wilfried Bony and Michu forcing saves from headers. You might question the wisdom of supplying aerial balls to a man with seven fresh stitches in his head, but for once the strategy at least yielded chances, if not goals.

It was a good thing the aerial approach did work, because yet again the Swans' lack of ground penetration in the final third was problematic. Crosses aside, Swansea completed 418 passes but only four arrived in the opposing 18-yard box. The following graphic courtesy StatsZone perhaps best demonstrates Swansea's lack of meaningful cut and thrust:




If there was any mystery to why Swansea never get penalties, this graphic might explain it. Swansea's passing pattern is similar in nearly every game. It's a problem compounded by the team's reputation. Opponents expect Swansea to dominate possession and to pass short and often, so they arrange their defence appropriately -- to force the Swans to play along the periphery, which generally doesn't produce goals.

When Swansea attempt to break through with one-two passes and one-touch football, they too often try to force the play, attempting eye-of-the-needle passes which just aren't on and consequently give away possession.

Perhaps Laudrup himself might have been able to make those passes, but then there's a reason he'll be remembered as perhaps the best pure passer to ever lace a pair of boots. His players might do better to heed the old NFL adage to "take what the defence gives you."

On Sunday, Wayne Routledge in particular struggled to impose himself, every flash of inspiration almost instantly negated by a reckless turnover. Routledge was one of Swansea's best and least-heralded performers last season, but he's struggled so far this time around. Perhaps Roland Lamah, who is trying to play for a permanent transfer after all, might have provided Routledge a game off while we wait for Pablo Hernandez to recover from injury.

On paper, Swansea are doing almost everything right. In practice, if the results aren't coming, then questions have to be asked. I would hate to have to win games in the manner Southampton did on Sunday; off the back of 20 minutes of decent football and a keeper who ate all his Weetabix. But as sexy as style is, there also has to be substance.

Swansea can afford to be braver. To run at men more often, to stretch the field a little more, to coax the opposition out of their bunker and open up lanes for effective passes. At the moment, the Swans' attacking play is too compressed and too easily defended, whilst a leaky defence which can't keep individual errors under control presents an invitation for opportunistic teams to take advantage.

After the international break, the Swans' league schedule gets easier; they won't face a big-six side until December. These next games are winnable fixtures -- as was Sunday's -- but Laudrup and Co. will have to figure out how to make the necessary adjustments to turn all this strong play on paper into points.