Swans dipping further into Spanish pool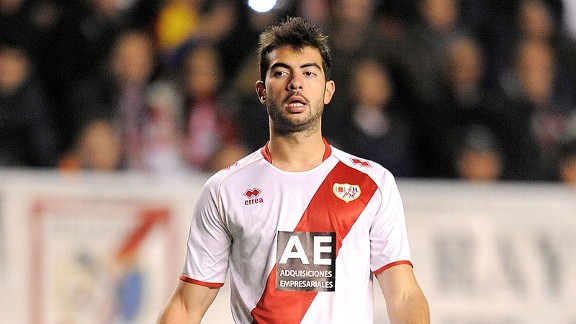 Denis Doyle/Getty ImagesRumored new Swansea arrival Jordi Amat spent last season on-loan at Rayo Vallecano from Espanyol.
With French football's forgotten man Laurent Blanc now filling the formerly vacant manager's chair at Paris Saint-Germain, those fatuous rumours of Michael Laudrup leaving the Liberty have suddenly disappeared. In their place we have eagerly, if not particularly long-awaited news of Swansea transfer activity.

There are four or five mooted transfers in the potential pipeline. Here are the main players in the story so far:

Alejandro Pozuelo

A former Betis teammate of new Swan Jose Canas, Pozuelo is an attacking midfielder who can play as striker. He's small, sly and technically gifted, three attributes which seem to be essential criteria for Swansea forwards these days. He's also young at 21, which means his best footballing years are (hopefully) still ahead of him.

Pozuelo is not an obvious answer to the Swans' goal-scoring question, and will join a glut of talent at attacking mid, which means he'll likely round out the squad rather than jump into the first team. The usual caveat about smaller foreign players struggling to cope with the physicality of the Premier League apply, but Pablo made the adjustment and Pozuelo will have no shortage of countrymen for moral support. I imagine he'll be especially useful in the Europa League, and might see more playing time if Jonathan de Guzman doesn't return.

Likelihood of a deal: 9.5/10. Many sources are already reporting this as a done deal. The Swans will pay Betis a small amount of compensation (said to be £425,000) and Pozuelo will join Swansea as a free agent.

Jordi Amat

Another Spaniard and a central defender, although not a tall one, which doesn't really address the Swans' team weakness to high balls. No matter -- according to YouTube he can shoot better than half the Swans strikers from last season, and assuming his defending is even better than his attacking, he should be pretty good.

Amat would be the seventh Spanish player on the Swans squad if both he and Pozuelo join, which is una gran cantidad de Españoles in any language. Not that I'm complaining -- these guys can play a bit of football. Amat will provide both depth and competition in the Swans central defence, something which was lacking more or less all of last season, and he'll do it regardless of if Ash Williams is sold to Arsenal, Liverpool, Napoli, the Harlem Globetrotters or Timbuctoo.

Likelihood of a deal: 7/10. It makes sense given the Swans positional needs, and Laudrup's exploitation of the Spanish market is fast becoming the template for all else to follow (see: Rodgers, Brendan).

Bafetimbi Gomis

Not a Spaniard. Instead, a powerful French international striker with all the right attributes to thrive in Laudrup's single-striker system. He's not dissimilar to Romelu Lukaku, who the Swans had hoped to secure on a season-long loan before Jose Mourinho realised he might actually be a bit better than Fernando Torres or Demba Ba.

Gomis would become the Swans' new record signing if a deal does go through -- he's rumoured to be worth eight million pounds. Obviously, that represents a small risk, but Gomis has been banging goals in for Lyon in the French top flight and at 27 years old might just be in his prime. He has other suitors of course, most notably filthy-rich Monaco, and apparently Gomis has stated his desire to stay in the French Ligue 1 to increase his chance of international selection.

However, Monaco just bought Radamel Falcao, arguably the world's best striker, so it's possible Gomis might only ever look comfortably second best in comparison. The Colombian isn't competition for a place on the French squad of course, but how brightly can Gomis expect to shine next to the perpetual phosphorescence of Falcao? In Swansea, Gomis would be the main man without a doubt, and starting almost every game in the Premier League can't hurt his chances of international selection either.

Likelihood of a deal: 5/10. Still some way to go with this one, and the numbers involved will take careful management to fit Gomis into the Swans' transfer strategy. The list of other potential strikers doing the rounds -- Dieumerci Mbokani, Michy Batshuayi and Arouna Kone, for example -- suggest Laudrup is keeping his options wide open. He knows that a starting striker will be his most expensive purchase this summer, and that the Swans can only afford one big splash, so it's important he settles on the right man.