Relegation fodder could fit the bill at Swansea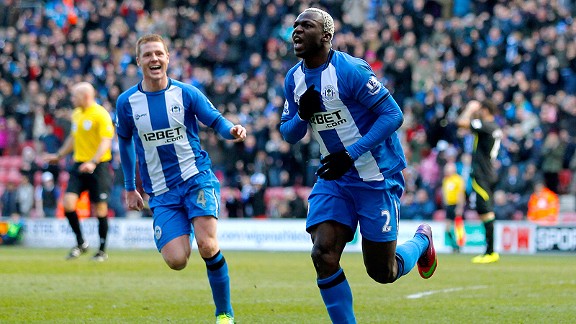 Paul Thomas/Getty ImagesWigan forward Arouna Kone would be good signing for Swansea
Although Swansea certainly didn't help Wigan's case for staying up by beating them 3-2 a week or so ago, it wasn't until Arsenal also beat the strugglers 4-1 that Wigan were officially relegated. With the three relegated sides now confirmed, the remaining Premier League sides - and those due to come up from the Championship - can start to pick the carcasses clean.

Here are a handful of players from the relegated sides who might make nice additions to the Swansea squad. Needless to say, Michael Laudrup will probably limit his summer shopping to the foreign market, where better value can be found, and in the case of QPR, the players' wages probably prohibit any move to a club like Swansea.

- I'm staying with Swans, says Michu

So, in the spirit of hypothetical fun only, here's who Swansea would do well to pick up:

Arouna Kone
The Ivorian striker has been an inspired signing for Wigan. Eleven goals in 32 games represents a healthy 0.3 goals-per-game scoring clip, and the striker's pace, movement, technical ability and hold-up play are all qualities a lone-striker needs. Apparently, Kone was attracted to Wigan due to the side's passing style. On those grounds, he'd love to come to Swansea, too.

Kone is not especially strong in the air, but that's just another thing he'd have in common with the rest of the Swans (Michu excepted). Plus, he's another in a recent line of attacking players (Clint Dempsey, Steve Morison, Asamoah Gyan) to wear an unusually low jersey number (2). I like that style.

Callum McManaman
Wigan's McManaman survived a brief stint as Premier League dirtbag following that awful tackle on Newcastle's Massadio Haidara to become a potential new England call-up after his winger masterclass in the FA Cup Final.

McManaman combines classic winger's speed and dribbling skill with excellent technique, and whilst not really a scoring winger, his ability to beat his man in one-on-one situations is invaluable; it means he can be left isolated to dictate play down one flank, freeing up team-mates to create overloads through the centre, which in turn helps to compensate for the containable threat posed by a single striker.

Given Laudrup's preference for inverted wingers, it would also be interesting to see McManaman - a right winger - play on Swansea's left.

Antolin Alcaraz
Alcaraz has been a decent defender in a Wigan side with a woeful defence. He has height, which the Swansea back-four needs, and is comfortable passing the football, venturing forward and aiding the transition game. He's very much a Roberto Martinez type of player, which puts him in good shape to fit in with the Swans.

Alex McCarthy
If there were any truth to the rumours linking Swansea stopper Michel Vorm with a move away, then Reading's McCarthy would be an excellent replacement. He is young, but he has shown tremendous potential. Whilst he continues to develop, he could share the workload with the more than capable Gerhard Tremmel.

Junior Hoilett
Once the talk of the town prior to his move from Blackburn to Queens Park Rangers, Hoilett's star has faded slightly, but only because he's been swabbing the decks of a sinking ship all season.

QPR's 'star'-studded squad of overpaid misfits has underperformed to such an extent that almost their entire squad has been tarred with the same brush. A fire-sale to re-balance the roster ready for at least one season in the Championship seems likely, and the Swans could offer a lifeline to Hoilett in the meantime.

The winger might not have had the most productive season, but he would rediscover his game soon enough with the Swans, who could use his attacking flair.