Swansea fans puzzled by Michu exclusion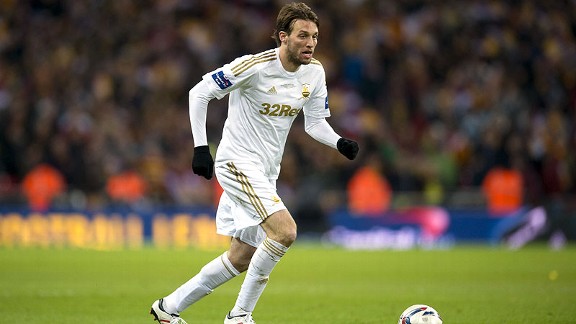 Adrian Dennis/AFP/Getty ImagesDespite ranking in the top ten for shots, goals, minutes per goal and chance conversion, Swansea striker Michu did not make the shortlist for Player of the Year.
In two strokes -- the first a bizarre act of cannibalistic brutality, and the second a quick-fire hat trick -- we might have seen the PFA Player Of The Year award slide from Luis Suarez's diabolical grip into Robin Van Persie's refined embrace.

I'd still elect Gareth Bale ahead of either, and not because I'm Welsh. Swansea's Michu, meanwhile, has to settle for inclusion on a rather different shortlist -- that of the great overlooked.

- Lambert hits out at Michu omission

While Everton's Leighton Baines might also feel slighted at having to sit out this particular dance, let's remind ourselves of the six man shortlist. There's Suarez, van Persie and Bale, as already mentioned. These three are joined by Chelsea's Eden Hazard and Juan Mata and Manchester United's Michael Carrick.

It might be nice if the PFA would restrict shortlist places to one player per team -- while Hazard and Mata have been terrific for Chelsea this season, does the team really need double the representation? Chelsea might insist on playing three number tens, but one would do nicely for this purpose.

Likewise Manchester United. In a season where Wayne Rooney has been continually linked with moves away, his continuing statistical dominance reminds us that maybe he's been taken for granted a touch lately. So much so, his teammates van Persie and Carrick bested him for inclusion on the shortlist. No matter. Perhaps if United and Chelsea were allowed just one name on the list, there might have been room for Michu and Baines. Or Santi Cazorla, or Romelu Lukaku even.

The criteria for winning the award is not based on statistics, but that doesn't mean we can't use them to shed some light on the validity of the shortlisted candidates. Beauty might be in the eye of the beholder, but if we really could state definitively that girl A or boy B was only a seven out of 10 and not, as our best mate had us believe, an eight, then things would be much simpler, and football's already a pretty simple game.

Of course, amid all this talk of simplicity the first complication is recognising that not all these players play the same position, and strikers are always easier to quantify than other players. Anyone can look at the top ten leading scorers and figure out who deserves a raise. In terms of goals scored, our strikers -- van Persie and Suarez -- are at least the best so far with 24 and 23, respectively. Bale's 18 is good for third but Michu is right behind with 17.

Mata and Hazard are playmakers, and so ought to rank among the league's best chance creators. Actually, it is Baines who has created the most chances this season with 105. Mata places eighth on the list with 80, behind Suarez (fourth with 90). Hazard's 55 is only good enough for 16th -- behind the likes of James Morrison (56), Robert Snodgrass (60) and Rickie Lambert (73).

Let's look at passing. The Chelsea boys should show up here, too, as should Carrick. Carrick has certainly made a lot of passes, second only to Mikel Arteta (2548) with 2537. However, accurate passes are another thing. Arteta's 92.35% is second only to Swansea's Ki Sung-Yueng, who leads the league with 92.54%. Carrick is 19th with 88.14%, while Mata (40th / 85.32%) and Hazard (41st / 85.21%) are hardly worth mentioning.

You might expect Carrick at least to show up in the league's top tacklers, being the only defensively-minded player of the six. However, Carrick doesn't even rank in the top 50 tacklers (assuming at least 50 tackles attempted). Astonishingly, it is Aaron Ramsey who tops that chart, with 90.32% success on 61 tackles. Needless to say, none of the other shortlisted players made the top 50, either. Baines was 35th.

So what does Carrick do well? Possession. Carrick leads the league in the number of times he has won possession. 244 in all, a touch ahead of Morgan Schneiderlin and Steven N'Zonzi, who have 231 each. Arteta is fifth on the list, and seems to be making an increasingly strong case for inclusion on the shortlist himself. Of the other candidates, only Mata made the top 50 (25th/156).

Although Carrick seems to polarise opinion, it is probably easiest to say he is the kind of player who brings 'intangibles' to the football field, whose value to his team is hard to commodify. The same can be said for the Swans own Leon Britton -- impossible to understate his importance, and nearly as difficult to prove it statistically.

None of the six players make a cast iron case for inclusion based on stats alone. Michu ranks in the top ten for total shots, goals, minutes per goal and chance conversion, all accomplished without a big six supporting cast. His goals account for over 40% of Swansea's total. The PFA Player of the Year Award hasn't been won by a player from a non-big six side for 16 years. Make that 17.