Swans yet to unlock Ki's potential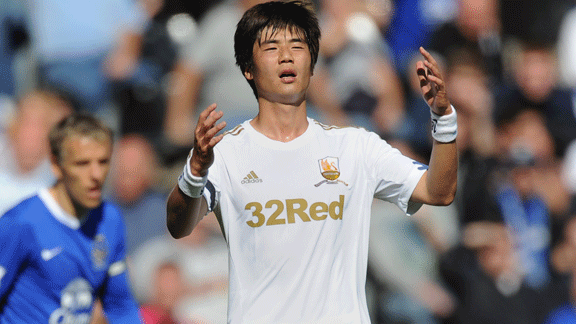 PA PhotosKi Sung-Yeung: A long-shot and long-pass specialist
One of the most obvious factors in the Swans loss to West Brom last weekend was the absence of midfielder Leon Britton. That isn't to say the Swans are secretly a one-man team. Swansea have won without Britton (the recent 4-1 victory over QPR, for example), but the little man in the middle is difficult to replace.

- Prem bosses honour Swans' duo

The Swans will seek extra midfield reinforcements over the summer, with Jose Canas rumoured to have already agreed a summer move in principle. Canas ought to help fulfil some of the thankless defensive duties which Britton has made his stock in trade and will shore up a Swans midfield which has seemed short of steel this season.

Of course, last summer's transfers brought midfielders Jonathan de Guzman and Ki Sung-Yueng to the Liberty. Both men are ostensibly attacking-minded players, but there is only room for one dedicated attacking midfielder in the Swans system. This has meant that whilst De Guzman has played both deep midfield and enjoyed many starts further forward, Ki has been asked to play the deep role almost exclusively.

The South Korean has a good eye for a through ball and exceptional long-pass ability, but the latter of these assets has been somewhat under-exploited in the Swans short-passing-biased system. With De Guzman earning an international call up off the back of his recent performances for Swansea and Britton already assured of legend status amongst the Swans faithful, it is Ki that has come under the microscope recently.

The midfielder's overtly casual body-language and lack of highlight-reel-worthy play (no goals or crunching tackles) has led some to cast doubt as to why Michael Laudrup saw fit to spend so much money on the player (£5.5 million from Celtic). I hoped that a skim through the stats would help to renew the Swans fans' appreciation of the player known as the 'South Korean Beckham'.

Since Ki has been asked to play in one of the two deep midfield positions in the Swans formation (usually next to Leon Britton), I thought it best to compare his performances with those of his counterpart.

This first chart compares the two players across a few key defensive categories: the number of 50-50 challenges each player is involved in per game both on the ground and in the air and the number of tackles and interceptions made.




So far, the players are fairly even. Ki, who has ten inches of height on Britton, understandably competes for more aerial balls, but Britton's superb foraging skills have given him a clear edge in interceptions. This is an important stat - an interception represents a change of possession in the Swans favour, and Britton's ability to put the Swans back in charge of the game is one of the things which makes him so valuable.




Our next chart expands on the previous one. Here we can see the percentage of 50-50 situations and tackles each player wins... and the figures are almost identical. Britton is the better tackler, which isn't a surprise to anyone who has watched the two side by side.

Also, it is interesting that whilst Ki competes for more aerial balls, he is no better at winning them than Britton. 35% success might be respectable for 5'5" Britton, but at 6'3", Ki has to do better.

Next, we'll look at pass distribution.




The figures are similar, and certainly betray the Swans preference for attacking down the right flank. However, Britton might have the edge - he plays fewer passes backwards and a greater number forwards, whilst Ki has an obvious preference for that least commendable of all football skills - the sideways pass.

Given Ki's aptitude for spectacular long-range balls along with his role in the Swans team as a holding midfielder and his strong defensive play, you could make a case that Ki could become the Swans' very own Michael Carrick. Whether that's a bad thing depends on how much you rate Carrick, but in my opinion, Ki is wasted played so deep.

The Swans paid over £5 million for a player who can do this. I would love to see him given a chance to do that a bit more often, but he needs to play further forward to do so. At the moment, the Swans are compromising by playing a talented passer and long-shot specialist where they need a physical ball-winner.

It's not hurting them too much, but I'm hoping Laudrup & Co can address that issue in the off-season (see: Canas, Jose). Ki presents a lot of untapped attacking potential for this side - he's been doing a passable impression of Leon Britton, but I'd love to see what he can really do.