The diving shame that mars a slick West Brom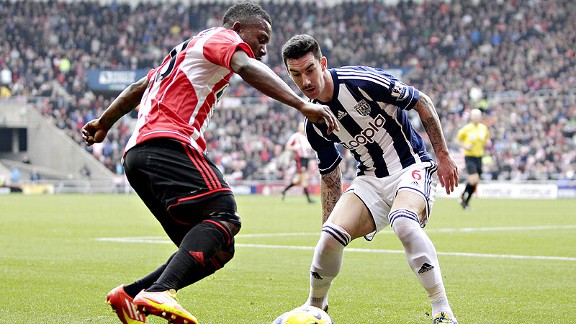 Graham Stuart/AFP/Getty ImagesWest Brom's Liam Ridgewell, right, in action versus Sunderland prior to the controversial penalty at the Stadium of Light.
To the question on which form of cheating in football is the most annoying, routinely put by Salut! Sunderland to opposing supporters in pre-match interviews, my young fellow contributor to ESPN's blog network, Matthew Evans replied: "Diving -- and in particular Luis Suarez. And I don't think it can be stamped out, unfortunately."

Too right, at least on diving and how tough it would be to eradicate it. But the ritualistic mention of Suarez, serial offender though he is, betrays just a hint of the lingering notion that cheating in general, and specifically diving, is a peculiarly foreign vice.

On Saturday, Matthew's team, West Bromwich Albion, were slicker than Sunderland, moving the ball much more quickly and purposefully and making far fewer sloppy, unforced errors. But chances cropped up at both ends and, while it is hard to argue while keeping a straight face that Sunderland deserved to win, it was a game that could, at key stages, have taken quite different turns.

What killed it stone-dead as a contest was Liam Ridgewell's dive.

Sunderland were back in the game. That was because a big deflection allowed Craig Gardner's free kick to make it 2-1, a lucky break if rather less so an uncharacteristic fumble by Simon Mignolet, hitherto a towering force in goal, that had earlier enabled WBA to double their lead.

As an equaliser looked possible, a smart Albion counter-attack took Ridgewell into the penalty box. He timed and executed his gesture with great aplomb, going over-so-sweetly that Mike Dean, possibly unsighted, was completed fooled. "Clever", and "well-worked", said the BBC commentator -- odd words indeed to describe the trick that had been performed but maybe he was unsighted too. Adam Johnson's tackle was no model of perfection but there was, as replays have shown, no contact before Ridgewell -- who had already launched into his dive -- pushed his legs into Johnson's, as if to make absolutely sure of the penalty.

Approaching 81 minutes, at 2-1, Sunderland had a chance. At 3-1, serious hope was all but destroyed. Stephane Sessengon did score six minutes later but even that was too late and, as red and white shirts pressed forward into stoppage time, the Baggies had space to race back upfield and snatch a fourth.

Perhaps even an absence of what is neither clever, nor well-worked but plain, nasty cheating would have made no difference to the outcome of an away win. We will never know.

I happen to like WBA and admire what they have achieved under successive managers and would not normally begrudge them a merited victory or their high place in the Premier League.

But there is something rotten at the heart of football and we saw an example of this at the Stadium of Light. It was not a dive of Eduardo (for Arsenal v Celtic), David Ngog (Liverpool v Birmingham) or Gary McAllister (Liverpool again, v Sunderland) proportions. Off the field, Ridgewell may well be a blameless soul, helping old ladies across busy roads and already rehearsing for Christmas carol singing in aid of charity. But he knows what he did at the Stadium of Light and why.

Where does it come from? An individual footballer's belief that all's fair provided you get away with it? Training ground instructions? Either way, the consequence may be worse than Ridgewell or his boss, Steve Clarke, suppose. I increasingly come across people whose passion for football at the highest level is being stripped away by the dishonesty that seems to have worked its way into the game's basics.

Before any Baggie develops a persecution complex, let me repeat that on the balance of play, West Brom deserved their win. It is sad for them, and for decency in football, that they should have ensured it in this fashion. And I would be no less horrified if Sunderland relied on questionable methods to establish an unassailable advantage. I was quick to criticise when Seb Larsson dived, and from outside the box, to win a penalty at Wolves a year ago (at least he was embarrassed enough to make a hash of the spot kick). I am against cheating, not just against cheating that adversely affects my club.

Like Matthew, my WBA interviewee, I can think of no easy answers. At 18, Matthew is studying journalism. I am sure he abhors, as I do having spent my life in the trade, the despicable things done by some in journalism's name and which Lord Justice Leveson has been investigating in such painstaking detail. Leveson's ideas on how to improve press standards will be known a few days from now. If only he could then be told to begin similar scrutiny of the sins of football.