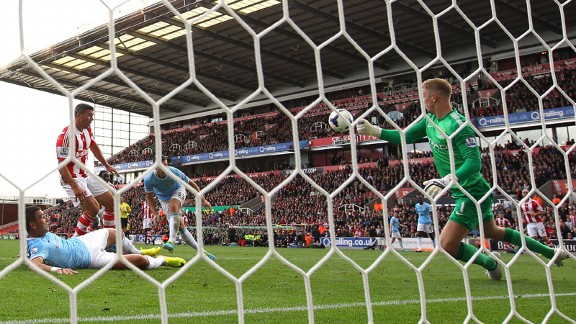 GettyImagesMan City needed Joe Hart to keep them in the game against Stoke.
The fact that Stoke were disappointed at only coming away with a point following the 0-0 stalemate with Manchester City at the Britannia Stadium is entirely indicative of the home side's domination and goal-scoring chances on the day. There was only one City on the pitch that looked like winning this game and they wore red and white.

It was hard to know what to expect from the players in the run up to Saturday's game; having become so used to inconsistency and disappointment it was difficult to assume they would pick up where they left off against West Ham, but that's exactly what Mark Hughes' side did.

From start to finish it was the Potters on the front foot and though statistics will tell you Stoke had less possession they will also tell you that Manchester City passed the ball backwards almost twice as many times and cleared more than twice as many balls from their defensive third.

- Mooney: Deja vu at the Britannia

Whilst the men in blue may have registered shots on Asmir Begovic's goal, the Bosnian barely needed to shift his feet to gather them in as he spent much of the afternoon admiring the transformation taking place in front of him. That's exactly what was happening in the stands too as the fans got to witness one of the most assured performances seen at the Britannia in recent years. It wasn't a well-deserved point following 90 minutes of backs to the wall, it was points dropped for Stoke on the day as they passed and moved their opponents all over the pitch and had all the best chances.

The fact that Stoke looked so good when there is still clear room for improvement should give Hughes confidence. Had the manager started Marko Arnautovic, or managed to sign Mame Diouf, and played either instead of Jon Walters there's little doubt it would have been another home win. Walters really suffered all afternoon, his touch, control and finishing were well below par for a side with top ten aspirations and I fully expect him to feature less and less once Marko gets integrated into the group.

Jon just isn't an instinctive goal scorer; he doesn't make the right runs, he has to think too much when the ball comes to him and his finishing is laboured. I'm not picking him out for criticism lightly; he did that himself and was only shown up by the other more dynamic forwards on the pitch, much as Peter Crouch was when he found himself replacing the injured Kenwyne Jones.

It was another good game from Trinidadian Jones, who used his pace and power well, causing problems all afternoon for the opposition defence. Watching the game back on Saturday night the commentator remarked that Jones had 'rag-dolled' Samir Nasri off the ball and I thought that was a perfect description of him using his frame to full effect to make chances from nothing. Jones isn't the best finisher, but when he's making his own chances, he's entitled to miss a few and it won't be long until he gets his next goal, I certainly expect his run in the side to continue next week against Arsenal.

One thing that Hughes will want to cut out, though, is the midfielders dallying on the ball when they are the last player in front of the back four, which has happened far too much this season. Steven N'Zonzi and Marc Wilson were the worst offenders and whilst both looked assured for the most part they need to keep their concentration levels and awareness for 90 minutes, especially against teams who can hurt you with their own movement and pace.

Hopefully this is something that management will keep an eye on as next week's opponents will swarm around the last midfielder and if they win possession will be in behind the defence within one or two passes.

Stoke really seem to have found some balance in their play these last few weeks and with the introduction of Stephen Ireland and Arnautovic has made the system that little bit more technical and functional. To think that things can only get better is pretty exciting for the fans, and I'm sure they will all be looking forward to the trip to the Emirates where they can watch the jaw of arch-critic Arsene Wenger hit the floor as he watches the new look side.

Stoke fans can't wait for the next match and I'm struggling to think of the last time it felt that way.