Earlier this week I wrote about good news stories, indeed one of those stories was an apparent hint from the management team about there being significant changes for the visit of QPR in an attempt to turn around our dreadful run of form.

I raised concerns in that piece about exactly what that meant and dared to let myself dream that it meant Walters might just be dropped. It seems my hope was short lived as Pulis today suggested nothing of the sort would happen as he went on to convince everyone that all is not as bad as it seems. Whilst that was bad enough, it was his response to questions he didn't want to field which has angered many of the Stoke faithful as once again he patronised those who have the audacity to question the fact he hasn't signed a left back in years or Walters' continued inclusion.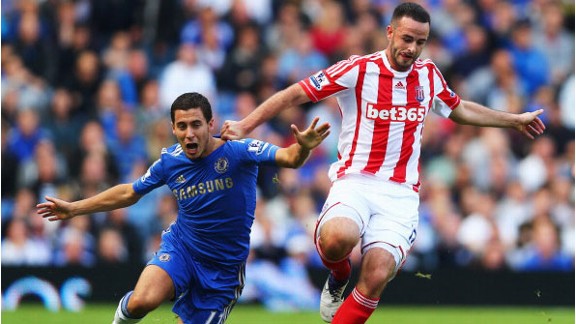 GettyImagesPulis remains a big fan of Wilson
On the first question, Pulis proclaimed Wilson to be the best left back in the league, when he is barely the best at the club. This kind of ridiculous response is typical from the manager who in the past has banished reporters from press conferences for having the temerity of doing their job and asking the questions many of the fans want answering, the same fans the manager calls on so readily to generate the spark his team so often fails to generate. His comments on Wilson are similar to those he made on the subject of Shotton last season, saying he was the best right winger at the club despite Champions League experienced Pennant kicking his heels on the bench as he watched his understudy put half his 'crosses' into row Z.

Preposterous answers like that are disrespectful to the fans and the people tasked with the privilege of seeking answers to the manager's continued failings and seek only to alienate those who care about the club as much as he claims to . His response to the criticism of Walters was much the same as he insinuated the fans don't understand, patronising those daring to criticise the continued selection of a striker with one goal from open play in 12 months. I commend loyalty and sticking by someone through a bad patch but Walters has shown that he is not the answer to our lack of goals, movement or pace in the front line for some time now and when there are better options sat on the bench or even being sent out on loan, the fans are justifiably angered, especially when their concerns are responded to with such contempt.

All of this could be a curveball by Pulis though, and he may well drop the perennial starter in favour of Kightly returning to the right and Matty coming in on his favoured left. As I write this though, I find myself shaking my head in the realisation that Pulis' answer to our lack of goals is to drop our second highest scorer to keep his favourite trier in the side. And it's those decisions, on top of those comments which mean there are more and more fans losing faith in a manager who is giving little confidence that he understands the issues, let alone has the answers to solve them. Still, in Pulis' eyes no doubt I'm just a 'herbert' who 'always knows better'.

Vis Unita Fortior?