Preparation is key for the Saints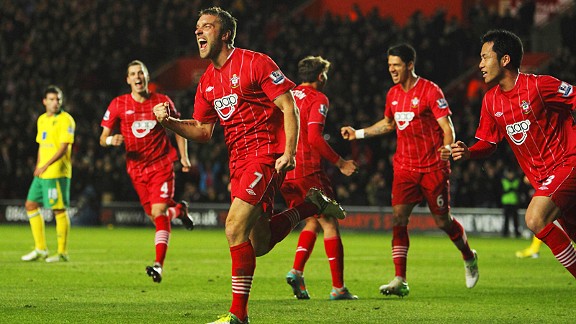 GettyImagesRickie Lambert has trimmed down for the news season.
The kit is released, the pre-season fixtures announced and the players are back at work. The countdown to the 2013/14 Premier League season can now truly begin.

• Premier League fixtures in full

Yesterday the Saints first team squad did their best impressions of Batman villain Bane while they took on the infamous VO2 Max test. This examination is designed to assess the bodies ability to transport oxygen during incremental exercise, and I would imagine, it is met with a sense of dread by the returning pros. If anything is going to highlight the results of any summer break indulgence, this would be it.

The Saints squad though, all looked decidedly trim, including forward Rickie Lambert, a man fans of other clubs like to suggest is 'fat'. If Lambert is fat, then I am morbidly obese. It is crucial that the players are physically prepared for the coming campaign. It was clear that Pochettino wants them to play at a relentless tempo, and towards the end of last season, some players looked to tire.

It isn't all about running until you are sick though, those days are long gone. In the era of the sports scientist and the nutritionist, every minute of pre-season training will be relevant to the minute detail.

Amongst the conditioning will be a full fixture schedule too, with Saints kicking off their pre-season in Spain against UE Llagostera in two weeks. They will then play Palamos on the following Saturday before heading to Austria to face Schalke 04 and Besiktas in a tournament. They then return to Spain to face Celta Vigo before finalising their preparations against Real Sociedad at St. Mary's.

This should see Saints ready to kick off Pochettino's first full season in charge at the Hawthorns on the August 17.

Everything about Southampton Football Club seems unfamiliar to that of the last time they were a Premier League side, including these preparations. Transfer business has been relatively slow thus far, but I think it is safe to assume that there will be more new faces to join Dejan Lovren before the opener against WBA. Youngsters Omar Rowe and Will Britt have signed their first professional contracts this week, and along with Jordan Turnbull signing an extension, it looks like Saints will again be leading the way with integrating their academy products with the first team.

It promises to be an interesting season, and hopefully one that will be ultimately more comfortable than the last. And that is why this preparation is key. Saints suffered for their awful start this time last year, let's not make the same mistakes again.

Keep the faith.