Saints must learn lessons of previous two matches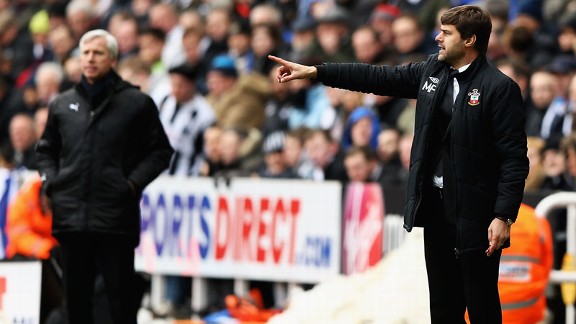 GettyImagesMauricio Pochettino's tactics didn't work against direct attacks.
Saints head to Carrow Road on Saturday, for a now crucial game after back to back disappointments and need to adapt to differing styles if they are to get their season back on track.

- Davitt: Hoolahan an essential luxury item for Norwich

After decent performances against teams that like to play possession football and use the ball efficiently, Mauricio Pochettino's pressing style has been found out by both Newcastle and QPR, teams who play with far less panache and prefer a more direct route. Norwich are also of this persuasion.

And why is this? Well, for me the answer is pretty simple. Pressuring from the top is effective against those who like time on the ball to play it neatly from the back, but if your tactic is to release it directly and early, then more pressure is going to make little difference, and as an aside, leaves the high-pressing Saints exposed at the back as they break.

This was evident against QPR, they didn't play well, they didn't 'deserve' the three points, but twice they caught Saints with route one, counter attacking, and twice it resulted in goals.

If Saints haven't evolved their style to suit this against the canaries, they could be staring in the face of three defeats on the bounce. Norwich are no mugs, and have lost just three times at home this season. What is encouraging for Saints, is that they are yet to score on the counter attack this season, and much prefer to win set pieces and find the way to goal statically, as it were.

Saints should focus their attentions on midfield, where Norwich's players are statistically poor passers, and this is where Saints should use that high intensity pressure. The potential to win the ball in this area is high, and with the form Morgan Schneiderlin is on, he could have a field day mopping up the mistakes of Wes Hoolahan and Bradley Johnson. In fact dare I say it, but midfield is a mismatch and Saints should be all over them.

Southampton should however be wary of the wings, Robert Snodgrass in particular is an outlet for the Canaries, and on great form, averaging two accurate crosses per game. The target will undoubtedly be Grant Holt, and Rickie Lambert's former strike partner will want to outdo him, looking to feed off the delivery of Snodgrass and Anthony Pilkington. Whichever combination of centre halves Saints go with will have to be ready in the air. Perhaps a recall for Jos Hooiveld?

Should Saints walk away with nothing, having not learnt the tactical lessons of the previous two fixtures, it will be a worrying time. Saints have impressed people under Pochettino, but the honeymoon is over. Pretty aggressive, intense football is great. Results are better.

Keep the faith.