Three Thoughts: Portland Timbers - Real Salt Lake
Real Salt Lake made sure there would be no miracle comeback for the Portland Timbers and now the club is headed to its second MLS Cup final.

Robbie Findley scored an absolutely killer goal in the 29th minute, and with the central defensive duo of Chris Schuler and Nat Borchers standing firm, RSL was able to see out a 1-0 victory on the night, giving it a 5-2 aggregate triumph. Real will now travel to Sporting Kansas City to contest the MLS Cup final on Dec. 7.

Entering the match down two goals from the first leg, the Timbers knew they needed an otherworldly performance to get past RSL. Instead, it proved to be a night when Portland never quite got the adrenaline jolt it needed to put some life into its comeback hopes. Chances were squandered, any semblance of attacking rhythm was visible only in spurts, and most importantly RSL avoided the kind of backbreaking mistakes that could have tilted the field in Portland's favor.

The result upped RSL's mark against Portland this year to 4-0-2 in all competitions, and while the Timbers have made immense strides this season, it is clear that RSL, who played without starters Chris Wingert and Alvaro Saborio, was a deserving winner.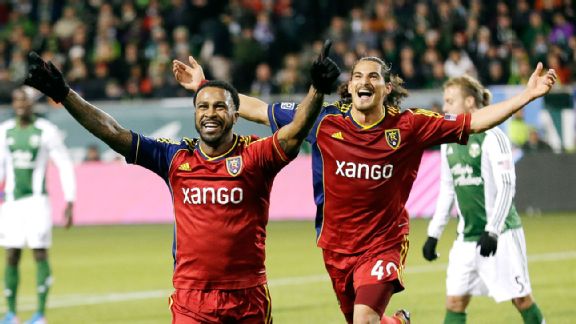 AP Photo/Ted S. WarrenRobbie Findley's first half goal proved costly for Portland, which couldn't find a way back into its tie vs. Real Salt Lake.
This game was decided in the penalty areas.

Oftentimes it is the play of each team's midfield that determines a game's outcome, but on this occasion it was the action in the respective 18-yard boxes that decided matters.

Portland had its share of clear openings, but failed to take advantage. Pah-Modou Kah sent a free header wide with the game less than two minutes old. Diego Valeri had three clear looks in the first half -- two in the same sequence -- but was denied by a combination of goalkeeper Nick Rimando and the RSL backline. Valeri had two additional chances at the start of the second half -- when he and Darlington Nagbe began to link up with more regularity -- but failed to find the target.

RSL proved to be a tad tougher, hungrier and sharper when it had the chance, and that was evident on Findley's goal. Portland goalkeeper Donovan Ricketts didn't distinguish himself on the play, parrying Luis Gil's shot directly in front of goal. But then a terrible communication mix up between Kah and Michael Harrington allowed Findley to knife through and fire past Ricketts.

From that moment, the Timbers continued to try to seize the attacking initiative, but RSL defended just well enough to keep the home side at bay.

RSL's experience saw it through.

This isn't to say that Portland was overawed by the occasion. The Timbers did what they could to push the tempo and did succeed in creating some good opportunities. Nor was this a night that Real Salt Lake was great with the ball, as witnessed by the team's pass completion percentage of 66.8 percent for the game, well below its season average of 78.2 percent.

Yet Real made some key plays that prevented Portland from generating a tipping point in terms of the game's momentum. There were the blocks by Schuler and Kyle Beckerman off two Valeri efforts shot in 21st minute. There was Rimando's save from Valeri 12 minutes later, and of course Findley's goal.

But there were lots of little plays as well that added up as well. Part of the reason RSL's passing numbers were subpar was down to its willingness to play more direct out of the back than it does normally, thus enabling it to avoid any killer mistakes in its own end. And Real did have enough spells of possession to make sure that the game didn't become an exercise in backs-to-the-wall defending.

Then there were the little touches, whether it was Borchers deflection of a Ryan Johnson cross in the 74th minute, the countless headed clearances by Schuler, and the savvy positioning of Beckerman. Add it all up, and what was on display was a thoroughly professional performance by an RSL side that has suffered its share of postseason and championship game disappointment.

Luck wasn't on the side of Portland

Sometimes what's needed to breathe life into a comeback is a slice of good fortune, but precious little of that was directed Portland's way. Futty Danso headed home in the 15th minute but it was waived off for what appeared to be a legitimate foul on Rodney Wallace.

Danso was also on hand to score from a rebound of a Valeri shot in the 33rd minute only to be judged, correctly as it turned out, offside. When Rimando parried a Valeri cross straight off the head of Danso in the 90th minute, it was pretty clear that it wasn't Portland's night in front of goal.

Then there were the injuries. Both Frederic Piquionne and Rodney Wallace were forced off before halftime, and while manager Caleb Porter insisted during a halftime interview that he had planned to bring both Max Urruti and Kalif Alhassan into the match, it didn't help matters.

Questions will also linger about the condition of Valeri. The Argentine has been nursing an abductor injury since August, and while it didn't appear to inhibit his mobility, one is left to wonder if a completely healthy Valeri might have done better with the chances that came his way.