Note to MLS: Expansion isn't always a sure thing
On Tuesday, after years of speculation, Orlando City FC became the second MLS expansion franchise to be announced in 2013.

Orlando City FC joins New York City FC as planned additions to MLS in 2015 and the excitement and anticipation in both cities is palpable. But the MLS isn't stopping at having 21 clubs -- commissioner Don Garber intends to have 24 teams by 2020. In addition to New York and Orlando, Atlanta, San Antonio or Oklahoma City and the David Beckham/possibly LeBron James-led Miami All-Stars (... er, MLS Club) are all hoping to gain entry into the top league in North American soccer.

As exciting as it may seem to have five new and hopefully ambitious clubs in MLS, there is a very real possibility that the quality of the league may suffer and even more so, that the fans in some markets may not take to their new teams. While Orlando, San Antonio or Oklahoma City may be open to a second sports team and internationally diverse New York may present an obvious easy sell, are the cities of Miami and Atlanta going to embrace MLS?

Here are some legit questions for the incoming MLS franchises:

New clubs in NYC and Orlando need to be good fast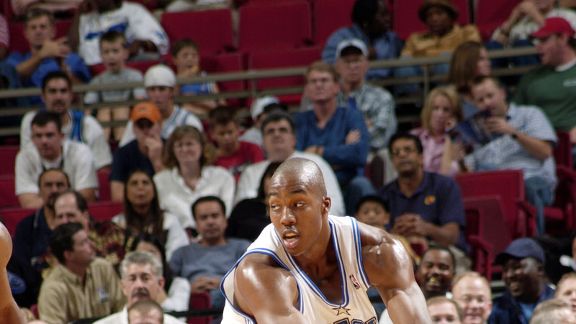 Fernando Medina/NBAE via Getty ImagesIt wasn't uncommon to see Orlando's Amway Arena not filled to capacity despite regularly having stars like Dwight Howard (pictured above).
As proven with the NBA's Magic, Orlando isn't necessarily patient when it comes to sports.

Over the past 13 years, the Magic have finished in the bottom seven of the NBA in attendance seven times (three of those lean years in the bottom three). And that's with having some of the highest-profile players in the NBA: Shaquille O'Neal, Steve Francis, Dwight Howard, Grant Hill and Tracy McGrady.

It is easy to see Orlando City thriving in its first year regardless of the team's regular-season record, but a major second- or third-year slump could be in the making. After all, Orlando isn't exactly a hot-ticket destination for young, affluent athletes despite having a lenient tax structure. The Magic have seen several stars leave out of practical boredom, with superstar O'Neal describing the city as a "giant strip mall" as he packed his bags for Los Angeles in 1996. Attracting athletes to the city could be tough despite Orlando City's well-known interest in AC Milan star Kaka.

New York, on the other hand, may have an easy time drawing in stars with its well-known resources, but could have a hard time pulling in the city's sports fans.

The New York Red Bulls, who are a short 15- to 30-minute commute from downtown Manhattan, continue to struggle in attendance despite having arguably MLS' best (and soccer-specific) stadium. While having the Yankees tied to the franchise and being in the city's five boroughs should certainly help, if NYC FC isn't a contender within its first three years, fans may not stick around. After all, New York City is historically tied to the Yankees, Mets, Jets, Giants, Rangers, Islanders, Knicks -- and let's not forget the Brooklyn Nets. New Yorkers aren't historically patient.

If you build it, will they come in Miami and Atlanta?

Put this in perspective: the Miami Dolphins are 25th in NFL attendance this year. That's despite being in playoff contention with a 5-5 record and having only eight games to attend.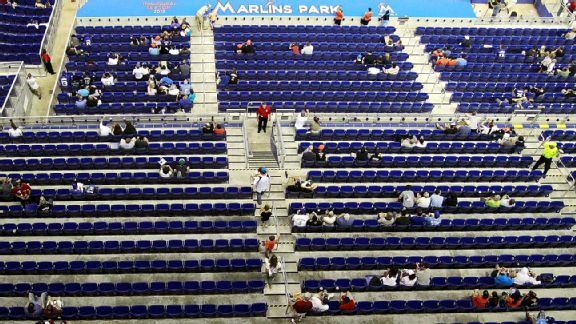 Marc Serota/Getty ImagesDespite having a magnificent $634 million downtown ballpark, the Miami Marlins are dead last in MLB attendance.
Let's not even mention the Miami Marlins. Yes, they have a poor owner in Jeffrey Loria but the team has won two World Series in the past 20 years and has churned out some of the brightest prospects in baseball. Fans of the Pittsburgh Pirates, New York Mets and Chicago Cubs would gladly trade places with Marlins fans. Surely, the Marlins can do better than the 19,000 fans per game they currently draw in their $634 million gem of a ballpark.

Sadly, Miami fans even show up late to Heat games, despite having an All-Star trio of James, Dwyane Wade and Chris Bosh and being back-to-back title winners. If the mainstream sports fans aren't rushing to the stands, does the city really expect an MLS franchise to draw sellout crowds?

Sure, world superstar Beckham may be leading the charge on this and South Beach (women, wine and song) is an easy sell for any pro athlete, especially European soccer stars that regularly vacation there each season, but this may end up being a financial nightmare for both the club and MLS.

Atlanta shares similar problems to Miami as the Hawks regularly sit near the bottom of the NBA in attendance, but it's at least encouraging that the Falcons and Braves are in the middle tier of ticket sales for the NFL and MLB, respectively. Still, soccer isn't regularly associated with the American football-dominated South and the city may need to bank on its relatively small Hispanic population (5.2 percent of Atlanta's 420,000 metro population) to spark interest in the club.

Time to place pressure on underperforming clubs

The sale of the Columbus Crew is an encouraging sign for the league as the club's new ownership appears to be ambitious, especially with its move to hire Gregg Berhalter. But what about Chivas USA, FC Dallas or the Chicago Fire? The trio continue to underwhelm despite being in some of America's biggest markets in Chicago, Los Angeles and Dallas (OK, really Frisco but still).

In other leagues such as the NFL and NBA, there are serious repercussions for underperforming teams. When the NBA's Vancouver Grizzlies failed to garner wins in the standings and subsequently lost its fan base, the league was quick to rectify its mistake by eventually forcing the team to move to Memphis. When Seattle was reluctant to find a solution to its aging KeyArena, the NBA controversially got the team to move to Oklahoma City, where it currently thrives. The NFL blacks out local TV for markets that fail to fill their stadiums up to 75 percent.

Each of those measures is controversial but the measures do serve to keep owners in check.

It's hard to see the light at the end of the tunnel for clubs like FC Dallas and Chivas USA and that's partially due to a generally apathetic approach from MLS.