Looking ahead to U.S. World Cup qualifying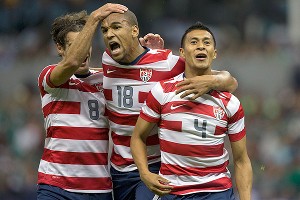 Michael Orozco's goal gave the U.S. a historic win over Mexico, but tougher tests in World Cup qualifying lie ahead.

The U.S. men's national team is no doubt still buzzing over last week's 1-0 win over Mexico, and with good reason. The win was the team's first-ever such triumph on Mexican soil, ending a streak of futility that had reached 24 games, and will certainly give the U.S. a massive jolt of self-belief going forward.

The reality, of course, is that the victory will carry the U.S. only so far. The Americans will not receive any bonus points in the World Cup qualifying standings for ending its Azteca hoodoo, and in the grand scheme of things, the upcoming qualifiers against Jamaica -- the away leg will be held in Kingston on Sept. 7, with the return encounter taking place four days later in Columbus, Ohio -- dwarf the Mexico match in importance. With that in mind, here are five thoughts as these two crunch matches approach.

1. Stay grounded
The postgame vibe following the Mexico match was remarkable, not just because the U.S. won, but because of the instant reality check that was on display. The Americans knew to a man that they had ridden the defend-and-counter playbook to perfection, with goalkeeper Tim Howard making some huge saves and Michael Orozco-Fiscal's opportunistic goal providing the winning margin. And they were under no illusions; they realize that such an approach will take them only so far.

"We know that we have to play better, that we will play better," said U.S. manager Jurgen Klinsmann.

"We want to keep it all in perspective," added Landon Donovan. "We didn't play in a World Cup final tonight."

Such a mindset will be critical against a Jamaica side that has never beaten the U.S. in 18 attempts. Perhaps the Americans will be better off focusing on the fact that it has never won a World Cup qualifier in Kingston in four tries. That said, the self-belief gained from the Mexico result shouldn't be cast aside. Confidence is at its most potent when it is sprinkled throughout an entire team, not just the first 11 or 12 players, and given the reserve-laden lineup Klinsmann trotted out in Mexico City, that could serve the U.S. well next month.

2. Things are looking up in the back
Suffice it to say, Klinsmann now has options along the back line. It's not to say that he didn't have numbers to pick from before, but now there is more strength in depth. Geoff Cameron has ticked off all the boxes in terms of his international development so far. Maurice Edu looks a more than capable option in the center of defense, raising the question of whether his international future lies there rather than in midfield. And after searching for a left back for what seemed like forever, the U.S. now has a capable player in Edgar Castillo and an excellent performer in Fabian Johnson, who has tremendous upside.

Without question, there is still a ways to go. Castillo's previous appearances have been rife with inconsistency. Questions still abound in terms of the depth at right back, although giving a call-up to Eric Lichaj could solve that issue. Ditto if Timothy Chandler decides he does indeed want to commit to the U.S. program. But the fact remains that the process of finding long-term replacements in the back, which appeared to be moving at a glacial pace, has accelerated significantly.

One subplot is whether Cameron's development means that the likes of Carlos Bocanegra can now be eased out of the lineup. Not at all. The experience of Bocanegra and Steve Cherundolo will be badly needed during the remainder of qualifying, especially on the road, and it's not as if they've been outperformed by anyone else in the U.S. player pool.

3. Whither Clint Dempsey?
With the U.S. international holding out for his long-awaited big-money move to Anywhere But Fulham F.C., Dempsey has been left out of Fulham manager Martin Jol's match-day plans and has been training on his own. It's likely that the situation won't be resolved until the very end of the transfer window, meaning there is a real chance that going into the first Jamaica match, Dempsey will not have played any competitive games since June.

So if you're Klinsmann, what do you do? Do you hold fast to your pledge that players have to be getting regular first-team minutes in order to be called in? Or do you grit your teeth and name Dempsey to the squad, even though he'll be able to fill only a super-sub role at most?

The latter option seems the wisest course of action. Granted, Dempsey won't be 90 minutes fit, but if the U.S. finds itself in need of a goal late in either match, one would be inclined to take his chances with the former New England Revolution attacker on the field.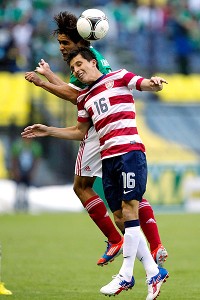 GettyImagesThe match against Mexico reinforced the notion that Jose Torres isn't a player for the attacking third.
4. Where does Jose Torres go from here?
You have to give Klinsmann credit for not giving up. He's recently tried Torres in just about every role imaginable, save for the one he actually fills for his club, that being in the center of midfield. The match against Mexico reinforced the notion that Torres isn't a player for the attacking third, at least when that role forces him to play with his back to goal or confines him to the wing. Yet that seems to be all that's available at the moment, especially once Michael Bradley returns to the squad. And if Klinsmann returns to a two-striker alignment like the one that finished the game at the Azteca, it's difficult to see how Torres and his composure on the ball will crack the lineup.

5. Speaking of two strikers ...
As often as Klinsmann talks about formation having little to do with style, the U.S. still looks a lot more comfortable when it is plays with two dedicated strikers. It was true against Mexico. Heck, it was true back in November against Slovenia. Yet for the most part, Klinsmann has persisted with various incarnations of a five-man midfield. And it's not as if the U.S. doesn't have options up top, either. Herculez Gomez has continued to put in hardworking shifts up top. Terrence Boyd, while a bit raw, has shown an ability to contribute with his sheer physical presence. Jozy Altidore, meanwhile, is off to a scintillating start in the Netherlands with AZ Alkmaar, having scored four goals in his first two games.

Given Klinsmann's emphasis on ball possession, that would seem to point toward playing with two forwards against Jamaica. But time and availability will play a huge part in what the former Germany manager decides. In the meantime, his overall concepts remain the same.

"I think our wish is that we want to move the whole game up front, our wish is to keep the ball longer, combine in a way that is longer and better than what it was [against Mexico]," said Klinsmann following last week's match. "Also, it is important that we learn from a mental perspective that you have to put in everything that you can give and believe strongly in beating big teams."

As long as the U.S. treats the Reggae Boyz in precisely that manner, they should get the results they need.