U.S. experiences: Azteca daunting, but progress is steady

Estadio Azteca is less a football stadium, more a fortress.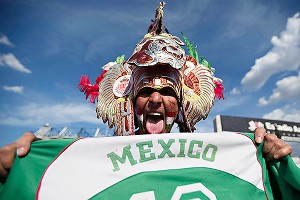 Miguel Tovar/Getty ImagesMexico's hard-core fans have been known to interrupt the U.S. bus driving in from the airport, keep the team up at the hotel and set straw balls ablaze before hurling them onto the field.
A mythical venue that could have been a figment of George R. R. Martin's imagination: A steep-banked stronghold perched 7,200 feet above sea level, built out of 100 tons of concrete laid on top of volcanic rock. A football home with a charisma matching that of the heroes who have graced it, Pele and Maradona included.

Much is known about Azteca's daunting impregnability: That the Mexican national team won 15 straight games there before February's draw with Jamaica and that the United States traditionally wilts upon arrival, holding a limp 0-5-1 record when visiting for World Cup qualifiers.

- U.S. jumps from ice to fire
- Debate: Who has edge?
- Futbol Mexico blog
- Ramos: Mexico needs win
- Azteca mystique?
- Video: U.S.' left back problem
- Press Pass: Azteca showdown

Less well known is the experience of what it actually feels like to play there, for an athlete to take the field and be hounded by 105,000 frenzied fans, eager to delight in his misery as he battles against his opponents, as well as the heat, altitude, smog and noise.

Before Jurgen Klinsmann's young U.S. squad descend Tuesday into the Azteca, I spoke to three distinguished American internationals, all of whom tried to conquer the elements there yet failed. Their stories are different. Buried within them is a fourth collective tale: The steady march of progress made by American soccer.

1. RICK DAVIS: Fear kicked in at the airport
(Mexico 5, USA 1: Nov. 9, 1980, World Cup qualifier)

Widely recognized as the greatest player of his generation, Davis became the only American-born starter on the legendary New York Cosmos team as a self-described midfield "grunter."

In many ways, the myth around the stadium is as much of a challenge as the stadium itself. Ahead of the game, Azteca feels like a goddess protecting the nation, urging its people to rise up and repel us by using every dirty trick in the book.

The fear kicked in as soon as you landed at the airport. The roads were always terrible. It took me a couple of trips before I realized the locals were purposefully causing traffic jams in front of our team bus, then jumping out of their cars to intimidate us with their flags, chants and swearing. No matter what time we arrived at the hotel, the rooms were never ready. Any food ordered from room service was guaranteed never to arrive. Fans would surround the hotel 24-7 blowing horns and chanting. There was no way to blot out the noise, and both the hotel security and the police politely explained they were unable to help us.


Michael Brennan/Getty ImagesBeing around legends such as Franz Beckenbauer (left) and Pele (right) with the Cosmos gave American midfielder Rick Davis a sense of what to expect at Azteca Stadium.
I was fortunate. I had played for the Cosmos and had heard stories from my teammates that allowed me to understand all of this was business as usual in the world of soccer, but a lot of the squad back then had only played in college. I would look over at many of them on the team bus and see how intimidated and confused they were by this atmosphere of fear and confrontation, which I would compare to the feeling you experience before a fistfight.

The day of the game, it felt like the entire country had stopped what it was doing to see their team engage in battle with ours. Thousands of fans, packed into overloaded pickups draped with flags, would cruise alongside our bus. Their passion made me envious. I knew there were more people walking on the streets who would never get into the Azteca [than] would come to a year of our home games.

Panic would set in when we got to the shabby, concrete locker room. Many of my teammates were spooked by the environment. I would try and crack a joke or two, but it was impossible to lighten the mood. Once you have been unnerved, you remain unnerved. The question in my head was always the same: How do you instill confidence and hope in a place where we had never won? Many of the players looked like they wanted to curl up in a ball and go back to Mommy.

It was awe-inspiring when we stepped out on the field and were met by that enormous roar. Objects would fly from the stands -- basketball sized bundles of straw set alight like a ball of fire; C- and D-sized batteries; gallon bags of urine. I always experienced a sudden feeling of surprise and shock, but it also felt like a moment of truth.

It was finally game time. I would try and get my head straight, and focus on the game plan.

You hit the panic button right from the kickoff. The heat made you feel like a turkey roasting in the oven. The altitude and the smog made it a struggle to breath. Your chest burns after you make your first run. You start panicking that you are not getting enough air, so you start taking exaggerated deep breaths. The more you do that the less it works, which makes you want to quit ... a feeling which is an athlete's greatest fear.

On the field, I had to mark the legendary Hugo Sanchez. He just pissed me off every which way, purposefully stepping on my feet as he posted up, and taunting me endlessly in English and Spanish that "America will never be a real soccer nation."

We were destroyed, which is a demoralizing feeling. To leave the game emotionally, physically, psychologically and spiritually spent. When we were back in the locker room, many of the players were relieved that the ordeal was over but I felt as low as it was possible to feel as a professional soccer player. We had not only lost, yet again, but we had also failed to garner an ounce of respect. We scored from a penalty when the result was already beyond doubt. I told the referee not to award it because it truly did not matter. For an athlete to say that is when you know you have been defeated.


2. COBI JONES: Some players choked up right there
(Mexico 4 USA 0: July 25, 1993, Gold Cup final)

The Hall of Fame midfielder made 164 appearances for the United States, making him the most capped player in team history.



AP Photo/Jordan StraussCobi Jones
When a team arrives at a game in the United States, there is nothing going on. At the Azteca, the whole place is buzzing. The stadium itself looks huge, but its size is reinforced by the people, the noise and confusion that surrounds it. Everyone lets you know they have been waiting for you. They welcome you by banging on the bus windows and giving you the gesture I won't name, but it is a gesture which enhances the sense of myth of the place.

The myth of the Azteca is also enhanced by the fact that we have never won a meaningful game there. As you drive under the stadium, you feel the lore even more. It is impossible not to think about all the games we have played where the results have not been good.

When you walk out to inspect the field, there are already 20,000 people in there and a buzz goes up as soon as they see us. As you scan the stadium you see effigies of the players, a U.S. jersey with my number on it up in the rafters, and American flags being burned ... and this is hours before the match.

It gets to you. I was always a player who loved a challenge so I thrived off it, but I can tell you, I saw some players just choke up right there before the game.

The changing room is antiquated. The last 10 minutes in there are tense. The players all hype themselves up, getting each other ready to go. We could hear the Mexican team in their room screaming "Vamos! Vamos! Vamos!" The sound got me so hyped and ready to fight. Aware I was about to enter a battle.

When you walk out for the game itself, you get such a rush of adrenalin. Everything erupts in a sea of green, white and red. You do notice a few brave American fans in a cluster in the corner but you cannot hear them.

There is no way to counter the altitude, no matter how fit you are. The only way to battle it is to keep the ball and make the other team run. It is very, very hard to sprint down there. You simply can't run and gun. You have to change the way you play and segment the game -- to try to run for some periods then slow it down in others.

I was never nervous, perhaps because I was so focused on my lungs, sucking in oxygen, mouth wide open, hoping a second wind would come within 15 minutes and carry me. The smog meant we were all coughing up brown. The heat would be a real issue in other countries, but you don't even think about it in Mexico because you have so many other problems to focus on.

The noise is louder than any other stadium. It sounds like a teeming beehive. A buzzing that never quietens. I believe they secretly pipe in the buzz through speakers it is that loud. You try and block it out. Reduce it to background noise but it is impossible to ignore the sound of "Olé! Olé!" breaking out. That is the worst because it means you are not getting the ball. The only sound that is more irritating is that of Mexicans trash-talking. There is nowhere else where players get into your face like that. Every Spanish slang word I know, I picked up during those matches.

If you have not played at Azteca, there is nothing you can be told that can prepare you for it. The best thing I could say is to keep it simple and smart. The Mexicans will press you. They love to attack young players who have not been there, especially at the back. They know you, and they also know there is simply nothing like it.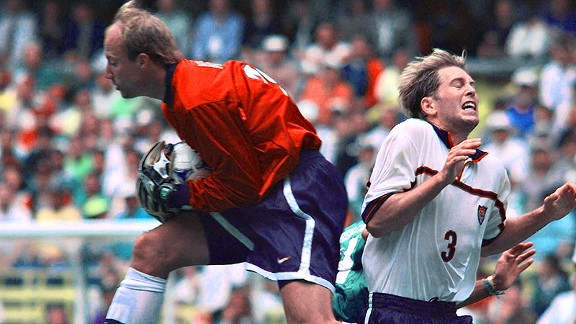 AP Photo/Jose Luis MaganaFormer U.S. goalkeeper Kasey Keller would have emerged with a result at Azteca in 1999 if not for a miskick by Cuauhtemoc Blanco.
3. KASEY KELLER: We don't get blown out at Azteca anymore
(Mexico 1, USA 0: Aug. 1, 1999, Confederations Cup semifinal)

Kasey Keller won 102 caps in his 18-year professional career in which he played for a slew of clubs, including Tottenham Hotspur, Borussia Monchengladbach and Seattle Sounders, earning the nickname "The Wall."

There was a huge difference between the teams in the '80s and early '90s and ours. Back then, the team was packed with college kids and a couple of NASL players whose international teammates hardly ever passed the ball to them. By the late '90s, most of our players were on teams in the top leagues in Europe. I had already had the experience of going to Old Trafford and beating Manchester United with Leicester City. I had played for Millwall against West Ham and Tottenham against Arsenal, so I had experienced my share of passionate, violent derbies. But for those Americans on our team who had only played MLS, there would be an "Oh s---!" moment, when we pulled up to the stadium in the bus. That moment always hits them too late.

I was always nervous before kickoff. Any one pro athlete who is not will either be out of the game, is a liar or has no self-pride. I always had nervous energy. I did not want to let myself down, or the team and the fans. I had played big games as a Spurs player going to the Emirates or Old Trafford so I just told myself this was a different venue with different fans. That there is nothing unique about the Azteca. As a professional, you hope to have as many different experiences as possible and the more you have, the more you realize how similar they really are. That knowledge really helped me. I would draw on them to make very intimidating environments like the Azteca feel less daunting.

By the time we went out to warm up, there would already be 80,000 fans in the stadium. They would greet you with a huge amount of whistling, which you like as a player because it allows you to get refocused. I also liked the size of the place. It is so big, there is a lot of space between the pitch and the fans.

The noise is a big, big problem, especially for defenders. Anything shouted from over 20 yards away has no chance of being heard. That is where it becomes important to have played with guys for long enough that you know what they are going to do. I had played over 50 times with both Eddie Pope and Steve Cherundolo, so I knew exactly what their tendencies are. Even so, as the play develops and the crowd gets louder, you just hope your sense of those tendencies is right.

As soon as you start making runs in the game, the heat, smog and altitude hit you. You realize your team are not going to be getting a lot of the ball, which makes you feel a little insecure. You start questioning what is going on physically and whether you can handle it. But somewhere between 10 and 15 minutes you find an equilibrium, become aware this is just another game and start to reassure yourself you can handle it.

As a player you realize you are tired but you can still make the run. You understand it is just your mind telling [you] things and that the struggle is all mental. You start telling yourself: Yes, their fans are crazy, but that it is all white noise and you won't let it affect you. Yes, Mexico are a good team, but we can hang with them. By 70 minutes, their guys are feeling it too.

Experience has made the United States a better team, which is why we don't get blown out at the Azteca anymore. We don't often get a result, but we do get better the longer the game goes on. Having said that, there is always the part of the game where you go down 1-0 and you don't get the result. In this game it came on a golden goal on a miskick by Cuauhtemoc Blanco. When the ball goes in, you realize no one gets a result down there … and that is the definition of the Azteca.