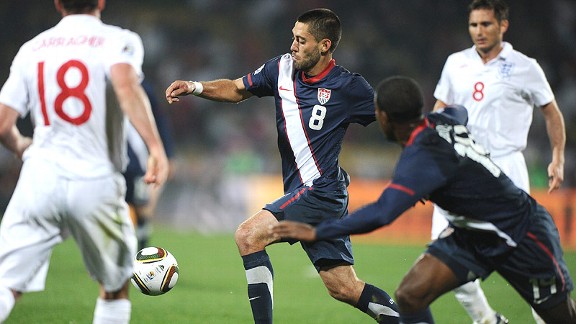 Jewel Samad/AFP/Getty ImagesClint Dempsey excelled against the Three Lions in the 2010 World Cup and continues to show the English that American soccer is on the rise.
June 12, 2010: As night descended on Rustenberg's Royal Bafokeng Stadium, a grudge match approached. If there was a game that England did not want to lose in South Africa, it was to the United States of America. The English are more than used to losing to Germany and Argentina, and have made a specialty of being humbled by Portugal, but America would be a humiliation too far.

Cultural imperialism we can accept. After all, our television screens and cinemas are filled with Americana. But football, our football, the real football, is ours, and something from which we can still exude a sense of superiority over America.

The reaction to the 1-1 draw played out that night said everything about English attitudes toward American soccer. The disappointment was bordering on frenzied, and goalkeeper Robert Green, whose mistake had allowed Clint Dempsey to equalise, was scapegoated. His personal life was soon picked through in the ever-charming tabloid style that an English national pariah must receive.

-America's next top Messi
-Is Junior Flores the best hope for the U.S.?
-Top 10 players under 21
-How to turn pro
-SN Vote: Will the U.S. win a World Cup?
-ESPN Insider World Cup 2014 Board

England's performance, which in the end turned out to be the best of their South African campaign, had also sign-posted that this would be yet another World Cup of disappointment. In the meantime, however, very little credit was being extended towards Bob Bradley's team when it should have been.

The physical nature of English football is both celebrated and bemoaned. The English view sees American soccer players relying more on athleticism and fitness. This should not be taken as a positive sign since the English view is that our players possess far more skill, even though that was not particularly evident at the last World Cup.

Whereas Dempsey and Landon Donovan left South Africa draped in due praise, the likes of Wayne Rooney, John Terry and Frank Lampard were attacked for yet more failure. The difference, of course, lay in expectation. Once that is raised, the USMNT -- you do love an acronym -- might face similar problems.

Only the churlish would deny how creditable Bradley's team showing in South Africa was. Even if they were beaten by a better team in Ghana on their return to Rustenberg, the cat is already out of the bag. Fine performances in 2002 and 2010 lifted expectations. An expensive big-name manager can only raise hopes further.

Jurgen Klinsmann was once England's favourite German. Some self-deprecating humour in the face of being accused of diving quickly won friends. He coupled being articulate with being a wonderful player, of course, and the Klinsmann-coached Germany team of 2006 was warmly received too. Their sense of attack flew in the face of the functional German approach which usually got the better of the English. However, there was much doubt when Klinsmann looked on the brink of usurping Rafa Benitez at Liverpool in the winter of 2007. Benitez has never been too popular outside Merseyside but he has a club pedigree to call on. Klinsmann had not yet even served his disastrous time at Bayern.

By then, the Klinsmann effect on Germany's national team was being questioned, as dapper assistant Joachim Loew was turning Die Nationalmannschaft into favourites for Euro 2008. Yet Klinsmann did look a good fit for American soccer. His many UK television interviews usually featured his Californian home backdrop of sun and surf and his speech featured many an Americanism.

Foreign coaches were in vogue too but now that England have been scarred by two expensive mistakes in Sven Goran Eriksson and Fabio Capello, and Klinsmann looks to be struggling a little, then perhaps he wasn't such a good fit after all.

From the outside looking in, there would appear to be some underlying cultural issues. In mitigation, like England, there does look to be an absence of high-level American talent coming through. With other sports so dominant, that's understandable. In America, soccer does not seem to reach the working-class demographic that yields 95% and more of English football talent.

America's problem with pulling in Latin American kids into the fold reminds of the England cricket team in the 1970s, 80s and 90s where Asian players never seemed likely to come through the ranks. After time and investment, there is now a considerable professional Asian presence; England are all the better for it in their summer game.

Of the established names, Dempsey and Donovan are highly regarded in England, with the former improving at Spurs after previous excellence at Fulham. After his initially uneasy relationship with Sir David of Beckham, and those unfulfilling spells in Germany, Donovan was once dismissed as some kind of homebody American brat, yet impressed twice at Everton, fitting in well.

Both are the type of player that England could do with right now. Beyond Rooney and Jack Wilshere, there are very few players capable of playing between attacking lines with intelligence. And when it comes to the position the English always thought we did best, Americans seem to have goalkeeping licked, though Brad Friedel is better regarded than Tim Howard. Until Spurs bought Hugo Lloris, Friedel was as big a part of a Premier League weekend as Alex Ferguson's wrist watch. Howard has been a fine keeper for Everton but is viewed as being prone to the odd 'rick'. In general, and unlike some of their imported club owners, American professionals are seen as diligent and dedicated.

Major League Soccer remains a mystery, its playoff structure confusing, draft system and combines doubly so. American soccer seems something of a retirement home for our fading stars and we can see the sense in wanting to live in New York and California, or Chicago at a push.

However, even from across the Atlantic, it is clear that football has, in the last decade or so, gained significant footholds even though American tastes are refined towards the prime movers of European club football. Should the game take off beyond that and expand its grassroots, then the suggestion is that America can reach the top of the footballing world. For the English, that idea holds little but fear.

Isn't this our game?