The chip on Clint Dempsey's shoulder
KANSAS CITY, Kan. -- If you want to believe in the United States men's national team, spend some time listening to Clint Dempsey. The soft-spoken yet passionate U.S. star emits a confidence that oozes as thickly as a teenager's cologne. Forged during his well-documented rise from humble beginnings in Nacogdoches, Texas, this belief is well placed and contagious. After learning to master the game as a toddler kicking a basketball around a dirt field barefoot, he proceeded to net 17 Premier League goals last season. Each one stands as a testament to his talent, sacrifice and dedication.

Yet – and this is where ardent USMNT fans should draw strength – despite the dizzying, and lucrative, nature of his success, the Tottenham attacker remains hungry and eager to improve his performance, both with his club and at the international level. In conversation, Clint Dempsey still evinces a burning need to prove himself.

Like many Americans, Dempsey first glimpsed the World Cup in 1994. Aged 11, he traveled to the Cotton Bowl to witness Germany top South Korea, with future coach Jurgen Klinsmann notching two goals, including the eventual winner. His older brother Ryan later revealed from that day onward, Dempsey's only goal was to set foot on a World Cup field with the U.S. team, a feat he has achieved through force of will.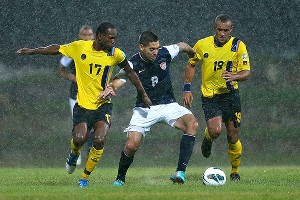 Mike Ehrmann/Getty ImagesClint Dempsey didn't have much of an impact on Friday's game, which is something he intends to change against Guatemala.
"I have been in two World Cups," Dempsey said. "In the first, we did not get out of the group stage. Last time, we won the group but then lost in the very next game. Now we have to try to go as far as we can, to put together a good run, man."

The Texan places a special emphasis on the last word, and for a second, his infectious enthusiasm transports us from Kansas City to Rio 2014 -- as if just by saying it, Dempsey can make it so. "Now I want to do something special," he said, "to try to get to Brazil and go as far as possible."

John Harkes recently told me the 1990 World Cup team played with a chip on its shoulder as they were desperate to prove they belonged. Mention of that story sets off Dempsey, forcing him to list every slight he has faced on the football field. "I wasn't always picked for teams, I started my professional career late, I made the U.S. youth team but was barely chosen in the Under-20 World Cup," he said. "My whole career has been the same way, I am always the guy who has to prove himself." Dempsey steadies himself before looking at me dead in the eye. "I always play with a chip on my shoulder."

I have long maintained that if Dempsey had been born far from Nacogdoches, say in Italy or Brazil, and had been named Claudio Dempsey or Clintu, his footballing achievements would be bathed in a different, more reverential, light. "I think being an American you have to break down some stereotypes," he said. "We are known mainly for our goalkeepers. We are still establishing ourselves as field players thanks to the pioneers like Claudio Reyna and Brian McBride."

Dempsey does not hesitate when asked what will change this. "More players going over there and playing for big clubs, which is why it is so important for me to play with Tottenham Hotspur and to do something special with them."

The Texan warms when acknowledging the achievements of U.S. teams past, especially the 1994 squad. "I looked up to Tab Ramos and the way he played," he said, praising the Uruguayan-born midfielder's talent with words that many have used to describe his own footwork, awareness and goal-scoring bravado. "He had a little bit of that Latin style. He had such vision and was so creative on the ball."

The evolution of American footballing success looms large for Dempsey. "We are always trying to set new standards," he said. "All of us are desperate to do better than the team that came before us. Our main goal now is to get past the quarterfinal in the World Cup and surpass the achievement of the 2002 team. That is what we must do now -- to get to that level."

Dempsey is candid when asked if he believes the current team is making progress. "Right now, we are not playing the kind of attractive football we want to bring to big games so we can show our quality and impose our will," he said. "We find ourselves in a situation where we have to get a result tomorrow to get into the next round. Right now, we remain a work in progress trying to figure out what our best 11 is, but as the World Cup gets closer and we play in more games we will start to jell a little bit more and you will start get an idea of what our best team is.

Watch: Darke, Twellman break it all down
Watch: Klinsmann on tough CONCACAF road
Watch: Dempsey focused
Watch: Dan Thomas, Tommy Smyth and Robbie Mustoe preview match

"International games are difficult because your teammates are always changing," he added. "And when you come together you have such a short time to bond. We have been forced to compete on the kind of pitches I have not played on since I was a kid. The Antigua game was like playing on a mud pit. It was impossible to go through the middle of the field, so you naturally try to play out wide. But the field was not wide, either. So you are essentially kicking it around a small field full of mud and it is impossible to control the ball with one or two touches."

Dempsey's competitive spirit is coming to the boil as he relives the disappointment of Friday night's game in which he struggled to make an impression. "It's frustrating to experience an inability to create when the ball is getting stuck in the mud," he said in a tone that suggested he has momentarily made a mental return to the field in Antigua. "You feel helpless because you cannot play the way you are used to playing and you know the viewers at home don't understand that. The only quality we can show is how hard we can fight, and we did that."

As Dempsey's calm demeanor is quickly restored, he added a final word of promise. "Playing on the pitch we are about to play on tomorrow tonight in Kansas, we will have no excuses. We have to go out there and perform -- and we will."

Roger Bennett is a columnist for ESPN, and with Michael Davies, is one of Grantland's "Men In Blazers." Follow him on Twitter: @rogbennett.