Bale back to make up for false start in Madrid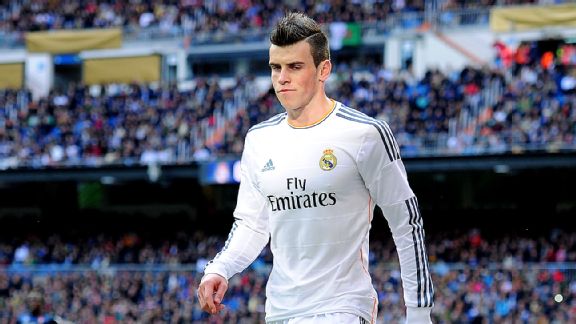 Denis Doyle/Getty ImagesWith Cristiano Ronaldo suspended, the returning Gareth Bale will have to help pick up the offensive slack for Real Madrid versus Villarreal.
It all started against Villarreal. El Madrigal, Jornada 4. A goal just 32 minutes into his debut and with his right foot, too. Dani Carvajal got away from his man and produced an inviting ball across the six-yard box for the world-record transfer to prod home. The perfect start for Gareth Bale. Things looked rosy for the Welshman. All the pressure, all the expectation and his start matched all that, but it was only one game.

- Lowe: Modric's value at Madrid finally appreciated
- Hunter: No drop-off from Casillas
- Cox: Bale steps into Ronaldo's spotlight

This weekend Bale faces Villarreal again, this time at the Bernabeu, and things are a bit different. Injuries plagued the first half of the season for the former Tottenham Hotspur man, and they've kept him sidelined for much of 2014 so far. The statistics look good but the performances haven't matched. They've certainly not lived up to the price tag.

The situation is that plenty of Madridistas will head down the Castellana more looking forward to the performance of a man who cost Madrid nothing. Jese, a player who progressed through the club's youth system, is the man of the moment. Cristiano Ronaldo starts a three-match suspension, and it's the young Spaniard who is grabbing the front pages and getting backsides on the edge of seats.

Now is the time for Bale to react in a fresh start and a run of matches where Carlo Ancelotti will be relying on him for an impact. No Ronaldo for three matches, and a calf injury, hopefully, behind him. He could have played in the Copa del Rey derby in midweek but Ancelotti told the gathered press this week that he was saving him for Ronaldo's absence. The Italian gave assurances that Bale will start against the Yellow Submarine in a new-look front three of Jese, Karim Benzema and Bale. A new start.

There are lies, damned lies and statistics. A look at the Welshman's stats would tell you he's made a good start to life in the Spanish capital. Eleven La Liga starts, eight goals and seven assists. Three starts in the Champions League with a couple of goals thrown in, too. But Bale will know full well those stats could be more numerous, they could be more impressive. Injuries, mainly to his calf, have restricted his appearances and you can't help but feel he's played in matches when maybe it would have been better to rest and fully recover. So often he's been on the periphery, not always in the mix.

A thigh injury over the summer didn't help. Without a good pre-season behind them, players find the following months tough -- they perform below-par. Bale didn't have a pre-season and it seems as though he's been forever catching up to his teammates in terms of match fitness. His start to life in Madrid has been stop-start to say the least, but now Madridistas will be hoping he's on the starting line ready to finish the race.

Bale needn't worry about his hit-and-miss start to life as a Blanco, not yet. Injuries, rather than form, have been the cause, and every day in training he can look to a man who struggled in his opening few months at the club, too. Luka Modric was voted the worst signing of the season last term by readers of Marca, but the Croatian has fast become one of the first names down on Ancelotti's team sheet. "I'm not making excuses, I am not that kind of person, but it is very challenging to adapt to life at a big club like Madrid," Modric said at the time. "I have had a few good performances, if not in every game, but I believe that I can prove I have something to offer." Prove that he has, and he'll offer his words of wisdom to his former Spurs teammate.

The wing wizard didn't do that bad the last time he plugged the gap left by Ronaldo in a league match at the Bernabeu. That came at the end of November when he notched a hat-trick in Madrid's 4-0 victory over Real Valladolid. That came just days after a wonder goal in a 4-1 Champions League success against Galatasaray, with the Portuguese again sat in the stands. The omens are good.

Bale and Madrid need a good performance. Villarreal have been the surprise package of the season so far after securing a spot back in the top flight last season. Sitting fifth with a Champions League spot in their sights, Marcelino's men go into the clash with four wins from five league outings since the turn of the year and with attacking duo Ikechukwu Uche and Giovani Dos Santos bang in form. Madrid's defence, which has conceded just one goal in 2014, will need to be alert.

The way the fixture computer has confirmed this weekend's round of matches also works in Los Blancos' favour, something that's happened on more than one occasion since the return from the winter break. Out of the top three, Madrid are up first and can move joint top of the table with victory, if only for a few hours with leaders Atletico making the trip to relegation-threatened Almeria. Barcelona don't play until Sunday night with a tough-looking trip to Sevilla.

While sinking the Yellow Submarine to claim maximum points is the priority for Ancelotti's side, an encouraging performance from Bale would be a welcome extra boost. As well as missing this weekend's league match, Ronaldo will be absent for the trip to Getafe and the home match against Elche, leaving Bale and an on-song Jese to lead the line. It could well be those two battling it out for a spot on the right of Madrid's front three on Ronaldo's return, too.

It all started against Villarreal for Bale, but it was a false start. This time he'll look to set the record straight.