Relegation a step closer for Royals after second-half sucker punches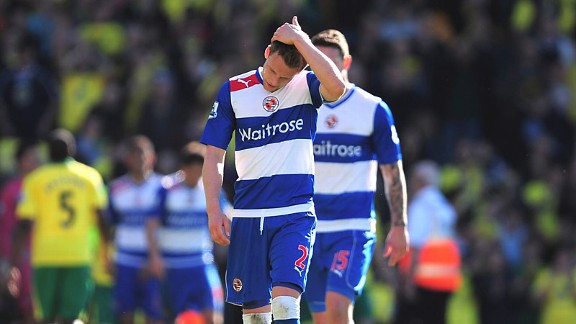 Jamie McDonald/Getty ImagesA spirited comeback by Chris Gunter and Reading came up just shy at Norwich.
Reading's relegation moved one step closer to reality today as they lost 2-1 to Norwich at Carrow Road, a defeat made so much more painful as they had been playing with a greater confidence than for many matches, looking a much better team than Norwich and had the lion's share of first half possession. But football is a cruel game, and all their promise was swept away by two sloppy goals in two minutes at the start of the second-half, a setback from which Reading never recovered.

- Match report: Norwich 2-1 Reading

It's clear that manager Nigel Adkins is starting to get a handle on who his preferred team is. For his fourth match in charge, he made just one change: Nick Blackman for Noel Hunt. And while he might still be tinkering up front, his mind seems made up on his best back four. For the third match running, his defence consisted of Chris Gunter at right back, Adrian Mariappa and Sean Morrison in the centre and Stephen Kelly at left back. You have to wonder how specialist left-backs Ian Harte and Nicky Shorey feel about being kept out of the team by a right back being played out of position!

But this team looked good in the first half. The subtle changes to style that Adkins is making are starting to show -- shorter passes, quicker movement of the ball, and much better ball retention. Although Reading are still prone to give the ball away cheaply, mistakes were less frequent, and after surviving a torrid first 20 minutes as Norwich piled the pressure on, this team slowly grew in confidence and stature, dominating the last 25 minutes of the half.

In fact, we witnessed that rarest of things -- a half where Reading had more possession that their opponents -- 50% to 41%. Royals also forced a string of corners, and showed a number of neat touches and classy one-twos to pry open the Norwich defence, with Danny Guthrie and Jem Karacan playing with a calm confidence we've not seen before.

But, almost inevitably, nothing came of these chances and Reading had little more to show for their possession than a few long-range punts and only one shot on target. And while the Loyal Royals at Carrow Road were the ones making the most noise, and while Adkins must have been the happier manager as the halftime whistle went, there was always the feeling that Reading might be vulnerable to a sucker-punch on the break.

And at the start of the second-half they fell to not one sucker punch but two of them in quick succession -- two very similar goals in less than two minutes that knocked the stuffing out of Reading as effectively as a punch to the solar plexus!

Firstly, 'keeper Alex McCarthy could only parry a close-range header from a Norwich corner, and Ryan Bennett was able to smash the ball into the roof of the net. Then, just 44 seconds after the restart, McCarthy's punch to a cross was too weak, and the ball fell to Elliott Bennett. His shot was half saved by McCarthy, who, as so often in the game, was being impeded by the physicality of Grant Holt, but the ball looped into the net over the covering defender.

Two-nil to Norwich in the blink of an eye, and the newfound confidence had evaporated. Now the teams were playing as their league positions would suggest, with Norwich firmly in charge and Reading struggling to win the ball and to keep out the waves of Norwich attacks. After such a promising first half, normal service was well and truly resumed.

Garath McCleary did give Reading a ray of hope after 71 minutes, in what was virtually Reading's first attack since conceding the two goals. Picking the ball up in the centre circle, he ran forward, jinked first right, then left, and unleashed a shot from well outside the Norwich area that flew past 'keeper Mark Bunn.

Quite a surprise -- a real goal out of nothing -- and it did spark a brief revival and a slight increase in confidence. But Norwich switched tactics to safeguard their lead, denying Royals any space and closing down midfield, while trying to attack on the break. This blunted any hope Royals had a grabbing an equaliser, despite a late flourish, with both Pogrebnyak and McCleary having chances from overhead kicks on the 90-minute mark.

No surprise at Reading's inability to score or to break down a determined defence, but it was a surprise that Adkins chose not to make any substitutions -- despite having ten-goal "super-sub" Adam Le Fondre on the bench.

So, another defeat, and as soon as Aston Villa gain three points from their last five matches, or Reading fail to win, the inevitable relegation is confirmed. Interestingly, this might come against QPR next weekend -- if either team fails to win, they are effectively down, and a draw would almost certainly relegate both.

Despite that small sub-plot, for most Loyal Royals this dismal, painful, season can't end quickly enough, and it hurts that even signs of progress and improvement somehow are snatched away as they were today. Football's ability to raise your hopes then kick you in the guts is as strong as it's ever been and today it's living in Norwich.