Gers defensive problems still to be resolved
It might surprise some to discover Rangers didn't have the best defensive record in the Third Division last season. Peterhead had the honour of the least goals scored against with 28, while the Ibrox club sat one behind on 29.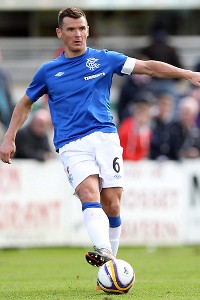 Ian MacNicol/Getty ImagesLee McCulloch is the heart of the Rangers' squad.
It won't worry many fans, but that is probably because they will assume the weak central defence and right-back position will be overhauled over the summer, with players leaving and replacements coming in.

Yet, the transfer speculation and actual signings have stayed away from the area Rangers are weakest. But why? Surely Ally McCoist and his team know how bad his defence has been.

He does, but he has his hands tied for a few reasons. The transfer registration ban does not end until Sept. 1. Although Rangers can sign players and play them after this date (or possibly in a few matches before that as trialists) it limits his possibilities.

The other problem is Dorin Goian and Carlos Bocanegra are due to come back from their loan spells with Spezia and Racing Santander, respectively. They are on huge wages -- especially compared to the rest of the squad -- and with the club in the Second Division, they can't afford to splash out on new central defenders while they might come back.

It's extremely doubtful they will return, but until they have been sold or paid off, it would be financially risky to buy others in that position.

There is also the cover that the new signing, Irishman Jon Daly, and Rangers legend Lee McCulloch bring to the squad. Remembering that this is the Second Division and the quality will only be a little better than the league below, then they could cover adequately if a few suspensions or injuries kicked in.

If anything, McCulloch will probably be playing at the back at some point during the season anyway, if not starting there. With Nicky Clark, Andy Little and the aforementioned Daly vying for the front line, it's unlikely that the Rangers captain will be used as a striker.

If it is assumed that Lee Wallace will still be at Ibrox playing left-back and the Light Blues can sell Bocanegra, Goian, Emilson Cribari and Sebastien Faure, they should be able to bring in a right-back and one other central defender. With Anestis Argyriou, Chris Hegarty, Ross Perry, Andy Mitchell and Luca Gasparotto likely to still be at the club, it should be enough to see Rangers through the season.

It won't be perfect, but this is another transition period. Only this time -- regardless of the imperfections -- there should be no excuse for the Gers not having the best defence in their league.

High Standards

There are some things in Scottish football which can make you laugh and weep at the same time and this week produced one of them. Rangers pointed out on their website that 78 people had complained to the Advertising Standards Authority (ASA) claiming the headline 'Scotland's most successful club' -- which the Light Blues use to sell tickets in newspaper advertisements -- was wrong, as they claimed Rangers are a new club.

Of course, it was not upheld because it was ridiculous, but it goes to show how far some will go to turn sport into farce. It's terribly sad that there is a generation of young Scottish football fans who have no idea that the national game was once played on the pitch, and not social media.