Javier Pastore: Enigma But No Flop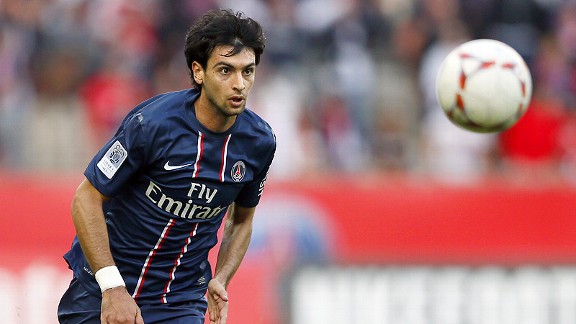 Kenzo Tribouillard/AFP/GettyImagesIt's taken time, but Javier Pastore is finally settling and showing his worth at PSG.
"Carlo Ancelotti doesn't know anything about football."

At least, the above is according to Palermo chairman Maurizio Zamparini when questioned about playmaker Javier Pastore. The Argentine joined the capital club from the Silicians just over a year ago but has thus far failed to capture the imagination of the Parc des Princes.

"Javier Pastore is not a flop, he is a phenomenon." said Zamperini, breaking a self-imposed six-month media blackout.

"Carlo Ancelotti doesn't know anything about football. And do you know what I say? I'm glad that they lost to Porto in the Champions League. Hopefully he'll learn not to play Nene in place of Pastore. I don't rate him as a manager." Nice to see the long bout of silence found him in talkative mood. "Pastore is still a young lad of 23 and finds himself surrounded by the wrong people. However, he remains a phenomenon." Scathing criticism indeed, especially considering how pleased Zamparini was to do business with les Parisiens' Brazilian sporting director Leonardo at the time.

So the question remains: is Pastore really seen as a flop? Yes, he may have struggled to produce his best form consistently for PSG, but he has proven my initial thoughts on him wrong with his early season quality.

The question of consistency still lingers, but while les Rouges-et-Bleus continue to find their feet after a summer of costly changes, that was to be expected. Pastore though has been reinvigorated for the most part since the start of the campaign and seems to have finally found his place in this PSG side. I realize I'd previously questioned his long-term position within the side, but given his heavy involvement so far this season it seems that he still figures in Qatar Sports Investments' long-term vision for the club.

Why then is he playing so well again? Arguably his domestic form still needs consistency, but his European exploits are where he has been catching the eye so far. In the Champions League he seems liberated, playing with more freedom than he is used to domestically.

Perhaps this is because most Ligue 1 sides are built on tough defensive units consisting of strong, athletic and fast players, often of African origin. They tend to give Pastore a bruising examination regularly and look to maximise their physical advantage over the waif-like Argentine.

An early contribution of one goal and two assists in six league appearances, as well as one Champions League goal in one start, is hardly mind-blowing -- especially when you take into account the fact that he had six goals and two assists inside his first 10 games last year. However, it is an improving ratio for 'el Flaco.'

He is still guilty of going missing sporadically -- Pastore's main flaw last term. His performance in the recent Marseille encounter, a missed chance and half-time substitution, is a reflection of this. Sometimes he is a ghostly presence and slips out of matches entirely, but contrast that with all-action performances against Toulouse and Dynamo Kiev and you have a player slowly renewing his coach's faith.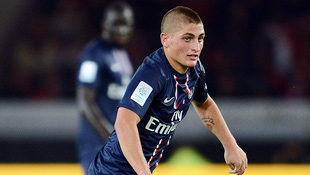 Franck Fife/AFP/GettyImagesWith young Marco Veratti settling well at the base of PSG's midfield, the foundation is there for Pastore to grow in confidence and play more consistently.

Scorer of a sublime lob against TFC, the move was a reflection of the promise that a Pastore-Marco Verratti understanding possesses for PSG's future. Liberated by Ancelotti's deployment of the diminutive Italian in the deep-lying role that Pastore had initially been earmarked for, the decision has been a masterstroke considering Pastore's struggles to adapt to the position since Ancelotti arrived.

Now, complimented by an attacking lineup of Zlatan Ibrahimovic, Jeremy Menez, Ezequiel Lavezzi and Nene, Pastore is exciting, vibrant and creative in his role close to the summit of Carletto's Christmas tree formation. That is without even contemplating the impending arrival of Brazilian Lucas Moura in January, a player who will undoubtedly command a starting berth in a similar position to the former Palermo man.

The major improvement from Pastore this season has been the injection of pace into his game. He often lapsed into slow, cerebral and (at times) laborious play in domestic encounters last season, something that is borderline unforgivable in French football given the strength and speed of most opponents.

Perhaps that tendency is simply a reflection of the slow nature of Italian football, but he has quickly learnt the lesson that he now no longer has as much time to dwell on the ball. However, that aspect of his game is not completely lost and it comes to the fore in Europe, where he often enjoys more time in possession. Therefore Pastore's tough adaptation to life in France is making him a better-rounded player, thus pouring scorn on Zamparini's unprompted bleating.

Although he has endured plenty of teething problems after an initial hot streak upon his arrival in Paris, Pastore and Ancelotti are moving away from the Italian tactician's deeply inherent style of play and adapting it into a more modern European approach. Perhaps something that the outdated style of play exhibited in Serie A should take note of.

Ancelotti's main alteration has to up PSG's tempo. They still play the possession-based football that the Italian has favoured since his arrival -- his famed 4-3-2-1 formation allows them to control games and devastate opponents in attack. Moulded on a solid defence with a fluid attacking unit, the crucial change is the increased speed of their passing and movement off the ball. Particularly evident with Pastore and Menez, this means less time on the ball in the style that Kaka enjoyed at AC Milan under Ancelotti.

This streamlined Italian approach surpassing Serie A is made particularly poignant given the presence of former Calcio stars such as 'Ibra', Thiago Silva, Verratti, Maxwell, Salvatore Sirigu, Menez and Lavezzi in PSG's ranks. All were assembled at high cost by Leonardo, who has launched a sustained raid on Italy's most talented stars since his arrival in Paris last summer. So far, this triumph in tactical innovation is something definitively made in Italy, which the Azzurri have not yet woken up to.