Transfer window: Sakho's exit detracts from positive summer
The 2013 summer transfer window slammed shut Monday night, ending another period of lavish spending for Paris Saint-Germain. In excess of 100 million euros was spent on new players for the third year in a row and that eventual number could have been higher had Laurent Blanc been successful in adding one more star to his side.

Late moves for new Arsenal signing Mesut Ozil and Chelsea's Juan Mata failed, but they would have created more complications within the side with no time to offload anybody else. One of those arrivals would no doubt have meant that PSG needed to move on one of their current stars in order to avoid the player in question reacting poorly to increased competition for places.

As it was, the French champions ended up selling more players than they bought. But it was an important exercise for PSG, who needed to trim an overinflated squad with a number of players earning a pretty salary but not playing much football.

The starting XI and squad have risen in quality once again, even if we have not seen evidence of this on the pitch just yet. The side from the capital are more formidable than they were last year under Carlo Ancelotti and now arguably boast the quality to harbour genuine European ambitions as well as to handle their domestic expectations.

Here is a summary of PSG's main moves over the past three months and where the best business has been done.

IN:

Edinson Cavani

At 64 million euros, El Matador is not only PSG's most expensive signing ever but also French football's.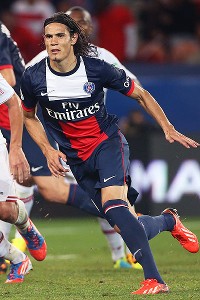 John Berry/Getty ImagesEdinson Cavani has two goals in his first three starts for PSG as he tries to blend in with Zlatan Ibrahimovic.
Monaco announced the signing of Colombian marksman Radamel Falcao immediately after sealing the Ligue 2 title at the end of May, and the move was interpreted as a challenge to the side from the capital. Six weeks later, PSG beat competition from all over Europe to secure the signature of the Uruguayan international in what is believed to have been sporting director Leonardo's final act.

Cavani has started life well in Ligue 1, scoring two goals in his first three starts. While his relationship with strike partner Zlatan Ibrahimovic still needs fine-tuning, the early signs have been positive in the 26-year-old's first few games in PSG colours.

Lucas Digne

Shortly following the French under-20 side's World Cup victory in Turkey, PSG moved quickly to secure the signing of 20-year-old Lille left-back Lucas Digne.

Having excelled for Les Dogues despite their struggles domestically and in Europe last season, the youngster was hot property and wanted by Ligue 1 rivals Monaco as well as a host of European clubs. However, the capital club convinced him to join them over their opponents and the French starlet is expected to be pushing Brazilian star Maxwell for a place in Blanc's starting lineup by the end of the season.

Digne is yet to feature this season.

Marquinhos

Arguably the riskiest of the French champions' moves this summer was the 35 million euro signing of 19-year-old Brazilian defender Marquinhos.

The teenager arrived from Roma as the third of PSG's three big-money signings in as many days in mid-July. However, there were issues over the youngster's health before the move could eventually go through.

Having played only one full season in European club football with Roma, the uncapped Brazilian is yet to even taste continental football and has little experience compared to Mamadou Sakho, whom he eventually replaced.

PSG have paid a lot of money for promise, with little indication that the player is anywhere near the finished article, with no senior international football to his name yet.

Despite not featuring so far this season, the Brazilian is rated highly and it is thought that last season's Ligue 1 winners fended off Barcelona to secure his signature.

Adrien Rabiot

OK, not exactly a new signing, but Adrien Rabiot's return from his loan at Toulouse in the second half of last season is like a new arrival.

As evidenced by his late goal to break the deadlock against Guingamp last weekend, the 18-year-old Frenchman, who is a youth academy product, has already shown that he is ready to contribute immediately.

Part of an extremely talented group of young players coming through from the youth academy at present, it is hoped that Rabiot takes over Sakho's mantle as a symbol of the club on the pitch.

VERDICT:

The three new signings are excellent additions, particularly Cavani and Digne, who strengthen areas that had been identified as weak in depth after last season's title win and Champions League run.

Marquinhos is a risk, but a calculated one as he is not expected to step into the first team immediately anyway.

Last season's starting XI was arguably complete with the exception of a second striker to play alongside Ibrahimovic, and that Achilles' heel has now been cured.

PSG can feel pleased with their three signings and the return of Rabiot over the summer.

OUT:

Mamadou Sakho

It goes without saying that the decision to part ways with long-serving defender and fan favourite Mamadou Sakho is a controversial one.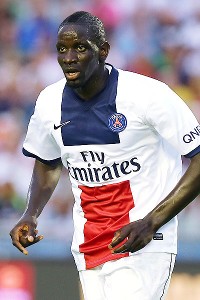 Martin Rose/Getty ImagesThe departure of fan favorite Mamadou Sakho has little immediate effect on PSG's first team.
However, it is not completely without merit and also does not affect the PSG first team in an immediate sense.

Marquinhos is seen as a better long-term prospect and with Alex favoured over Sakho when fit last season, the 23-year-old was by no means an indispensable member of the starting XI despite playing regularly.

Sakho was more than just a player at PSG though, and the French champions may well live to regret their decision to allow the homegrown defender to leave for Liverpool.

On the plus side he attracted a handsome fee, but that will be of little consolation to the fans who had grown to adore "Kirikou."

Kevin Gameiro

Another Frenchman was allowed to leave the club this summer with Kevin Gameiro departing for Sevilla in Spain.

The 26-year-old's departure is perhaps the most understandable of any outgoing deal and few can complain about his contribution for the team when called upon.

His eight goals last season helped contribute toward the final 12-point margin between PSG and second-placed Marseille despite hardly getting a look-in under Ancelotti.

Gameiro decided he would rather move elsewhere for guaranteed first-team football than stay at the club and see his World Cup dreams completely shattered.

Few could argue with his decision.

David Beckham

David Beckham arrived in the French capital in January to much fanfare, but he provided little on the pitch despite a promising first few appearances.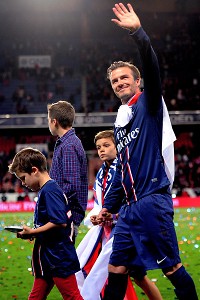 Michael Regan/Getty ImagesPSG would've faced an awkward decision had David Beckham decided not to retire.
The 38-year-old former England captain decided that he could prolong his career no longer at the end of last season and announced his retirement, bowing out as a champion shortly after the club sealed a first Ligue 1 title in 19 years.

Despite helping to raise PSG's off-field profile significantly in his short time at the club, his decision to not stay on for another season was the right one.

Clement Chantome

Like Sakho, Chantome is a symbol of the club on and off the pitch and his move to Toulouse will have disappointed many.

However, given that it is a loan move without an option to buy, no permanent judgement will have been passed just yet and the French international still has time to save his future.

Sylvain Armand

If Sakho was the Fresh Prince of the Parc, then Sylvain Armand was most certainly the King.

PSG's longest-serving player in the senior side under his belt, the 33-year-old finally departed the French capital as a champion after nine years of trying to secure a third Ligue 1 title ultimately ended in success.

His experience will be missed, but few doubt that allowing "Mr PSG" to enjoy the twilight years of his career at Rennes will prove to be the wrong decision.

Momo Sissoko

Malian international Momo Sissoko is another who has left the Parc des Princes this summer after the club agreed to cancel his contract on the final day of the transfer window.

An early signing by sporting director Leonardo, the 28-year-old won't be missed on the pitch after two seasons of adding little more to the side than a flurry of yellow cards and a spate of injuries.

Siaka Tiene

Siaka Tiene played less of a role than any of the other players on this list, featuring just twice. The Ivorian full-back's departure for Montpellier earlier this summer was no surprise.

In fact, the only surprise bigger than how long it took for the 31-year-old to leave is the fact that he has scored two league goals for La Paillade already this season.

Diego Lugano

Diego Lugano finally departed the club after a fruitful but ultimately unsuccessful loan spell with Malaga. The Uruguay captain had looked a great signing for PSG on paper, but in reality it never worked. Lugano was the right type of player for PSG, but he arrived at the wrong time for the club.

Other players to have left the Parc des Princes include young prospects Alphonse Areola, Antoine Conte and Youssouf Sabaly, all on loan. With such competition for places, allowing the cream of the crop from the club's fruitful youth academy to go on loan is a sage idea.

Areola in particular looks like a sensational talent and it is hoped that he returns from a loan spell in Ligue 2 under former coach Antoine Kombouare with Lens having helped them to promotion and ready to challenge Salvatore Sirigu for a starting role.

Neeskens Kebano is the final departure, leaving the capital club for Belgian Jupiler Pro League side Charleroi. So much was expected of Kebano when he burst into the PSG side pre-Qatar Sports Investments along with Jean-Christophe Bahebeck, who has gone out on loan again this year, but the pair unfortunately has been lost since the club's takeover in 2011.

Neither has progressed as rapidly as other youth products such as Rabiot, and a loan spell with Caen did not do enough to convince the PSG hierarchy that Kebano has a future part to play.

Bahebeck could yet save his PSG career, but that is thanks mainly to an excellent under-20 World Cup with France and not his performances while on loan first at Troyes and now with Valenciennes.

VERDICT:

PSG have trimmed some fat off of the wage bill and done so without losing too much quality overall. The exits of Lugano, Sissoko and Tiene had all been a long time in coming and the retirement of Beckham saved the club an awkward decision over a man whose football career was rapidly dissipating as fast as the sands of time.

It is hard to look past Sakho, Gameiro and Chantome though, as the departures list has a particularly French flavour to it. The club could be proved in the long run to have simply identified a more promising young breed of homegrown talent that eventually usurps the current bunch of Paris-born domestic stars in the side, but for now the exit of Sakho in particular will be viewed largely as a failing of the club.

OVERALL:

PSG have done extremely well in this summer's transfer window, strengthening the key areas to put themselves in a position to launch an assault on the Champions League this season. However, the exit of iconic defender Sakho will continue to overshadow the club for some time, detracting from what has otherwise been a positive summer in the French capital in terms of transfer dealings.