Lucas Digne: A worthy signing?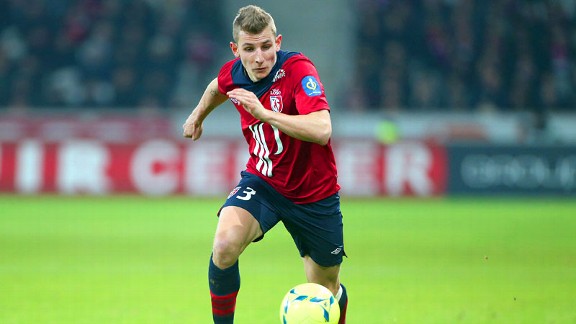 John Berry/Getty ImagesFrench starlet Lucas Digne joins PSG from Lille.
"Lucas Digne, an immense hope of French football, recent winner of the Under-20 World Cup, courted by the biggest clubs, has chosen Paris Saint-Germain to establish himself on the European stage," PSG President Nasser Al Khelaifi proudly announced on the club's official website on Wednesday.

- PSG sign Digne from Lille

The 19-year-old, who signed a five-year deal at the Parc des Princes, follows hot on the heels of the mammoth signing of Edinson Cavani earlier this week. Although he did not receive the same fanfare, it is a signing that the French champions' supporters should be equally proud of.

What is astonishing is that Digne is the first Frenchman signed under Qatar Sports Investments that can really be called their own, and it comes two years into their time in charge of PSG.

Kevin Gameiro arrived prior to QSI's takeover in 2011. The signings of Blaise Matuidi and Jeremy Menez had actually been put in place by the previous regime, even though Leonardo got to unveil the duo after the capital club's new owners completed the deals. Aside from Ronan Le Crom, plucked from retirement as third-choice goalkeeper, Digne is the first domestic talent signed by the club that the owners can truly say was identified, pursued and signed under their watch.

What a way to do so.

Chased by both PSG and fellow Ligue 1 financial heavyweights Monaco, the side from the capital demonstrated where the power still lies, despite an impressive summer in the principality, by snapping up the flying left-back for 15 million euros.

In time, although it sounds obscene given the inflated prices on transfers today, that money that PSG have paid Lille is an investment that could eventually turn out to be a bargain.

Since bursting onto the scene for Les Dogues in 2011, Digne, who turns 20 this weekend, has enjoyed a meteoric rise to prominence. Hailing from Meaux, just over 40 kilometres northeast of Paris, the teenager quickly established himself in Lille's first team under Rudi Garcia.

Having made 13 starts in 2011-2012 as LOSC unsuccessfully tried to defend their title, it was last season when Digne's prodigious talent became most apparent. Two goals from 31 starts in his first season as a regular, he also gained Champions League experience as Lille faced the likes of eventual winners Bayern Munich, Spanish outfit Valencia and Belarusian surprise package BATE Borisov.

Crucially though, Digne is a player that the fans can relate to. Having grown up a childhood supporter of PSG, the move realises a dream for the youngster. For the fans, the club has bought a rare domestic talent for them to champion, someone who will certainly in the near future become a cornerstone of what is expected to be a dominant European force.

"To play at PSG with exceptional players is a childhood dream and an immense joy," Digne told PSG's website.

"Following the World Cup success, I'm having a fantastic summer. I thank the directors of the club for their confidence in me."

Ironically, Digne's arrival takes PSG back to one of Leonardo's opening statements about domestic talent when the Brazilian welcomed Matuidi and Menez to the club as the first recruits of the new era.

"Our first criterion in signing Jeremy and Blaise was their talent," he said back in 2011. "They both also play for the French national team. It is very important to have France internationals in our squad."

While not totally ignored, that notion has been largely forgotten in the two years since the pair arrived in the French capital. Matuidi has cemented his position at the heart of the midfield for PSG and Les Bleus, but Menez is now struggling on the fringes after initially playing a key part. However, no French internationals have arrived since the pair joined which makes Digne's signing such a refreshing change.

Upon QSI's introduction as new club owners in July 2011, Al-Khelaifi said: "We want to invest in the big stars of tomorrow from all over the world, including France."

In Digne, PSG have finally done so.

Recently an under-20 World Cup winner in Turkey with Les Bleuets, Digne is a rapidly developing talent internationally as well as domestically. With the senior France side struggling for inspiration under Didier Deschamps, there have been calls for new blood to reinvigorate the side.

In its current state, the 19-year-old has a great opportunity to play his way into Deschamps' plans ahead of the 2014 World Cup in Brazil. First, though, he will have to usurp Maxwell, the current incumbent on the left side of PSG's defence; a player who was unerringly consistent last year but also overworked at times because of a lack of depth.

Digne is without doubt a very worthy new member of the Laurent Blanc's star-studded squad.