Ricky van Wolfswinkel's Norwich move opens up a new frontier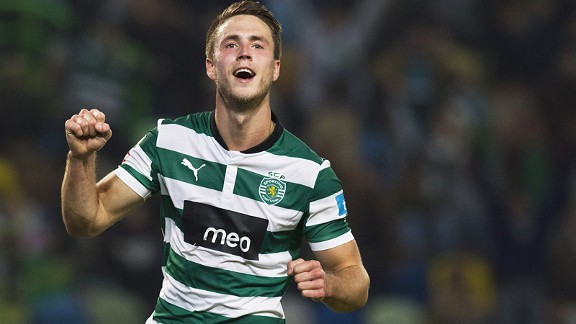 GettyImages
These are exciting times at Norwich City. Ricky van Wolfswinkel's club-record capture from Sporting Lisbon is the clearest signal yet the Canaries are ready to embark on Premier League expansion.

- Norwich strike deal for Van Wolfswinkel

City may have failed in their pursuit of what the club's hierarchy made clear was their number one European target in the January transfer window. But in taking advantage of political instability and grave financial problems currently afflicting the 'Green and Whites', City's summer spend has began in spectacular fashion.

The 24-year-old Dutchman was also heavily linked with Europa League quarter-finalists Tottenham and Newcastle. Previously, as he progressed at an accelerated rate through his Dutch finishing schools with Vitesse and Utrecht, RvW had been a talent good enough to alert Manchester United's scouts. Now he will arrive in Norfolk on July 1 to spearhead a new phase in City's evolution.

The club's astute chief executive David McNally will have been the main driver at the heart of a deal which in its audacity elevates the Canaries into a different financial era. Along with chairman Alan Bowkett, the duo have long preached adherence to a co-operative sustainability as the guding principle of their fiscal policy. Norwich spend what they generate in revenue; not what a Middle Eastern sheikh or a Russian oligarch bequeaths. When the club tumbled into League One only three full seasons ago the spectre of administration was real. The Canaries were indebted not only to the management within the executive team but the benevolence of their major creditors.

The pay-off from two consecutive promotions into the Premier League and, barring a late implosion for Chris Hughton's squad over the run-in, a second season of consolidation is a balance sheet boasting record financial numbers. City posted their highest-ever profit in the last full financial year, which covered that first season back in the big time. By the end of this one they appear on course to be free of external debt and those creditor obligations. Hughton's ability to guide them to safety between now and May will also bring access to fresh broadcast riches.

Van Wolfswinkel's signing is the most visible illustration of the old and new order colllding to help propel Norwich forward. McNally used his personal Twitter feed over the weekend to reveal the club's pre-season plans include a potential USA tour. Seen alongside their high profile recruitment of RvW it is another part of the strategic plan to project a more global brand beyond the confines of their Norfolk powerbase. Van Wolfswinkel's capture will not be the last multi-million pound addition to Hughton's squad over the summer.

City's successful pursuit of the Dutchman clearly frames this ambitious outlook. It marks a new phase in Hughton's evolution of a squad he largely inherited from his predecessor. Norwich's march to Premier League safety would already have been complete if City possessed the attacking firepower to complement their defensive resolution. Van Wolfswinkel's predatory pedigree is a hugely positive step in the right direction. Yes, these are heady times indeed.