Trip to Sunderland could have seismic implications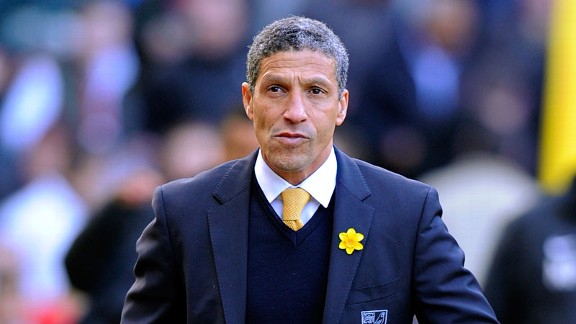 Cal Sports MediaThere will be no looking ahead for Chris Hughton and Norwich City who face a massive test at the Stadium of Light.
Just like tectonic plates, something has to give when Norwich City trek to Sunderland in Sunday's Premier League tussle at the Stadium of Light.

The Canaries' relative lack of firepower becomes an increasingly worrying trend rather than a quirky statistic with each passing week of stalemate. A goalless affair against Southampton at Carrow Road last time out was the third in five home games the natives have had to sit through. Sunderland, by way of contrast, have shipped two or more goals in five of their last seven Premier League contests. What am I saying? It has another drab deadlock stamped right through it -- except both clubs served up a thrilling sliver of carefree attacking football in the corresponding fixture earlier this season.

Chris Hughton's squad emerged victorious 2-1, but Sunderland merited at least a draw for a sustained second half onslaught. Mark Bunn's belligerence in the home goal allied to similar levels of obduracy from the men stationed in front of him and some wayward finishing from Martin O'Neill's side helped maintain the Canaries' upward trajectory during a club-record Premier League unbeaten run which has insulated them from the worst stresses of the gathering fight below.

The irony is that the three points that separate the two teams some four months on is unlikely to have been lost on the Wearsiders' Northern Irish boss. Sitting uneasily in his chair fulfilling his post-match media duties following defeat at Carrow Road, O'Neill was forced to bat away lines of questioning regarding his fears of being sucked into a long relegation battle. Ever the diplomat, O'Neill reaffirmed his faith in the players under his command to extricate Sunderland from trouble. A glance at the current standings suggests that has been only a partial success.

Both Sunderland and Norwich need a win, in any fashion and by any means necessary, just to steady the collective nerve and lessen the pulse rate of two fan bases who will have no desire to become embroiled in a relegation fight that is shaping up to be the best -- or should that be the worst -- for years.

Hughton knows all about the passionate fault lines that run through the north-east after his eventful time on Tyneside. The City boss offered some perceptive observations this week regarding the relative pressure points around this game. Sunderland will have earmarked victory over one of their direct rivals. Anything less will be seen as failure and fresh evidence O'Neill can expect plenty more uncomfortable lines of enquiry over coming weeks.

The Canaries know their next two away tests against Sunderland and then troubled Wigan offer a defining opportunity. Broker a brace of positive results and they may feel they can relax; safe in the knowledge that a third consecutive season of Premier League membership has effectively been sealed. Should the graph lurch in the opposite direction though, then the road to survival looks paved with obstacles.