Gary Hooper is the master of his own destiny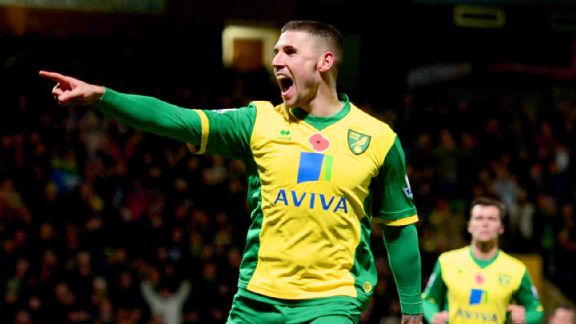 Jamie McDonald/Getty ImagesGary Hooper has five goals in 12 appearances for Norwich City since arriving from Scottish giants Celtic.
Bravery might not top the list of attributes you would associate with Norwich City striker Gary Hooper.

The 25-year-old is clearly a prolific scorer of goals and his latest in the Canaries' 2-0 Premier League win at West Brom underlined his predatory instincts. Hooper escaped detection from Uruguayan international Diego Lugano, who may well be tasked with shackling Wayne Rooney or Daniel Sturridge in next summer's World Cup, before lashing an instinctive first time strike past Boaz Myhill at the Hawthorns. Each passing shift in the English top flight provides irrefutable evidence that Hooper's brand of power and directness may well prove effective in what is widely accepted one of the toughest club leagues in football.

- Report: Hughton hails response

Hooper has scored goals at every stage of a career which had its origins in non-league circles before a steady ascent that peaked at Celtic, but still the lingering questions remained. Hooper plundered 63 goals in 90 starts for the Glasgow giants, but since leaving admitted it has taken a period of adjustment that was not helped by a pre-season shin injury. Hooper was indulged at Celtic, where he could gorge on a plentiful supply as Neil Lennon's squad profited in the wake of Rangers' demise. At Norwich he can expect a more circumspect approach as part of a squad who, despite their ambitious philosophy, will always be fighting against-the-odds.

Hooper was adored at Parkhead and feted by a manager who claimed he was the best Celtic striker since the legendary Henrik Larsson when he returned south in the summer. The one-time Grays frontman could have stayed in Glasgow and embellished his own growing status as a modern-day icon. Celtic is a footballing institution not just in Scotland but across Europe and Parkhead is a monument to the levels of their fanatical fan base, yet Hooper opted to leave such comfortable surroundings for the uncertain allure of the Premier League.

Hooper knows there will be no Champions League adventures at Carrow Road, but the striker also feels his international ambitions are better served operating within Roy Hodgson's orbit; or more likely Hodgson's successor after next summer's tournament. Hooper reiterated again at the weekend following his Baggies' strike -- a fifth in 12 appearances for the Canaries -- that he still harboured genuine hope of a late run to Rio. Hodgson himself indicated in the past Hooper was on his radar during his time at Celtic, but all the circumstantial evidence would suggest a productive Premier League season is a far better advertisement.

The Canaries' protracted pursuit illustrated that they shared Celtic's assessment of the player. City pushed last January without success to prize Hooper away from the Bhoys, but the later stages of the Champions League proved an intoxicating inducement. Hooper's decision to cut his ties a few months later underlined that Norwich have not only purchased a goalscorer, but they have also acquired a footballer who in swapping Glasgow for Norfolk is willing to take a step back in terms of club profile to accelerate his own career development.