Arsenal's carpe diem, England's distraction and Anzhi's supposed fire sale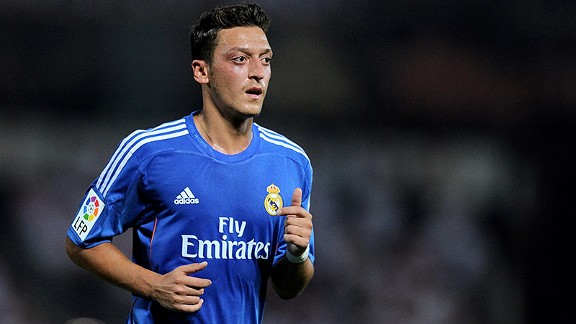 Denis Doyle/Getty ImagesArsenal shelled out $65 million in order to sign Mesut Ozil from Real Madrid.
So the team that wouldn't spend -- despite sitting on piles of cash reserves -- goes out on the last day of the transfer window and makes the second-biggest signing in the history of the Premier League.

The guys who told us they were "working twenty-four hours a day" all summer long end up picking up a guy who only became available in the last 48 hours of the window.

The folks who told us that they were "scouting every player in the world" end up signing the star attacking midfielder from arguably the most famous club in the world, which doesn't exactly require a Ph.D. in scouting.
But hey, planning and all is nice and important. Getting things done when it matters is vital. Arsenal may have rightly drawn criticism all summer for seemingly sitting on their hands (and not for the first time either).

They may have not addressed what many thought were their needs: a striker and a defensive midfielder (and, by the way, they themselves presumably thought those were legitimate needs, otherwise they wouldn't have chased Gonzalo Higuain, Luis Suarez and Luiz Gustavo). But on the last day of the transfer window they shelled out $65 million to get the best player available at the time: Mesut Ozil.

- Limbert: The Ozil deal
- Cross: Wenger worth a new deal, Ozil or not

And no, it's not a panic buy. Panic buying is running around looking for cheapo bargains as the window winds down to get bodies in to fill out your team sheet.

This is seizing an opportunity.

True, if Olivier Giroud gets injured, turns into a more handsome but less effective version of Andre-Pierre Gignac or gets kidnapped by aliens, there will be a big, gaping hole up front -- one that will require either blind faith in the young and untested (Yaya Sanogo), the not-so-young and recycled in a new position (Lukas Podolski, Theo Walcott) or ... ahem ... Nicklas Bendtner.

And yes, shoehorning Ozil into this lineup will mean disassembling a group that had found some balance and was actually getting decent results; it may have gone unnoticed in some quarters, but Arsenal's record in their last 16 competitive games is: won 13, drawn 2, lost 1.

Then again, given Wenger's system and possession-based style of play, integrating another skilful, ball-playing threat into the mix is more of an opportunity than a hurdle. There's enough versatility in the Gunners' front six that you can make it work and Wenger has in the past been successful at such experiments.

You want to find other negatives? The fact that he'll be Arsenal's highest-paid player by some margin? Not really an issue given that he's also the club's best player now. And Arsenal's books are more than healthy.

The fact that his arrival could stunt Jack Wilshere's growth and Wilshere is the future of Arsenal? Wilshere has played 90 minutes of league football just once in the past six months. He was in and out of the lineup when Arsenal went on their run late last season. Whether it's fallout from his injuries or some other malaise in his game, right now he isn't the player he was in 2010-11 and he certainly isn't the player he can be. He's 21 and he's talented and if it means he grows and develops off the bench for a while, so be it. He wasn't exactly a mainstay before Ozil's arrival either.

The fact that reports in the respected Spanish broadsheet ABC suggesting Real Madrid president Florentino Perez will tell club members that Ozil "wasn't a good professional" and that "he became obsessed with women, a world that was alien to him before" may be true and therefore Arsenal may have ended up with a sex-crazed dud? (Ed. Note: This story has been amended)

Anything is possible I guess, but this sounds like bad-mouthing of the crassest sort. What, did the 66-year-old Perez spend so much time hanging out with the 24-year-old Ozil that he noticed him turning into a hormonal teenager? Were there no girls around in Gelsenkirchen and Bremen, the two cities Ozil lived in before he moved to Madrid? What's fishy here is this: If it's true that Ozil has turned into some kind of priapic zombie, we'll find out soon enough. And if he snaps out of it -- or if it was just a big, fat, bold-faced lie to begin with -- then Perez will seem petty and silly.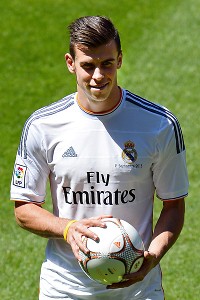 Gerard Julien/AFP/Getty ImagesOzil's sale to Arsenal turned out to be a win-win-win for three clubs, including Real Madrid who were able to sign Gareth Bale.
The fact that Arsenal actually ended up doing both Real Madrid and archrival Tottenham a huge favor? This one was floated by several people over the past few days. The theory goes like this: Without the sale of Ozil, Real Madrid might not have bought Bale. And that would mean Tottenham wouldn't have recouped the $130m-odd they splashed out in the summer transfer window, leaving a big hole in their accounts. And even if Madrid had gone through with the Bale deal, without the sale of Ozil it would have been that much more expensive in terms of financing and credit lines.

Look, it's undeniable that Tottenham and Madrid benefitted indirectly from the Ozil deal. But then so did Arsenal. Sometimes everybody wins. The alternative -- not signing Ozil -- would have hurt Spurs and Real. It would also have hurt Arsenal.

Ultimately, Ozil alone doesn't fix another poor transfer campaign at the Emirates. But his arrival certainly helps. And there is no denying that Arsenal are a better team now than they were eight days ago.

Les Bleus stumble: France's draw with Georgia on Friday means the playoffs beckon for Les Bleus. It's not an ideal situation but then again when you're in a group with Spain, it's something you presumably would have prepared for.

It wasn't a great performance, though one that probably would have yielded three points if Giorgi Loria hadn't pulled off a string of highlight-reel saves late in the game. And yes, this France lineup looks somewhat jaded. Karim Benzema hasn't scored in 1,216 minutes, and this version of Franck Ribery looks like a waxwork mannequin relative to the guy who plays for Bayern.

But stick Paul Pogba -- who was suspended Friday -- into the middle of the park and this team can do a 180-degree turn real quick. Didier Deschamps might want to start thinking about whether the 4-4-2 seen in Tbilisi really is the best formation to suit his key men.

No laughing matter: Another team that could be headed to the playoffs are England. Lose to Ukraine in Kiev on Tuesday night and Roy Hodgson's men no longer control their destiny. What's more, this is a team battered by absences up front. Wayne Rooney and Daniel Sturridge are injured, Danny Welbeck is suspended and, simply because there is no end to stupid tabloid self-flagellation, Kyle Walker is making headlines for the wrong reasons after a newspaper published photographs of him inhaling a hit of nitrous oxide from a balloon.

- Macintosh: English arrogance standing in way of success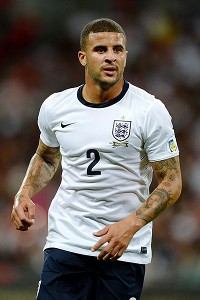 Michael Regan/Getty ImagesKyle Walker has apologized after a photo surfaced of the England and Tottenham defender inhaling a hit of nitrous oxide from a balloon.
Walker apologized, which was the right thing to do: He's a public figure, he represents England and Tottenham, the team doesn't need this distraction. That said, you have to wonder about the kind of person who takes a picture in June of a guy in a night club inhaling a LEGAL substance for his own enjoyment and then sells it to a newspaper. And you have to wonder about the kind of people who find this newsworthy.

Nitrous oxide -- more commonly known as laughing gas -- is the kind of stuff you might find in your dentist's office. It's not a performance enhancing drug. It's not illegal; in fact, some establishments sell balloons filled with it, which is presumably where he got it. In terms of damaging his health, sure, if he inhaled a zeppelin-sized dose of it, it might have messed him up severely. And no, he probably shouldn't have gone off to operate heavy machinery after taking a hit of laughing gas.

But you wouldn't want to drive a combine harvester after drinking 20 pints of beer either. And that XL Domino's meaty pizza with extra cheese isn't a good idea either. The point here is that these are cheap headlines with the added bonus of being able to chuck the word "drugs" in there.

The price of a free press isn't just eternal vigilance. It's having to put up with vultures and idiots who think that just because you're a 23-year-old millionaire in a public place, you deserve to be treated like this.

Comrades colluding? OK, so a month or so ago we find out that the great Anzhi Makhachkala experiment is coming to an end. Owner Suleyman Kerimov takes a massive hit in the fertilizer business (his bread and butter) to the tune of some $400m and he suddenly needs to sell most of his assets.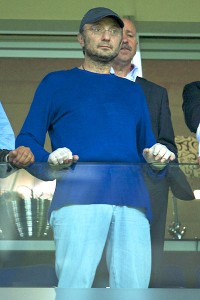 Getty ImagesA bad business year has forced Anzhi owner Suleyman Kerimov to unload a slew of players.
Motivated seller? Need to raise cash fast? You'd think there would be plenty of bargains, right? After all, it's a fire sale, one of those "Everything must go!" moments.

But take a closer look. Except for Samuel Eto'o, who had a year left on his enormous contract and left on a free transfer, Anzhi somehow managed to get top dollar for their distressed assets, at least according to the respected transfer website Transfermarkt.

- Worrall: Will Eto'o be the bargain of the century?

On July 4, Anzhi sign Russian starlet Aleksandr Kokorin from Dynamo Moscow for $25 million. Thirty-three days later, he's sold back to Dynamo for the exact same amount. On July 15, Anzhi buys veteran midfielder Igor Denisov from Zenit St Petersburg for $20m. A month later, he goes to Dynamo Moscow for ... exactly $20m.

Or how about Yuri Zhirkov? Thirty years old, hasn't made more than 23 league starts since 2009, what could he be worth? Why, $14.5m, if it's Dynamo doing the buying.

In total, eight players (six permanent, two on loan) made the move from Anzhi to Dynamo in the space of a few weeks after the Dagestani club's meltdown, bringing nearly $90m into Kerimov's coffers.

Dynamo's Muscovite colleagues Lokomotiv weren't quite as charitable, but they too did their part. They picked up Moubarak Boussoufa, Lassana Diarra and Arseniy Logashov for a combined $40m. That's 40 million dollars for a 29-year-old Moroccan with 28 caps, a 28-year-old Frenchman who hasn't played for France since the 2010 World Cup and a 22-year-old Russian with a single cap.

Amazing, huh?

Don't want to jump to conclusions here -- in fact, feel free to draw your own -- but for a free market to work, everybody needs to be maximizing profits and doing the best they can to win. Otherwise, it's not a real competition.