Falcao's choice, Robben's future, Neymar's timing, more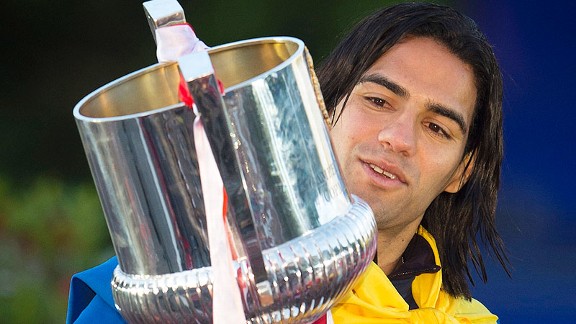 Dani Pozo/AFP/Getty ImagesWhatever the reasons for Falcao's move to AS Monaco, let's hope the Colombian striker was in control of his own destiny.
Barring some kind of miracle, the next time Radamel Falcao turns out at the Vicente Calderon, he won't be wearing the colchoneros' red-and-white. There is no official word yet, but the way the Colombian striker saluted the fans -- and the fact that Atletico boss Diego Simeone simply said, "Whatever happens to him, I'll be happy, he has given his all" -- leaves little doubt that Falcao is on his way out.

And every indication points to his rocking up in Monaco, the one club seemingly willing and able to match his $77.5 million release clause.

Holyman: Ligue 1 season in review
Johnson: How Monaco's wealth impacts PSG

Of course, swapping Madrid for the Principality means no Champions League football until 2014-15 at the earliest. It means playing in front of 10,000 or so supporters. It means giving up La Liga and those regular clashes with Real Madrid and Barcelona for Le Championnat, which for now at least offers little in terms of glamour beyond Paris St. Germain.

So why do it? You could name a half-dozen clubs who could use a centre forward with his skill set, all of them capable of putting serious money on the table, from Manchester City to Tottenham Hotspur, Chelsea to Juventus, Bayern Munich to Real Madrid.

The cynics will point to his paycheck but that must be only part of the story. It's not as if he would have earned much less at any of those other clubs. They'll cite the fact that Atletico are cash-strapped and that no other club was likely willing to push past the $50 million mark for the Colombian striker's services. That may be true, but Falcao has a say in this, too. Or at least he should.

The reality is that this situation is far from transparent. His past includes a web of third-party owners and outside investors funding transfer fees (to Porto and to Atletico). His agent has already sent two high-profile clients -- Joao Moutinho and James Rodriguez -- to Monaco, so evidently there's a good vibe with owner Dmitry Rybolovlev.

You just hope that Falcao is doing what's best for him and that he was as free as he could be from the pressures and priorities of others in making his decision.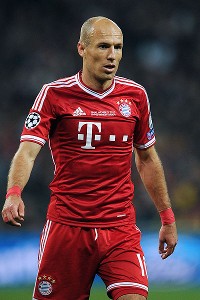 Chris Brunskill Ltd/Getty ImagesArjen Robben may have redeemed himself in the CL final but his future with Bayern is still uncertain.
Robben redeemed: So Bayern Munich are champions of Europe and Arjen Robben's redemption is complete. After the stinker in last year's final and a first half that saw him fluff several clear-cut chances, you had the sense that history was going to repeat itself and he would be the villain once again.

But no -- the second 45 minutes showed Robben as a game-changer, capable of setting up Mario Mandzukic's opener and scoring the winner. After what he went through -- not just 12 months earlier but in the 2010 World Cup final, as well, not to mention chunks of this season when he lost his place as a starter -- you couldn't blame him for milking the applause of the Bayern fans at the end.

He deserved it.

The question, though, is what happens next. Robben is streaky and anarchic on the pitch, two qualities that don't usually top a manager's wish list, least of all a guy like Pep Guardiola. When Robben is good, he wins you games almost single-handedly. When he's not, he's not even a passenger -- he's ballast.

Delaney: Robben's cathartic moment
Tyler: A CL final we won't soon forget
Press Pass: What's next for Bayern?

Consider the other factors, too. He's one of Bayern's highest-paid players. He's entering the final two years of his contract, meaning that if the club are going to recoup anything significant, they need to make a move now since he's 29. Plus, he wouldn't even have been on the pitch if Toni Kroos had been fit. (It's not a coincidence that Robben started only 11 Bundesliga games this season).

With Mario Goetze coming on board, there are only so many slots available. And Robben will face competition from Thomas Mueller, Franck Ribery and Xherdan Shaqiri in addition to Goetze, plus whoever else Guardiola decides to bring on board.

It seems cruel that the "man of the match" in the Champions League final should be quietly ushered out stage left. But don't be overly surprised if it happens.

Pep has decisions to make: Speaking of Bayern next season, it's going to be a busy summer at the Allianz Arena. Without knowing how Guardiola sees his squad, making predictions is tricky. But an educated guess would suggest that, in besides Goetze, Bayern will be adding at least two more starter-quality players.

One, if media reports are to be believed, will be Robert Lewandowski or some comparable striker. The other will likely be a central defender. Daniel van Buyten is going and Holger Badstuber, when he returns, will be coming back from a horrible season-ending injury. Emre Can is promising but is just 19 years old. Dante has been a rock all season -- except for at Wembley -- but he's 29 and could use some help beyond Jerome Boateng who, despite being 24, still looks a bit frenetic and raw at times. Another body would be a nice fit.

Unless, of course, Guardiola sees Javi Martinez as a centre half, in which case you can expect a newcomer in the middle of the park.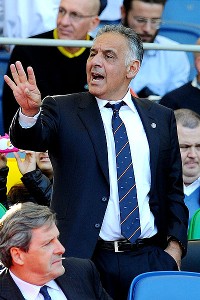 Giuseppe Bellini/Getty ImagesRoma fans are right to be upset with club owner James Pallotta, but only to a point. After all, the giallorossi are doing everything right off the field.

Up front, things get intriguing. Assuming there will be a new centre forward around, Mario Gomez will slip to third-choice behind the newcomer and Mario Mandzukic. Gomez is 27, is locked into a long-term contract through 2016 and, despite injury and limited playing time, still scored 17 goals in all competitions this past season. Finding a taker shouldn't be difficult; finding a team that Gomez wants to join might be a different story.

Bayern are a cash cow of course, but negotiating a crowded dressing room is a headache Guardiola doesn't need. Making sure the right guys go out -- and at the right fee -- will not only improve the net spend but also make the new manager's job easier.

Despite Coppa defeat, Roma's doing fine: Two years into James Pallotta's grand Roma project, everything is going swimmingly except for the performances on the pitch. Sunday's defeat against Lazio in the Coppa Italia final sealed another season of disappointment, and the Roma Ultras made sure to let the players now.

De Martinis: 'Old' Roma remains after Coppa loss

Some 200 fans greeted the team bus back at the training ground with a hail of stones and rotten eggs. The anger is understandable. The way they chose to manifest it, obviously, is not. I know it's a big ask, but a far more productive reaction would be to recognize that the one thing missing from Roma these past two years has been results, nothing more. And that the club would be in a far worse state with a different crew in charge.

The fact is that the giallorossi have, arguably, the second-best squad in Serie A, which shows their transfer activity has been good. Businesswise, sponsorship and revenue are rising. Average attendance is up some 20 percent compared to before Pallotta's arrival and season-ticket sales are up 25 percent. And there is even movement on the much-anticipated -- and much-needed -- new stadium.

Roma obviously made the wrong choices when it came to managers. Luis Enrique was pretty to watch but clearly was unsuited to Serie A (and to Roma), as he himself recognized in walking away at the end of the 2011-12 season. Zdenek Zeman was a bold move which eventually backfired due to his old ills -- an inability to come up with a rational defensive system -- and some new ones, like getting embroiled in a needless feud with Daniele De Rossi. And Aurelio Andreazzoli may have been just an interim stopgap, but he was a particularly poor one.

Not playing in Europe for the second straight year is a blow. And obviously, having screwed up twice, they can't afford another mistake in their choice of manager. But Roma have come a long way in a short while in so many respects. They just need to fix the single most important one: getting it done on the pitch.

Neymar's long-overdue move is actually well-timed: So Neymar to Barcelona, a transfer first discussed nearly two-and-a-half years ago, is finally coming to fruition. It's funny because Neymar has been talked about in Europe for so long -- and has generally failed to impress when European audiences have seen him -- that reaction to his signing has been somewhat ho-hum.

Some of his critics predict he will be another Robinho. Overhyped on his arrival, billed as the next Pele (largely because he also came from Santos), inconsistent on the pitch.

Vickery: Sink or swim for Neymar at Barca
Press Pass: Next Pele or Next Robinho?

That's one way to read it. But the parallel only goes so far.

Robinho was a less mature player when he came over than Neymar looks now. More importantly, Robinho joined a Real Madrid side that was in turmoil and remained chaotic throughout his stay. That won't be the case with Neymar. He'll come aboard a Barcelona team that won La Liga; though the squad has other problems, there does still seem to be genuine cohesion and unity throughout the squad.

Others say he won't be able to coexist with Lionel Messi. "You can't have two captains on a ship," as Johan Cruyff put it. But that's not a convincing argument, either. By all accounts, Neymar accepts that he will play second fiddle to Messi, at least at first. And Barcelona likely won't be expecting Neymar to carry the team anytime soon.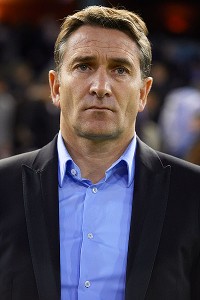 Manuel Queimadelos Alonso/Getty ImagesWhy is Real Sociedad manager Philippe Montanier leaving the upwardly mobile club in favor of Ligue 1 strugglers Rennes? We may never know.

Time will tell, but the relatively low-key way he's arriving at the Camp Nou may turn out to be a blessing in disguise.

Montanier's surprising Sociedad exit: You have to admire Philippe Montanier. The man has got some serious stones.

He takes Real Sociedad to the brink of the Champions League -- all will be decided next weekend and they could yet qualify -- but rather than seeing how far his gifted young side can take him next season, he has decided to go elsewhere.

Ball: Super Sociedad entertain again

And, no, he didn't reject the contract extension on offer because he's off to coach Real Madrid. By most accounts, his likely destination will be Rennes, who finished 13th in Ligue 1 in 2012-13.

There has to be more here than meets the eye. There must be a reason why Montanier does not want to work with the likes of Carlos Vela, Antoine Griezmann, Asier Illarramendi and Inigo Martinez next season.

From bad to worse for Benfica: Three weeks ago, Benfica were on course for the Treble.

Undefeated domestically with a healthy four-point lead at the top of the table. Finalists in the Europa League. Finalists in the Portuguese Cup.

And then it all fell apart.

Kelvin's injury-time goal against Porto gifted the title to their archrivals. Branislav Ivanovic's last-ditch winner cost them the Europa League against Chelsea. And this past weekend, late goals from Soudani and Ricardo saw them beaten in the Portuguese Cup final by Vitoria Guimaraes.

Three late goals. Three leads squandered. It will take Jorge Jesus' crew some time to get over this.