Luis Suarez missed his chance to improve his image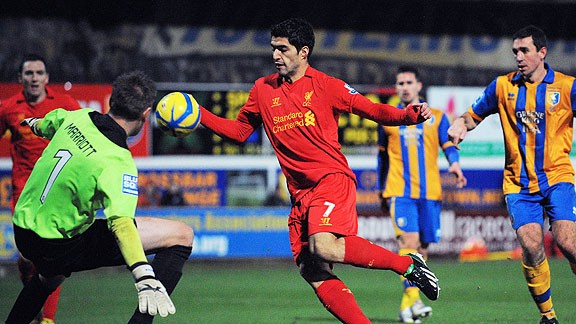 Andrew Yates/AFP/Getty ImagesMansfield's manager, Paul Cox, said that any striker would have done the "same thing" that Luis Suarez did against his team.
Luis Suarez' goal against Mansfield Town in the FA Cup should have been disallowed. I'm assuming we can all agree on that. What divides opinion is whether what he did was inevitable, because footballers are conditioned to do everything in their power to get an edge, or whether this is yet another example of him cheating.

Mansfield's manager, Paul Cox, despite being the victim of Suarez' gesture, believes it falls falls into the former camp: "Any striker would have done the same thing. It's up to the referees to spot it."

That may be the case, but it also depends on the circumstances. Suarez' "other" famous handball -- in a World Cup quarterfinal against Ghana -- is easier to understand because the stakes were so much higher. He saved a goal that would have eliminated Uruguay from the World Cup and took his inevitable punishment, a red card and a suspension.

-Video: Rodgers defends Suarez
-Video: Carolyn Redford: "Stolen" win

This one is different. There was much less at stake. And, from a purely utilitarian perspective, he probably would have been better off admitting that he had handled it. Why? Because Liverpool was likely to defeat Mansfield anyway. And Suarez has a poor reputation in England, as evidenced by the fact that his propensity to go down easily means that, at times, he gets fouled and officials don't give him the benefit of the doubt. This was a missed opportunity to polish his image a little bit, without any great cost or inconvenience to him. And, referees being what they are, you can't help but feel that the next time there's a controversial handball incident involving him, they'll come down harder than they would otherwise.

Time for Mourinho to end keeper battle
The last time Real Madrid played at home, the stadium announcer "forgot" to mention the name of the manager. On Sunday, against Real Sociedad, when he mentioned Jose Mourinho's name, there were very audible boos and whistles from his own set of fans.

An inevitable reaction to the benching of Iker Casillas for the second straight game?

-Video: Special One praises team spirit

No doubt, that comes into the equation. But were Real Madrid flying at the top of the table like last season, then it's unlikely the backlash to Mourinho would be so strong, vocal and public. (Of course, were Real doing better back then -- you would presume -- Casillas wouldn't be getting benched.)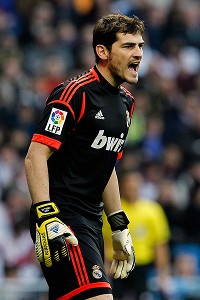 Antonio Villalba/Getty ImagesWhen Antonio Adan was sent off, Iker Casillas -- benched for the second straight game by Jose Mourinho -- came on against Real Sociedad.
The irony, of course, is that everything went out the window within a few minutes, when goalkeeper Antonio Adan got himself sent off, forcing Mourinho to send on Casillas anyway.

Did Mourinho win the "battle" with Casillas?

If victory meant strengthening Real Madrid's goalkeeping position, consolidating support amongst the fanbase or scaring the "three black sheep" into toeing the Mourinho line, the answer is no.

But then neither is it a disastrous defeat either. Or, rather, it won't be if he simply quietly restores Casillas and moves on. If, on the other hand, he resurrects Adan when he next becomes available or starts picking on one of the other alleged "black sheep," it could get very ugly, very quickly.

Best to call it a stalemate and move on. Because, in any case, at this stage, Real's season will be judged on the Champions League. And while not everyone at the club is on the same page, they share the desire to win the European Cup and that could be a powerful rallying cry.

If, on the other hand, Real Madrid go crashing out of Europe -- maybe as early as the Round of 16 after facing Manchester United -- things could unravel very quickly. And the last few months of the season could be the ugliest Real fans remember in years.

The Casillas-Mourinho dynamic dominates, of course. And these are undeniably bleak times for the club and the manager. It's actually only the second time in his career that his team conceded three or more goals in consecutive games. But there's also the fact that, when Real could have fallen apart, they played a man down (and with a makeshift defence) for nearly the whole game and came home with three points. There's plenty of fight left in this team. The question is whether it can be channeled toward a common goal.

Blatter's foot-in-mouth disease
Memo to Sepp Blatter: It might be wise to invest in a muzzle, of the kind that you only remove once your handlers have fully briefed you and you have fully thought through what you're going to say.

-Video: Blatter's criticism

Reaction to his statement that Milan were wrong to walk off the pitch, or -- as he so delicately put it -- "running away" from racism after some of their black players were racially abused in a friendly match last week ranged from ridicule to anger.

And rightly so. Kevin-Prince Boateng wasn't "running away." He was making a statement -- along with his teammates -- because he felt that the referee wasn't dealing with it effectively. Now, I don't believe Blatter is racist. But I do believe he's out of touch and says the wrong things at the wrong time.

Give him the benefit of the doubt and you presume that what he meant to say is that players can't take matters into their own hands, that the authorities need to deal with it and make sure it doesn't happen. Which is a reasonable stance in an ideal world.

But, of course, we don't live in an ideal world. And, not for the first time, he used the wrong words in the wrong context without fully knowing what he was talking about.

Progress in fight against racism
Speaking of racist abuse, we may have seen one of the positive byproducts of the Boateng-led Milan walk out on Saturday, when Lazio faced Cagliari at the Stadio Olimpico. At one point, Cagliari's Colombian forward Victor Ibarbo, who is black, was quite clearly abused with the familiar howling monkey noises. It was clearly audible, but only for a handful of seconds, because, having realized what was going on, a deafening chorus of boos, whistles and cat-calls directed at the racist abusers rose up from the 30,000 strong crowd. The referee was alerted, had a word with the captains and informed them that if it happened again, he would threaten to suspend the match (as mandated by protocol in these situations).

In other words, the system worked. A tiny portion of supporters decided to racially abuse Ibarbo at a certain point in the game, possibly to make some kind of statement following the Boateng walk out. But the vast majority of the stadium silenced them. And that's how it should be. There are many ways to fight racist abuse. Some methods work better than others, and some are more appropriate in certain places than others.

In a perfect world, we would have the evidence, legal tools and enforcement to individually punish racist abusers the minute they pipe up. But sometimes that's difficult. And that's when peer pressure -- of the kind that makes it totally clear that this is socially unacceptable and won't be tolerated -- can be among the most effective ways to fight back. And that's what we saw in Rome Saturday.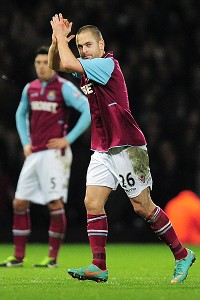 Jamie McDonald/Getty ImagesThe return of Joe Cole to West Ham is already proving to be a success.
The difference-maker for West Ham?
When Joe Cole rejoined West Ham, the knee-jerk reaction was to write it off as a bit of a vanity move. The local boy was coming home; if things worked out, he'd generate some buzz. IUf they didn't, well, at least he was cheap. But surely there was no way he'd fit into Sam Allardyce's style of play?

Maybe there is, maybe there isn't. Allardyce is obviously associated with a certain type of direct, physical football. He tends to like big, strong players, particularly in the final third of the pitch. But he has also found room for talent and creativity, dating back to his days at Bolton when he was unafraid to build sides around Jay-Jay Okocha and Youri Djorkaeff.

Cole is now 31 and his career obviously hasn't panned out the way some predicted, back when he was the wunderkind who chose the Hammers over the half-dozen clubs who pursued him. He was never the most athletic and, obviously, that hasn't improved with age. But the vision, technique and subtlety are still there. And in the right circumstances they can be coaxed back out to make a difference for West Ham. Remember, Okocha and Djorkaeff were just about written off as well before they joined up with Big Sam.

Juve's wakeup call
Talk about a wakeup call. Just as we were all suggesting Juventus' second-straight Serie A title was pretty much a formality, they go and lose at home to Sampdoria, a team teetering on the edge of the relegation zone and one that had lost three straight games. What's more, Juve's 2-1 defeat comes after leading 1-0 and having a man advantage for more than an hour.

Juve boss Antonio Conte complained about a lack of intensity and mental errors. "We need to analyze what we did very carefully, because you simply can't lose games this," he told the media. Knowing Conte, you know he will.

Juventus are a very good side, but only when they maintain the workmanlike intensity that made them so good in the first place. Coast -- even just a little -- and they become vulnerable.

Welcome back, Tito
It was great to see Tito Vilanova back on the Barcelona bench less than three weeks after his surgery. Some have said Barca are so well-drilled, you can just wind them up and they'll roll on regardless of who is in charge. That may be true to some degree at this stage, but if that's the case, much of it is down to the man who did the original fine tuning: Vilanova.

Gabriele Marcotti is a London-based journalist and broadcaster who covers world soccer. He is the author of three books, the world soccer columnist for The Times of London and a correspondent for the Italian daily Corriere dello Sport. You can catch him on ESPN Press Pass and read him here twice a week. Follow him on Twitter: @marcotti.