Outspoken Ferguson just asserting his status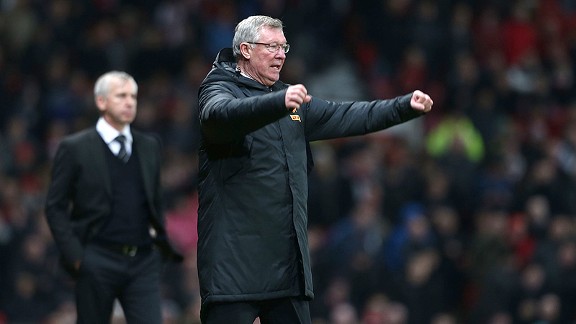 Matthew Peters/Getty ImagesManchester United boss Sir Alex Ferguson has had plenty to say of late
Sir Alex Ferguson is well known for his headline-stealing statements, but his past two have come with unprecedented speed and intensity. First there was his comment that Robin van Persie could have been killed by a ball kicked in the direction of his head by Swansea's Ashley Williams. Then, a few days later, there was his remark that Newcastle United are "a wee club in the Northeast."

- Pardew calls for Ferguson ban
- Ferguson avoids FA reprimand for ref rant

Many Manchester United fans have either laughed this off as Fergie being Fergie or as some fiendish strategy to deflect attention from his team's wildly fluctuating form. It is hard to see his words as part of some grand design. Swansea's qualities are well-documented. Everyone knows that a fully fit Newcastle team is a difficult proposition.

No one needs reminding that Real Madrid are lying in wait in the last 16 of the UEFA Champions League, or that Ryan Giggs and Paul Scholes should probably be retiring soon, or that a player like Joao Moutinho is sorely needed at the base of Manchester United's midfield.

Sir Alex Ferguson is a genius. But he is also wholly human, with all the attendant flaws. He seems determined to market Old Trafford as Mordor and himself as Sauron, and it looks as though he is doing for little other reason than the fact that he can. (One could speculate, of course, that his all-seeing gaze is becoming agitated as he sees Pep Guardiola approaching Eastlands.)

It is possible that Ferguson is trying to distract others from his team's problems, but also from Chelsea's recent results under Rafa Benitez -- a string of confident performances that have seen the Blues reconfirmed as a title challenger.

But in any event, this may be a title won by the slimmest of margins, and it's hard to see how it helps to give other clubs any extra motivation. For better or worse, it seems like it's just Fergie asserting his status as the top dog.