"Golden Boy" Anderson's bronze career at United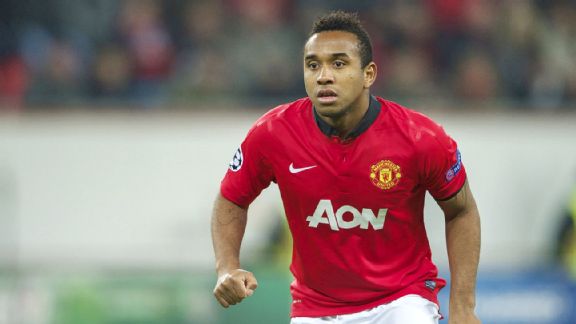 AllsportAnderson looks to be on his way to Serie A to play with Fiorentina.
It looks, at long last, as if this will be a farewell to Anderson. The extraordinarily talented Brazilian midfielder, who last troubled the selectors of his national team five years ago, is reportedly making a loan move to Fiorentina, apparently as a precursor to a permanent move.

The fans' frustration that accompanied much of his presence may be tinged with some sadness at his departure. Here, after all, was a player who received the Golden Boy award in 2008, given to the best player under 21 years of age in Europe. However, six years later, he has arguably had the least distinguished career of any holder of this accolade, with the most recent winner -- Manchester United alumnus Paul Pogba of Juventus -- looking set for several years of superstardom.

- Payne: Ronaldo award shows United mediocrity
- Report: Fiorentina continues Anderson talks>

In defence of Anderson, the list of Golden Boy winners includes Lionel Messi, Cesc Fabregas and Sergio Aguero, who had one advantage Anderson did not: they had managers who played them in their best positions, and then built teams around them. Anderson arrived at Old Trafford from Porto as a number 10, the supposed heir to Ronaldinho, with Wayne Rooney -- another Golden Boy winner -- already mooted as the long-term occupant of that role.

To the newcomer's credit, he adapted his game under Sir Alex Ferguson's tutelage, and produced several outstanding performances in the defensive midfield position. Just out of his teens, he was learning on the job every week, and outsmarting supposedly superior opponents -- including, on more than one occasion, Fabregas and Steven Gerrard. His first full season ended with a Premier League and a UEFA Champions League double, as he scored what turned out to the decisive shoot-out penalty in the final of the latter.

That, sadly, would turn out to be the high point in his development at Old Trafford. Two of his next three seasons were ended prematurely by injury, while the other one was punctuated by a car accident. Along the way, too, there were numerous muscular strains and ailments, and copious rumours of an appalling attitude to training, too often confirmed on those occasions when Anderson's shirt would emerge from its moorings and set loose the tide of his midriff. If anything, Anderson's time at Manchester United finally gives the lie to the stereotype that Ferguson was nothing more than a scowl sitting sternly atop a hairdryer.

Ferguson, keenly aware of the player's elite talent, must have spent entire seasons wondering how to coax the best from his signing. Perhaps Ferguson, too, may have felt a measure of guilt for making him play so far out of position that it so severely arrested his progress. For several years, Anderson was indulged, in the hope that he might come good. Had he done so, the rewards would have been remarkable. Somewhere in a parallel universe, there is a fully-fit midfield three of him, Owen Hargreaves and Michael Carrick that is the envy of Europe.

But it's better not to dwell on these hypotheticals. Some might say, instead, that sympathy should probably be limited for a player whose earnings have reached 80,000 pounds per week, which is a wage almost as large as Xavi and Andres Iniesta received in their pomp. In mitigation, like his compatriot Alexandre Pato, Anderson's body frequently seemed to give up on him, just when he was coming into form. But then again, we may always return to the question of focus. In 2008, the Republik of Mancunia blog noted his Golden Boy acceptance speech with alarm, and that he seemed to be using Manchester United as a stepping-stone:

"I am thinking about playing in Italy," Anderson told the Italian publication Tuttosport. "Italian football is the best in the world and the most intelligent. Every player wants to play in Serie A, because Italians are the masters of football. I really like Inter. I have always liked them from when Ronaldo played there. [Massimo] Moratti has always assembled great teams and Inter can win anything with the players they have. I will not hide myself and in future I would love to play for [Jose] Mourinho at Inter. My dream is to be coached by Mourinho."

It now seems that Anderson, though he will not be working with Mourinho or at Inter, has got his wish of working in Italy, albeit several years late. And it would be churlish, in turn, not to wish him luck because he is still only 25, has demonstrated an ability to thrive in the most competitive of environments, and has five more years before his individual career -- trophy-laden as it already is -- can be adjudged to be bronze, as opposed to the gold that it so long promised.

Here's to you, Mr. Anderson -- and all the best.