Fellaini could be Man United's Ambrosini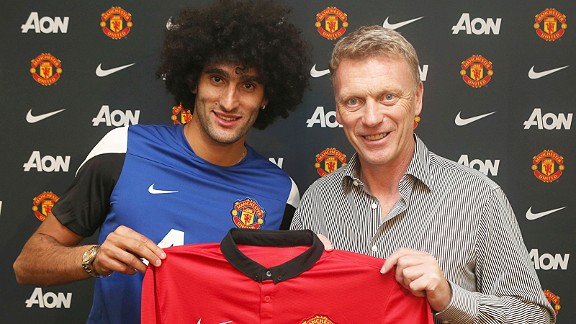 GettyImagesMarouane Fellaini has a crucial role to play at Man United.
If a man well over six feet tall arrives anywhere, then it is highly unlikely that he will do so relatively unnoticed. But that is exactly what Marouane Fellaini achieved at Old Trafford earlier this week.

The Belgium midfielder attracted some attention as the only major signing of Manchester United's often frustrating summer transfer market, but not nearly as much as the failed attempts to acquire more famous and perhaps more exciting names. Fellaini, though, is akin to a healthy serving of spinach alongside a fillet steak: He's not necessarily what you desire, but he's certainly what you need.

Much has been said of Fellaini as a somewhat underwhelming replacement for the role played by Paul Scholes, or indeed by Roy Keane. However, if he is viewed instead as the successor to Darren Fletcher, then a more benevolent view of his acquisition would almost certainly emerge.

- Payne: A culture of overreaction

Fletcher was arguably the midfield player who, to date, has best brought out the full range of Michael Carrick's gifts. Most notably, it was he who provided the platform for Carrick to surge forward so thrillingly in their team's 7-1 evisceration of Roma in the quarterfinals of the 2006-07 UEFA Champions League. Fellaini sees his best role as that of a defensive midfielder, so he has the necessary deference to allow Carrick to take up advanced positions on occasion. It will be interesting to see whether the England midfielder's tally of goals and assists rise as a consequence this season.

Encouragingly, Fellaini brings a broader skill set to the squad than Fletcher did -- a player who, it will be remembered, took several seasons to convince many fans of his value. Unlike Fletcher, who provided superb defensive coverage as well as a steady supply of quick, short passing, Fellaini also provides a consistent goal threat, adept at finishing with his head or either foot. Moreover, his international credentials are impressive. At 25 years old, he has already played almost 50 times for Belgium, a team who boast an enviable number of fine central midfielders.

The key concern with Fellaini will be whether he enables the swift transition from defence to attack that has been the hallmark of Manchester United's play for so many years. According to Opta statistics, his Premier League pass completion as a defensive midfielder has had a peak of just below 80 percent in the seasons that he has played in that position, which represents a respectable but not elite figure.

His tackles, meanwhile, have increased in both number and effect over the last few years, rising from 58 in 2008-09 (with a success rate of 83 percent) to a high of 84 (84 percent) in the last full season he played as a defensive midfielder for Everton. His disciplinary record, too, is not so chequered as reputed. He has had only one red card in the last five Premier League seasons, and he averages just under six yellow cards in each of the last three seasons. Then, of course, there is his heading ability: In the last five Premier League seasons, he has won over 60 percent of his aerial duels (487 out of 805).

It might be most helpful to see Fellaini as following in the tradition of Massimo Ambrosini, another tall, powerful and defensively sound midfielder. Ambrosini, of course, played for AC Milan and Italy for many years with little fanfare and great distinction, yet his contribution was fundamental to their success.

Were Ambrosini to have gone on the transfer market at his peak, it is unlikely -- like Fellaini -- that he would have been the subject of a bidding frenzy, but his qualities were indisputable. As it was, he ended up with four Serie A championships and two UEFA Champions League winners' medals, and was integral in several of these campaigns.

If Fellaini is able to play a role as understated yet effective as that of the sometime Italy international, then the somewhat steep fee of £27.5 million will have been money well spent.