Player-by-player reviews 2012-13: Part three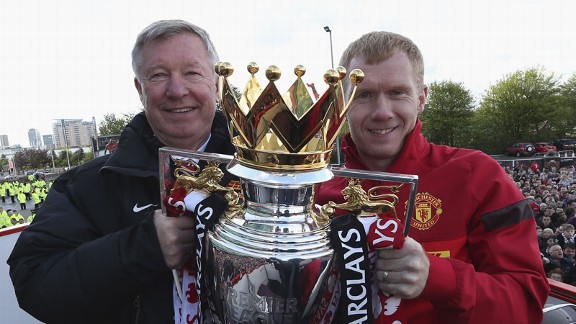 GettyImagesSir Alex Ferguson parades the Premier League trophy with Paul Scholes
Part three of Mark Payne's Manchester United player reviews; follow links for Part 1 and Part 2.

Paul Scholes: 6

Scholes started only eight games in the campaign and that was never going to be enough for a player who sets such high standards for himself. One of those starts came against Swansea at the end of the season, after both his and the manager's retirements had been announced.

-Yorke: United should not sell Rooney

My favourite moment of Scholes' season, uniquely, came off the pitch. In an interview with Gary Neville, he spoke about how pleased he was to sneak his retirement by at the same time as Fergie's: "Couldn't have worked out better."

And Scholes' thoughts on Facebook and Twitter? "What's the point in telling people what you're doing?"

The man is a legend.

Ashley Young: 6

Not a distinguished campaign from Young. He was preferred in the starting lineup against Chelsea in October and contributed well to that victory with tireless running.

But his campaign was patchy afterward. Although not hired to score goals, he should probably have found the net in 17 starts but didn't. He provided assists for only three goals too, and if he doesn't impress new manager David Moyes quickly, he could go.

Tom Cleverley: 7

Cleverley is not a young man anymore. He will be 24 this year; by that age Bryan Robson was captain of both Manchester United and England.

This was his first really injury-free campaign and it was certainly his best. The finest moment came with a rasping shot against Newcastle that almost tore the net. There were encouraging signs of a decent understanding with Michael Carrick also emerging.

However, nobody thinks that he is the midfield saviour cometh, and he will need at least the same level of improvement in the coming season to hold a place in the squad. United will surely buy midfielders this summer.

Nick Powell: 6

Our glimpses of Powell so far have been encouraging. A goal on his debut caught the eye and there is evidence that he could become a good blood-and-guts midfielder. He still awaits a prolonged assault at the first team.

Antonio Valencia: 4.5

It took so long for this season to pass Valencia by. This was a truly woeful campaign for the Ecuadorean, and painful to watch at times. His touch and his strength sometimes seemed to desert him and his confidence must have been suffering.

There were signs of recovery in a late flurry against West Brom and Swansea, but he will need to do a lot of convincing if he wants to stay around. Nonetheless, he has done plenty enough in the past to have earned a second chance.

Darren Fletcher:6

Autumn brought a false dawn, and with a run of games under his belt toward the end of the Champions League group stages, there were hopes that Fletcher was finally back.

Alas as the season ended, he was signed off indefinitely again. It seems unlikely that he will pull on the shirt again.

Danny Welbeck: 6.5

Needs more goals. There is no other way to look at it. He was great against Madrid in the Bernabeu, and has menaced defences all season, but he needs to score more. One wonders if he slacked off since he signed his contract in September.

There are no doubts about his ability though, and he should be back in the goal trail next time out.

Wayne Rooney: 7

Rooney is now a figure who divides fans. It is this correspondent's opinion that the England striker was backed into a corner by Fergie in one of the Scot's more Sicilian moves.

Nonetheless, Rooney certainly reported for preseason unfit last summer, and getting injured in his first game of the season didn't help matters.

When given a run in the team his stats were impressive: 12 goals and 10 assists in 22 starts in the Premier League. But he wasn't on form as the season drew to a close and he looked pretty fed up.

Not a vintage season by any means, but still more effective than 90 percent of the players in the league.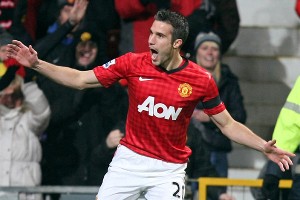 Tom Purslow/Man Utd/Getty ImagesRobin van Persie was everything Arsene Wenger told Alex Ferguson he would be -- and more
Robin van Persie: 9

"He is a better player than you think he is." Those were the words that Arsenal's Arsene Wenger used to close the deal on van Persie. "He could run a poker school in Govan," Fergie later said of the Frenchman, referring to those negotiations.

Wenger knew that he was releasing a world-class player at the peak of his powers. Van Persie has delivered the title and contributed goals that will go down in Old Trafford folklore. You could not have asked for more. Well, possibly a goal against Real Madrid, but let's not nitpick.

Javier Hernandez: 8

Consistent and reliable, the Mexican is an imperious striker on his day. He was unleashed from the bench to make the decisive contribution in several games, and his last-minute winner against Newcastle was such a gloriously 'Manchester United moment' that he should have been given the freedom of the city.

The only concern is that when he was finally given a spot in the starting 11, he really fluffed the opportunity. However, he remains a crucial part of United's armoury.

Follow Mark on @markjpayne