The final curtain for Fergie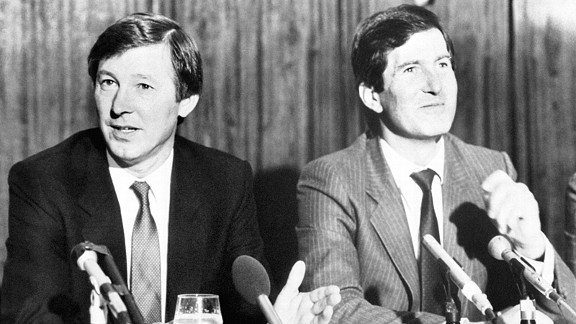 PA Photos1986: Alex Ferguson (no "Sir" back then) is unveiled as Manchester United manager by chairman Martin Edwards.
This is the encore. Manchester United's fixture against West Bromwich Albion, Sir Alex Ferguson's 1,500th as a football manager, will be the last of the Scot's reign. Last week at Old Trafford was the big show. There were speeches and songs, and there was a nod to the incumbent. "Last Sunday is something the Fergusons will never forget," Sir Alex said. But this is really it.

It seems incredible to contemplate that, in the Midlands this weekend, Ferguson will take charge of his football team for the final time, he will give his last team talk, and there will be no comeback. This is the end. There will, though, be a series of familiar sights on show. Chewing gum will be one. The boss collecting the Manager of the Season award for an absurd 11th time will be another.

- Sir Alex 'overwhelmed' by final week
- Fergie, Bale win Premier League awards

United have the chance to equal their best-ever points total of 91, and there will be many hoping that fellow retiree Paul Scholes can get on the score sheet. West Brom have not beaten United since 1984 and will presumably be putting up something of a fight. Managed by Steve Clarke, another flinty-faced Scot, they are also going for a personal Premier League best of 51 points.

It remains to be seen how United will move on. There are glimpses of the future to be found in the younger players Ferguson will likely field at the Hawthorns. Johnny Evans and Phil Jones are slated to play, and their presence on the team is likely to become a more familiar sight in the coming seasons.

Wayne Rooney's name will be searched for in the squad list before kickoff. If he is to leave United in the summer, he at least deserves a chance to pull on the shirt one more time. Rooney has been an exceptional player for United over the past nine seasons and should be thanked by the fans. The minority of fans who booed him during Monday's victory parade in Manchester should be ashamed of themselves, as he has been a fantastic servant for the club.

Ferguson's ability to adapt as a manager has been well-documented over the past week, but all his teams have been built on the same things -- grit and an unrelenting desire to win. "I can't lose my last game!" Fergie said Friday. Expect the players to be primed in the Black Country.

With David Beckham, another remnant from United's treble team, retiring this week as well, we are reminded this is the last chance to catch a glimpse of an era that is rapidly disappearing into the past. Alex Ferguson, the man who took over United when the Cold War was in full swing, is about to exit stage left. You'd be mad to miss it.

Follow Mark on Twitter.