Phil Jones - better than the rest of us think?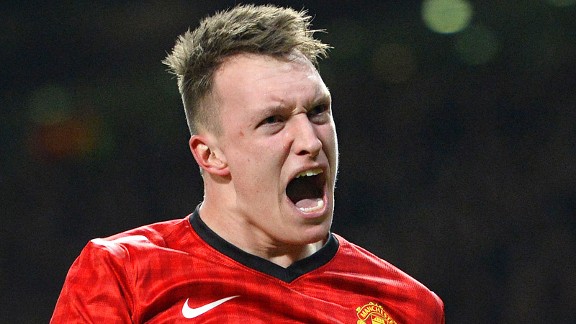 Paul Ellis/Getty ImagesPhil Jones: Highly praised by Man United manager Sir Alex Ferguson
Duncan Edwards, Bobby Charlton, Eric Cantona, Paul Scholes, Ryan Giggs, Phil Jones?

Many may suggest that Sir Alex Ferguson was jumping the gun when claiming that the latter would become "one of the best players we (United) have ever had". However, it was telling that on a night when top scorer Robin van Persie netted a hat-trick against Aston Villa and in effect won United their 20th top-flight title, the manager singled out 21-year-old Phil Jones for the most almighty praise.

- Okwonga: Sir Alex Ferguson, 1993, and Jay-Z

It was clear from the transfer fee, speculated to be around £16 million, that Ferguson had great faith in the former Blackburn player, and his adoration for the youngster has only developed since Jones made the move to Old Trafford in 2011. Later that year he had made his international debut as a teenager in Montenegro, and he'd go on to start 25 league games in his debut season for the club, with only five other outfielders eclipsing that figure.

Jones would do so across a number of positions, and the debate as to his best one is something that Ferguson says he is yet to solve. "He has a fantastic influence, no matter where he plays," the manager stated. "I have no idea where his best position is. He could play anywhere on the pitch."

The common theory in England is that the Preston-born utility man will become Fergie's first choice centre-back when Rio Ferdinand and Nemanja Vidic bid farewell to the club, and the stats during his time at United suggest that it would be a wise choice. Using WhoScored.com's unique statistical ratings we can see that he is perhaps best suited to a position at the heart of the backline.

Nevertheless only nine of his 35 league starts for United, having missed the majority of this season through injury, have come at centre-back. His rating over those games is 7.23, which pips an average of 7.18 over 17 starts at right-back in the Premier League.

When pushed into midfield, although he undoubtedly does what's required of him, Jones' ratings drop slightly to a still respectable 6.98 in just three starts in defensive midfield, and 6.88 in six in a more traditional central midfield role. It's worth noting, however, that many of his qualities aren't quantifiable, with Ferguson praising his drive, while his positioning and concentration belie his tender years.

His performance at the Bernabeu against Real Madrid drew the plaudits in particular, with his role in culling the threat of Ronaldo et al in behind Mourinho's lone striker a key component to an impressive result, coming away with a 1-1 draw. While his absence alongside Michael Carrick was felt in the return leg, his figures when playing at centre-back still suggest that it is the position he is destined to hold down.

Of the five centre-back options at the club, Jones has made the fewest league starts in that position (9) over this season and last, but his average figures for both tackles and interceptions in those games are in advance of his team-mates'. Ferdinand has started 54 matches at centre-back in the same period, with Jonny Evans starting 47, Vidic 22 and Chris Smalling 10.

Jones has averaged 2.44 tackles per game at centre-back, as well as 2.56 interceptions per game. In terms of tackles, Evans is his closest rival, with 1.53, while Vidic makes the second most interceptions per game to the Englishman (2.04). The Serbian is the only player whose average rating in games started as a centre-half from WhoScored.com is in advance of Jones', due in no small part to a superior number of aerial duels won (4.18 to 1.78) and clearances (11.68 to 8) per game.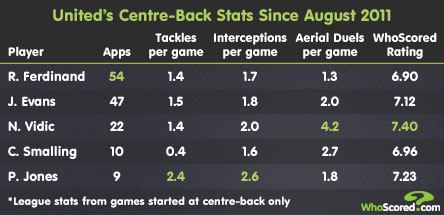 Other / WhoScored.com
While United's captain is a master of the art when it comes to the uglier side of defending, Jones' opportunities to play elsewhere as he continues to develop as a player are leading him to become a very cultured defender. While his figures for tackles and interceptions highlight an excellent reading of the game, his pass accuracy in nine starts at centre-back is up at 89.2%.

In that sense he appears to be a direct replacement for Ferdinand, who became renowned for an ability to carry the ball out of defence in his prime, but his early promise suggests he could become an effective amalgamation of the two.

With that in mind, Ferguson's hefty praise may not have been an exaggeration of a player who has been ridiculed for a rather alarming tendency to gurn his way through games. Jones, however, may well become the face of England's footballing future yet.

All statistics courtesy of WhoScored.com, where you can find yet more stats, including live in-game data and unique player and team ratings.