Good old Arsenal are just the ticket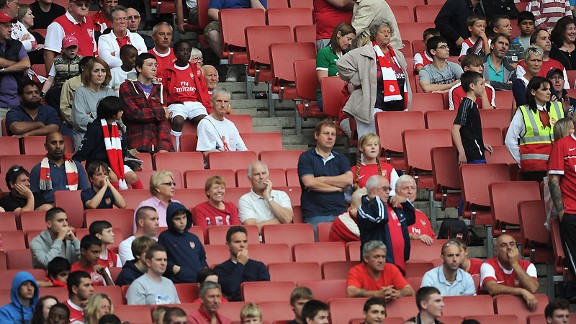 GettyImagesThere might be a few more empty seats at Arsenal's match on Sunday.
Let's start this piece by saying I wish to be as charitable to Arsenal and its cherished history as I am sure Gunners fans would be towards Manchester City and its equally sumptuous past. After all, the legacy of Richie Powling, Gus Caesar, Trevor Ross, Alex Cropley and Willie Young still warms the cockles of the heart on cold winter mornings like this.

- Man City return £62 Arsenal tickets

Arsenal, you see, have given us a lot of things that we should be glad for: the marble halls and proud flagpoles of Highbury, those Archibald Leitch latticework facades to the stands, the Clock and its famous End, Alan Ball and his squeaky voice, Stroller Graham, Charlie George flat on his back at Wembley, Peter Storey in and out of jail, Alan Sunderland's bubble perm, not to mention the modern-day wonders of Bergkamp, Vieira and little Sylvinho.

The Hill-Wood dynasty has built up a thing of beauty that cannot easily be knocked down. It has tradition, pride and a strong sense of civic belonging, be it south of the river Thames in Woolwich where they started this grand adventure, or north thereof in Holloway, where they now reside. Good old Arsenal, went the song. "All good chaps and very good company!" If you lean in a little you can probably still smell Cliff Bastin's Brylcreem and Dennis Compton's cricket box.

Arsenal, like many grand institutions, have struggled to come to terms with modern football, with its dressing room hairdryers and ghetto blasters, its £55,000 a week left backs and its oil sheikhs. And it is with the latter of these that Arsenal sympathisers seem to be having the most trouble in these thoroughly changed times. As the North London giants prepare for the visit of "nouveau riche" "Johnny-come-latelies" Manchester City, the sound of gnashing teeth gets ever stronger.

Rightly so, you will say, for it is City that have dumped Arsenal down the preordained pecking order. It is City who have tempted half the Arsenal squad to leave the comforts of London living and come North to win things. It is City who have artificially pumped up the transfer market, thus inflating wages, thus sending ticket prices to our citadels of worship rocketing towards the heavens. Ruining football indeed.

Rightly or wrongly, City are an example of what football has become. Flushed with generous investment, City have invaded the sacrosanct territory that throughout most of the Premier League years, has been occupied by Manchester United, Liverpool, Chelsea and, indeed, Arsenal. The Big Four, they used to be called. Now two remain "big," in modern terms; one is limping badly, the other lame to the degree it might be kinder to put it out of its misery. Arsenal limp on. The beautiful football has all but disappeared. The great players have moved on. That stout defence of Adams, Keown, Winterburn and Lee Dixon has passed into the dusty annals of time, marked "Once We Were This." Only Steve Bould remains.

With the glowing endorsement of their supporters, Arsenal have refused to be a part of the wages and transfer fee explosion that has gripped the English game in recent times. They will not be held to ransom by agents and clubs trying to take advantage of their stocks of 20 years' worth of Champions League participation money. Arsenal have their principles. The North London faithful seem to have swallowed this and have become the game's leading advocates of financial good husbandry.

The massive fees paid out for the likes of Reyes, Wiltord, Arshavin and the feted £13 million fox in the box Francis Jeffers are a thing of the past. These belong to another era, when Arsenal seemed willing participants in the Greed is Good Donkey Derby. Eduardo, Van Bronckhorst and Hleb all cost around £12 million each at the time of their transfers, sums that City would have blanched at as they fiddled around in the old third tier of English football, taking cold comfort from a Jamie Pollock here and a Lee Briscoe there.

Now the tables have turned. City have been invited to the top table. Category A, they call us now. How odd it still seems to have to search for your club's name at the top of the table in the paper each morning, instead of the relegation zone or, worse still, the separate page for aficionados of the lower leagues. Some of us are still pinching ourselves. Some Arsenal fans are probably doing the same. How did it come to this?

Well, rest assured, Arsenal will always be thought of as one of the greats of English football. City fans hold plenty of special memories of being taken thoroughly and repeatedly to the cleaners by Wenger's men of style and panache in the 90s, and in the last decade too. In fact, City have not won at Arsenal in the league since 1975, evidence here, so do not be surprised if the gods of football decide it is not time for another away win just yet. It has only been 38 years, after all, and one has learned to be extremely patient ...)

Do not forget also that Arsenal are still at the forefront of British football in many ways. For this weekend's match, they have produced a £62 away ticket for everyone's delight, a figure that represents a new high or a new low, depending which angle you look at it. Maybe they are entering into the fun of things after all at the Emirates. Just maybe.

But 912 City fans certainly won't be. That's how many tickets have been sent back have been sent back from an allocation of 3,000 in a probable protest at the hiked cost of attending the game.