From Division Three to the Camp Nou for Man City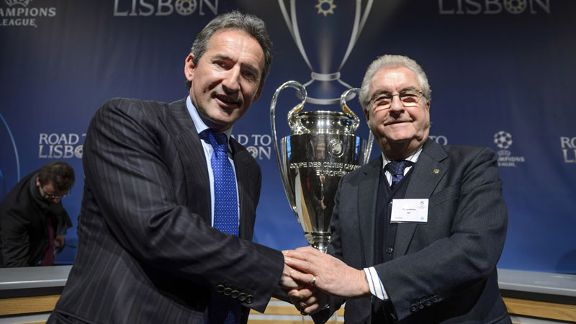 AssociatedManchester City's director of football Txiki Begiristain, left, with former Barca vice-president Amador Bernabeu at the draw in Nyon, Switzerland.
The live screening of draws in football competitions is not a particularly new invention, but the Champions League draw really is something quite out of the ordinary with its impossible-to-open balls and its stage-struck football veterans. The Hollywood lights and the draw's beautiful supporting cast flouncing around threaten to take your mind away from the all-important balls.

Row upon row of ancient, besuited administrators, flush from the previous evening's prawn and lobster buffet, sit waiting to write little names and numbers into their pleasingly old-fashioned photocopied draw sheets; actual pens and paper in among this megalith of modern wires and buttons. The tension builds as an ex-European champion from the late 60s loses his false teeth under the red carpet just before he's about to take part in the draw. Gianni Infantino, consummate professional, pulls a spare set from his inside pocket. All is well again and a hush falls over the world.

- Champions League round of 16 draw

This goes so far beyond the "Team A meets Team B and gives birth to Game 1 and Game 2 scenario." First you have Mr Infantino, smiling the smile of Christmas-to-come with his sheaf of totally important papers and list of warm multilingual greetings. It is he who will guide us through this minefield of mixed emotions, like a kindly uncle with no hair whatsoever.

With Tottenham choosing to sack their manager in the middle of the immediate run-up to proceedings, things could not have been more exciting. This was Spurs' first appearance in the draw for the knockout rounds of this competition, and what an appearance it turned out to be. Meanwhile, with Andre Villas-Boas' departure still ringing in everyone's headphones, Manchester City were already out of that hat! First out, mirroring the eager-to-progress attitude of the club itself. If City fans were giddy after the incredible victory against Bayern Munich in Bavaria, they were having to hold on to the nearest piece of heavy furniture when the next little ball popped out, plucked by Luis Figo with a harmonious smile, pairing the Citizens with Catalan giants Barcelona.

Sergio Aguero versus Lionel Messi (injuries allowing). Manuel Pellegrini against his old foes, Mediterranean versus the Ship Canal, David Silva against Andres Iniesta, tiki-taka against chicken tikka -- the matchups are endless.

What must be said is that this is an excellent draw for City and a terrible one for the Spaniards. This morning's Mundo Deportivo ran a front cover of "El City No!" reflecting the local trepidation for Pellegrini's goal machine, but it is si not no, and Barcelona will know they have pulled the worst possible draw in City.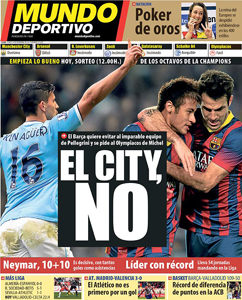 Other / Mundo Deportivo
For City fans it is almost the culmination of a dream that began as a nightmare and has turned 180 degrees in recent times. By the time the second leg in Barcelona comes around, rest assured that the newspapers will be chock-full of reflection that just 15 years ago the Premier League club were in the Third Division.

Back in those lower-league days, the two games closest to the date of the tie by the shores of the Mediterranean that may go some way toward cementing City's status as the new giants of European competition were played against Macclesfield and Chesterfield. From Moss Rose to the Camp Nou represents an astounding change by anyone's reckoning and, for those of us there in our thousands in the club's darkest hour, represents a payback for the emotional input down the years that all will agree has been totally worth waiting for.

Reams will be written of the journey undertaken from the purgatory of Saltergate to the shining sun-drenched Ramblas, and rightly so. Manchester City have come a long way, but the job is far from done. Before them stand the players who have fired a generation of teams and coaches to return to the beautiful game. Barcelona are the watchword for every aspect of aesthetically pleasing theory and practice that we know in world football. Manchester City, on this season's pulverising form, will join the Spanish maestros for two games of what promise to be utterly compelling football.