Manchester City will be happy to inhale the fresh air of home at last on Saturday when they finally touch base in the north-west after an exhausting two weeks visiting London, Moscow, London again and Newcastle in three different competitions. With three impressive victories and an unlucky defeat taken from that taxing collection of games, you would be forgiven for thinking the mood would be bouncy and positive, but recent events have conspired to put some commentators in a minor flap.

Firstly, last week's defeat at Stamford Bridge left City six points off the lead in seventh place. This in itself, in the last week of October, is no great problem, but the season is beginning to take shape and Manuel Pellegrini's influence is yet to take clear form.

Secondly, a last-minute rush of blood to the head at Chelsea led Joe Hart to be given the lion's share of the responsibility for Fernando Torres' injury-time winner a week ago. Taken in isolation, one might have called it a misjudgment, as the City 'keeper came out too far, prompting the startled Matija Nastasic to prod the ball over him and set up the winning Chelsea goal on something of a plate for the Spaniard. But put in the context of a succession of increasingly alarming errors by the England goalkeeper over the last ten months, one can clearly see reason for disquiet.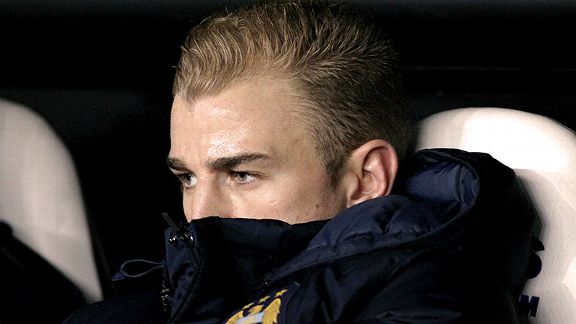 Ian T Horrocks/Getty ImagesJoe Hart will be on the bench for the second match in a row, but this time for City's Premier League contest with Norwich City.
The reasons for Hart's loss of form have been argued across the airwaves and in the back pages for more than the last seven days. Needless to say, the culmination of a growing witch-hunt saw Hart forced to sit out Wednesday's extra-time defeat of Newcastle United in the Capital One Cup. He might have been expected to miss out on that game anyway, as has been the pattern at City in cup games over the last three years. However, that one of City's outstanding performers on the night was reserve 'keeper Costel Pantilimon only served to add oil to the fire of debate as to whether Hart would make it back into position for the Norwich game. It now appears he will not. Being dropped for a cup game is often called in reality being "rested," but being left out for a Premier League match cannot be dressed up as anything other than high-profile demotion.

- Report: Hart dropped for Norwich clash

Many will view this as a heartless attack on a young man's already shaky confidence. For goalkeepers especially, appearing in top-flight football matches is to walk a thin line between arrogance, confidence and crying publicly into your gloves. What damage this may do to Hart long-term, plus any hopes the national team may have harboured of entering the World Cup with a confident and relaxed first-choice goalkeeper, we can only imagine.

If City's crisis at the back -- taking in not only the aforementioned goalkeeping circus but also the long-running problems at the heart of the defence -- threatens the peace of the happy family unit that Pellegrini and his staff are attempting to knit at Manchester City, a game against Norwich has, over the years, felt more like a family reunion. The prodigious flow of talent between the two sides may have dwindled to a trickle in recent times, but Norwich has been a rich source of players and personnel for City over the years. Three managers, Ron Saunders, Mel Machin and John Bond; three assistants, John Benson, Mark Bowen and John Sainty; plus a host of players, including Kevin Reeves, John Ryan, Bond's son Kevin, Phil Boyer, Martin O'Neill, Gary Megson and Mike Sheron, have walked the boards in sky blue and in canary yellow.

Familiar faces abound between the two clubs, but, on Saturday, Norwich supporters arriving in Manchester will see one unlikely name in the programme: Costel Pantilimon, tall, lean and -- up to now -- dependable, who will shape his and his colleague's season with the performance he produces over the next 90 minutes of Premier League football.