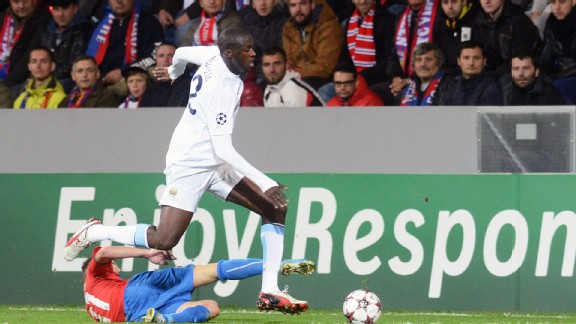 Michal Cizek/AFP/Getty ImagesYaya Toure was at his best in City's 3-0 triumph over Viktoria Plzen.
Lucky 13. Game one of the new Champions League campaign, game 13 for City in the competition (since it changed name, format and persona).

Today the Champions League is looking at Manchester City in a slightly different way. Gone are the disdainful looks, the hardly disguised giggling and pointing. Goodbye to all that. Suddenly the glances have changed to those of interest, to flirting with a possible new suitor. There is a handsome new stranger on the block, and I might be mistaken but I think he is making eyes at me.

Standing proud and tall, listening to the applause ringing in the stands, City have started their third Champions League campaign in a way that could hardly have been bettered if Natalie Portman had played up front in her best black dress. Sergio Aguero, all rippling physicality and honed muscle in City's new away kit, might even have made that sight for sore eyes border on the ordinary in this form.

This was a sweet beginning to a story that one day may well have an immensely epic ending. After the troubles of Naples and the tribulations of Madrid, the torment of Munich and the torture of Amsterdam, City are back on the winning European trail, the salt sea breeze of Lisbon raking hard into the nostrils. Carried out with the minimum fuss and maximum panache, this was a performance to savour, and one that practically everyone contributed equally to and as energetically as those of us on the sidelines could have wished.

- Mooney: Euro failure forgotten as City win
- Report: Viktoria Plzen 0-3 Manchester City

So much had changed from the lethargy and confusion of the Potteries. Perhaps most tellingly -- changing the face of the team altogether -- was the unexpected but wholly welcome inclusion of captain Vincent Kompany. Suddenly, where there had been hesitation and heart attacks, there was a calm authority of organisation. The line moved up, the line moved back. Interceptions sneaked the ball from Plzen's willing runners time and again. Even Aleksandar Kolarov, whose defensive stats are normally boosted by the time he spends intercepting his own passes, left the field with his reputation strengthened. Tellingly, when the willing but untried legs of the returning captain let him down, young Matija Nastasic looked once more at his imperious best, alongside his most appropriate defensive partner, reassured and aware. This then was the bedrock that an audaciously set up City could then go out and build on.

Many will see an early second-half blitz of goals and wonder what words of persuasive magic Champions League specialist Manuel Pellegrini uttered at half time, but there was no need to say a single sentence. Eight good chances went begging in that first half, and the final five minutes before the break saw City ramping up the pressure to a level the home side were visibly wilting before. No surprise then, that this quickly translated into an avalanche of goals in those exhilarating first 10 minutes of the second period. And what goals they were. Fit for a bigger stage than the Doosan Arena, Viktoria's version of Adams Park with a neatly apportioned brewery as an extra bonus for thirsty Mancunians.

The power in Aguero's gravity-defying thighs saw to the first and third, while Yaya Toure -- at last released forward by the excellent anchoring done by Fernandinho -- walloped what is already a contender for goal of the season. Plumb off his instep, the ball flew past onlookers as if on a mission, before rippling the net behind the overworked Matus Kozacik.

With the real Shakhtar Champions League Fernandinho doing his most impressive work so far, alongside a confident and impudent Samir Nasri, City's midfield was also beginning to work properly. Further forward the real star of the show was stretching his legs, however. If Kompany brings a different dimension to City's defending, when Aguero plays like this City's attack is a thing of true beauty. His power and build allow him to poke and probe and prod without fear of being knocked from possession. Once through, his eye for the chance is like quicksilver, the third goal a fine example of the art of making centimetres of space for yourself and, in a blink, turning and dispatching a shot of unerring accuracy. Nobody moved. There had been no time to react. The ball was in the back of the net. With Dzeko profligate but awake, there passed a period when City looked capable of rattling in half a dozen, but minds began to move towards the weekend and another crucial step in this nascent season.

An away win in the opening group game cannot be underestimated. Last time out City began with an unlucky defeat in the Bernabeu. Before that, a hectic home draw with Napoli. Winning well away from home is how to kick-start your campaign and get yourself noticed. City now face Bayern at home and CSKA away -- two games that, should they deliver four points or more, will put City into an unaccustomed driving seat in Group D. One can only wonder what looks of interest such a feat might garner.