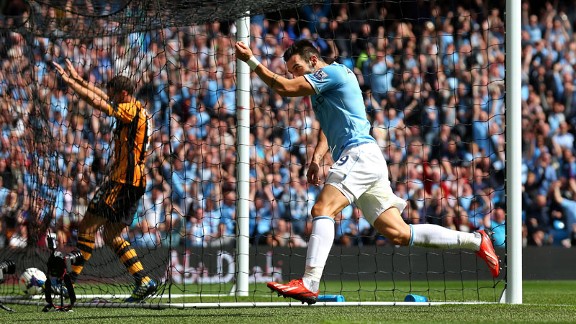 GettyImagesAlvaro Negredo celebrates after scoring for Man City against Hull.
When I was a teenager and in the midst of my high school education, I was a fan of a particular console game. And, sitting in the Etihad Stadium at Saturday lunchtime, my mind could do nothing but drift back to when my friends and I used to gather in my room of an evening to play "winner stays on" in the multiplayer mode of "James Bond: 007 -- Nightfire."

The reason was this: As City lined up to face Hull in their new 4-4-2 formation, there was seemingly little flexibility and plenty of predictability to be had. It reminded me of "Nightfire" and the occasions when I'd be able to pick off each of the AI Bots -- as their artificial intelligence (read: stupidity) lined them up across the far end of the map, running straight at one of the walls.

Jolly: Negredo nudging Dzeko back towards bench

City's version of that line ran across the midfield and started with David Silva, ran through Yaya Toure and Fernandinho, before hitting into Jesus Navas. The shape, very much like my own personal renditions of "Blue Moon," was too flat and caused the home side more problems than it did the visitors.

Every time a blue player got the ball in City's eventual 2-0 win against Hull, a compact sea of black-and-orange-striped shirts faced them. There was nowhere to go, with routes to the forward line of Sergio Aguero and Edin Dzeko/Alvaro Negredo often blocked (or, if they were free, the striker in question would soon be surrounded by opponents).

But for a while, sideways was a problem too.

There's nothing wrong with passing sideways -- though I do understand fans' frustration, as it feels like no progress is being made -- but it must be done quickly and with plenty of off-the-ball movement. The whole reason for passing the ball is to get it in a better position for one's own team and drag the opposing team out of position, creating gaps that, a couple of passes later, can be exploited.

However, it's difficult to pass sideways when all four midfielders are in a line. It offers just two passes for a central player: one to the left and one to the right. For a wide player, there's only one -- and that's back where it came from.

This meant that, as Toure and Fernandinho received the ball, Hull's pressure forced them backwards to the central defenders. One of those, in Matija Nastasic, was just back from injury and looking a little rusty, while the other, in Joleon Lescott, isn't overly comfortable with the ball at his feet when playing on his favoured left side of defence. And at the Etihad he was on the right.

The result was another ball backwards to Joe Hart, where it was then punted long, or the defenders cut out the middle man and punted it long themselves.

Worse, that flat middle four left City exposed on the counterattack. In the first half certainly, there were several times when a midfielder in a blue shirt was dispossessed and his three comrades in the centre of the pitch were beaten by being square-on to the ball. Sone Aluko should have scored a one-on-one when this occurred and Lescott missed an interception.

The biggest positive to take from this game, however, was that Pellegrini did allow some flexibility in his 4-4-2 for the second half. When the teams re-emerged from the tunnel, the personnel were the same, but Toure had dropped ever so slightly deeper and Silva and Navas had pushed on a touch, too.

Suddenly, this meant that a man in the middle had five attacking passes on -- to any of the other three midfielders, who were no longer being blocked off by their own team-mate, or still the two options of balls up to the strikers.

That little tweak was enough -- it meant City were able to break out from their own half quicker, and that was the route for Negredo's opening goal. It bought Pablo Zabaleta space to deliver a great ball onto the Spaniard's head.

The problem in the performance Saturday was the same that faced Roberto Mancini for long spells of his final season and the same that confronted Pellegrini last weekend at Cardiff: plenty of ball possession, but very little in the way of penetration.

More movement is the key for City, as well as avoiding that "Nightfire"-esque flat middle four. It may take some time to get the finer points correct, as was demonstrated by this "not one for the classics folder" performance.

Nevertheless, a win's a win's a win.