Dazzling Dzeko-Silva combination lights up City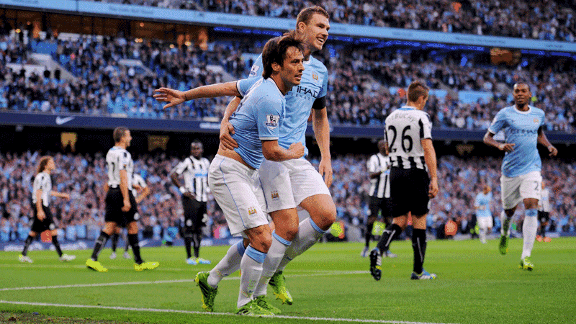 GettyImagesEdin Dzeko set up David Silva's and Sergio Aguero's goals for Man City.
To the memory of Bert Trautmann, a lusty round of applause. The great man, famous for keeping City's goal intact while nursing a "broken neck," was remembered before kickoff by a full house that was both aware of its past and thirsty for its future. City versus Newcastle, a game of tradition, sky blue against black and white. Trautmann, Frank Swift, Joe Corrigan versus Jackie Milburn, Malcolm MacDonald and Alan Shearer. By the end of this all-action encounter, we had all been made aware that the modern-day versions of these great footballing institutions had reversed tradition: Here was Tim Krul, a goalkeeper, excelling for Newcastle, and Edin Dzeko, a striker, playing like a tall man possessed by the devil for City.

Manchester City are top of the table and played like a team of magicians in the 4-0 win against the Magpies.

- Jolly: City new boys off to a flyer
- Duffy: Dour start for disrupted Toon

The spirit and technique on show at the Etihad was at times mesmerising, reminiscent of times gone by, the flood of passes threaded from David Silva's magic left foot, the probing of Yaya Toure and the excellent Fernandinho, the thrust and control of Vincent Kompany and the incredible force of nature that is Sergio Aguero.

Above all of this stood one man, one unexpected man, who payed like his life depended on it, who linked with Silva like he had gone through an unreported summer marriage with him and whose touch and positional play reminded one of the most outstanding of centre-forward master classes on offer. Stand up and take a bow, Edin Dzeko, thought to be on his way out of the club this summer, thought to be a little bit of a waster, now throbbing with good intention, leading the line like a proper problem and revealing an understanding with Silva, which bordered at times on the psychedelic.

Manuel Pellegrini, introduced to City's faithful this summer in a creased polo shirt and baggy jeans, appeared on the touchline suited and booted, his sky-blue tie knotted high and straight, loud and proud. By halfway through this exercise in patience, punch and possession, Pellegrini had transformed from the debutant manager grateful for the warm local welcome to a football man issuing tactical nuances without removing his hands from his expensive pockets. A nod of the head here, a lean to the right there, a cornucopia of subtle and relaxed attempts at body language were there for all to see. He was very quickly an observer of all the little things he had whispered quietly in a variety of ears 24 hours earlier. His team flowed like the incoming tide, a vibrant mass of unstoppable energy

The shape and movement, the fluidity and aggression. A package of attributes that, once Newcastle had realized they were coming at them in one cohesive parcel, they fell apart in a dazzling explosion of wild tackles and misplaced brutality. Alan Pardew, a man with enough grey hair to start a tribute band, watched in increasing discomfort, as City's one-touch majesty re-routed possession of the ball far from his bewildered players.

His men were a step behind all over the pitch. Without ever becoming abject, Newcastle United were made to look just a small step above poor, their plight typified by Mapou Yanga-Mbiwa, a willing tackler but offering just too much in the afters stakes. If he was odds-on for the first red card of the night, it may have come as a slight surprise that it was in fact Steven Taylor who left the field of play first, after a blatant handball in the penalty area had gone unnoticed by the referee, but a minute later his cuff to the neck of Sergio Aguero did not.

Newcastle with 10 men provided City with the same sort of challenge that their 11 had: numbers, tackles and a degree of harrying. Nothing more than this. They were shaken, stirred and a little disoriented by City's dynamic one-touch passing, high pressing and all-energy game. Above all came the astonishing Dzeko-Silva combination. Dzeko's raking right to left wing ball found Silva perfectly, just as Silva's typically dinked pass put the giant Bosnian through for a clutch of chances on goal. The big man was almost unrecognisable, the little man in typical form. It all added to a display of precision and technique, power and possession, spirit and thrust that was far too much for the visitors to swallow.

With a clear handball by Taylor and a perfectly good goal by Alvaro Negredo ruled out by the referee, it was not beyond the realms of the imagination to picture a six-goal thrashing on the opening day of the season. We know by now not to count our chickens, but it was difficult not to think of what Bert Trautmann might be doing in the great penalty area in the sky this evening after such a barn-storming display. More than likely he would have been doing just what the stadium's occupants had been doing for him at the beginning of the evening's entertainment: clapping lustily.