Time to cash in on Dzeko?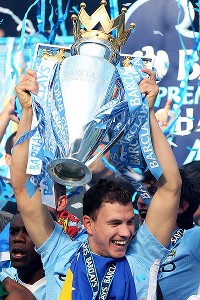 Alex Livesey/Getty ImagesEdin Dzeko played a major role in City's 2011-12 Premier League title, but the club may find Tottenham's offer for him too good to resist.
As the celebrations of May 13, 2012, calmed down and the sober realisation that Manchester City were Premier League champions had finally hit home, I asked a fellow Blue a question on a topic that has doggedly been hanging around for the 14 months since. It was simply: "Did the events of the 91st minute against QPR save Edin Dzeko's City career?"

The truth is, Dzeko will go down in Manchester City folklore for that equaliser on the final day of 2011-12, but his scoring record is somewhat similar to the old City form book: consistently inconsistent.

And with the rumours that have been circulating in the gossip columns about a 19 million pound bid from Tottenham, it could leave the Blues in a difficult position, should the London club try to poach the Bosnian striker. City have just invested in two brand-new front men in Stevan Jovetic and Alvaro Negredo, and the likelihood is that Dzeko would already be behind Sergio Aguero in the pecking order.

-Dzeko scores winner again
-Pellegrini has 'trust' in Dzeko
-City sweats Nastasic injury

True, a club aiming for success on all fronts would probably want at least a four-strong front line and City don't need to sell, but -- and here's the crux of the issue -- they probably won't get a better offer than £19m. And that would free up a striking position for John Guidetti, an academy graduate who a lot of fans would like to see given a chance in the first team.

When Dzeko joined the Premier League in January 2011, he showed signs of what he could do and why he commanded a reported fee of £24m -- but there were niggling doubts as to whether he was going to be value for money. Judgements were coming early, of course, but that first Premier League goal was proving elusive.

He'd bagged four Cup goals (against Notts County and Aris Salonika), but his first in the top flight in England didn't come until his 10th appearance.

Dzeko's first full season with the Blues started brightly: Including the Community Shield, he had six goals in three games. He was beginning to look like the real deal. He was faster. His first touch was spot on. His finishing was clinical.

But after four goals at White Hart Lane on Aug. 28, 2011, Dzeko didn't score again until City won the derby at Old Trafford at the end of October, just short of two months later. It started another purple patch of six goals in four games, but another two months of blanks were to follow.

Former manager Roberto Mancini's policy of squad rotation never helped, as the Bosnian is a classic case of a 'confidence' player -- when he's playing well, he's scoring and creating chances. When he's out of form, he can control it farther than he can kick it.

After scoring against Blackburn that February, he scored once more -- the equaliser against QPR, 10 games later.

Last season, Dzeko moulded himself into a 'super-sub,' regularly bagging goals from the bench -- most notably to win away matches with Fulham and West Brom.

He was City's leading Premier League scorer (13) after a goal on Feb. 9 in the defeat at Southampton, but finished on 16 following another fruitless spell that was two days short of three months.

Manuel Pellegrini has confirmed the striker is in the club's plans and perhaps a new manager with a different style of play -- one Pellegrini has said will be a brand of exciting and attacking football -- will produce a different Edin Dzeko. A Dzeko who can regularly fire in goals, though with four strikers he's no more guaranteed a starting berth under this manager than he was the last.

Should a bid of £19m come in from Tottenham, it might be too good to refuse.