Act one, scene one: Kermit turns spotlight on Pellegrini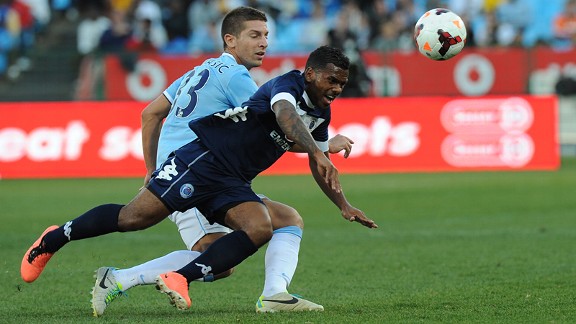 GettyImagesMatija Nastasic challenges Supersport goalscorer Kermit Erasmus.
When the great and the good look back on the deeds of Manuel Pellegrini in high office at Manchester City, it is probable that the name Kermit Erasmus will not figure too prominently in the story of his Mancunian achievements. Right now, however, it is a name, or even a pair of words, doing the rounds. For it was Kermit, the lively Supersport United substitute, who nailed City's coffin lid shut with a second goal to confirm a famous victory for the hosts over their esteemed English visitors and their brand-new Chilean manager.

It is true that certain names seem to have been grafted together for the long run, chiselled out of the rock for us to treasure and remember: Salvatore "Big Pussy" Bonpensiero; Britt Ekland; J. Edgar Hoover; Wim Wenders; Ice-T; John Steinbeck; Norman St John-Stevas and of course Jimmy Frizzell are just a few examples that spring to mind.

- Maicon set to return to Italy with Roma

City's Chilean boss will this evening be busying himself with bigger thoughts than footballers named after "Muppet Show" characters. His work has begun and in Pretoria on Sunday it began in earnest. "Fitness is the main priority," he was heard to utter shortly after the finish of a typically bitty, scrappy return to the green grass for a total 23 City players still perhaps in a gentle multicoloured reverie about palm tree-dotted beaches and nights out in Las Vegas. Kermit and the Gang will have sounded the wake-up call loud and clear.


"Statler: What have you got for an opening act this time? A Chinese gorilla dancing ballet?
Kermit: Cancel the opening number."

But now to work.

Studying the shape of a match in which the away side fielded two entirely different teams is likely to lead one to some sketchy early conclusions. It is often the case that players needed to be offloaded are still prancing around in these early games so that would-be suitors can have a long look at them in the flesh. Others, like Maicon, have not even made the flight south. Even at this early point, it would seem one or two issues have already been clipped from the worksheet by Pellegrini.

It was hard not to watch Gareth Barry with a touch of nostalgia, those slow turns in midfield with the backside stuck into any invader of his space unlikely to feature high on Pellegrini's menu for the early season games. The likes of Dedryck Boyata and Juventus target Aleksandar Kolarov must also have been playing for the transfer galleries.

City, of course, have previous when it comes to embarrassing starts in South Africa. In 2009-10 a seemingly straightforward opener against Orlando Pirates became too much for Mark Hughes' men ("Moneybags Manchester City made to walk the plank by Orlando Pirates" squawked the Daily Mail excitedly on that occasion). While only a few remain from those halcyon early days of the Abu Dhabi Dawn, the likes of Tal Ben Haim and Javier Garrido were soon to be jettisoned for bigger and better names -- as, of course, was the manager himself.

Still, looking at the ebb and flow of a chaotic and lethargic performance, it was reassuring that among all the fashionable talk of Pellegrini's much vaunted 4-3-3, City's "shape" still incorporated a giant gap at left back where Kolarov might or might not have been asked to play. Instead Dutti made hay while the sun shone. Talk of the need for a striker or two had thankfully not been playing on Edin Dzeko's mind, as he calmly reproduced some of his very best lamp-post impersonations from last season's repertoire.

To give City's opponents their due, Supersport United were fast, eager and well-drilled. Adept at collapsing onto the turf when in the vicinity of a light blue shirt (particularly if it was being worn by the man-mountain Micah Richards), they played the angles and got in behind a static and jumbled-up City defence.

As looseners go, it will have lubricated a few joints and exercised a few brain cells, but that is probably as far as it goes for this early-season curtain-raiser. As Statler and Waldorf might have said: "Just when you think the show is terrible, something wonderful happens. It ends."