January signings give hope for future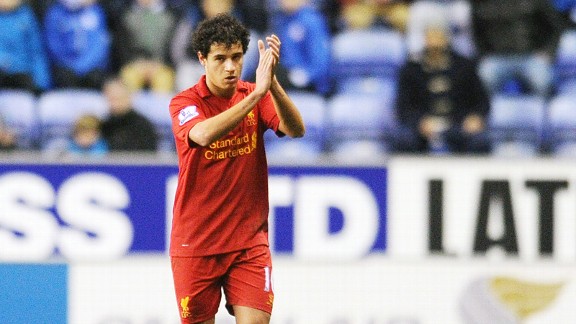 Andrew Powell/Liverpool FC/Getty ImagesNew arrival Philippe Coutinho has settled in nicely at Liverpool and is helping the Reds solve their attacking conundrum.
Football is often a game of untruths. The best team does not always win the league, for injuries, suspensions and luck are rarely accounted for. Football is not necessarily a funny old game, especially when compared to lacrosse. A ball can never be hit too well, no team is too good to go down and San Marino would suggest there certainly are easy games in international football.

At the DW Stadium on Saturday, another untruth was lampooned by two players with three touches of a football. Philippe Coutinho flicked his head up and instantly saw the run of Luis Suarez ahead. Pass, touch, goal. In a game of such mercilessness from Liverpool, this was the perfect goal to epitomise it all, carried out by two players who make football seem so easy.

And to think it has been said there isn't value in the January transfer window.

It is far too early to herald the 20-year-old Brazilian a success, of course, after a mere handful of appearances since his January move from Internazionale. He impressed against Swansea and had the man-of-the-match award against Wigan pickpocketed from him by Suarez's sublime intervention, but Anfield has witnessed this all before. Expectation and pressure are never kind welcoming gifts to young players, particularly those adapting to a new culture both on and off the field. The hope is those guilty will learn. They never do.

- Reina urges Liverpool board to spend
- Cissokho pleased with Liverpool link

In fairness, Coutinho is someone to get excited about: The nationality, the name, the curly velvet on his head. There is also the relationship he's already struck with Suarez -- a player who can, unconditionally, be labelled a January transfer success. With each passing game, with each trick or flick that prompts a disbelieving shriek of child-like glee, the 22.7 million pounds paid to Ajax seems another million too short.

Ignoring the renaissance of Stewart Downing -- something many will be keen to do having written him off so strongly in his 18-month Liverpool career -- the front three of Suarez, Coutinho and Daniel Sturridge is a full rebuttal to those who claim January is the footballing equivalent to vultures swooping for scraps on a vast, barren desert.

Liverpool have historically worked the January market well anyway, mind-bending, face-melting panic buy of Andy Carroll aside. Daniel Agger, Martin Skrtel and Alvaro Arbeloa have all performed for the club at the highest level, while Maxi Rodriguez's arrival in 2010 was ultimately as well-timed as his surges to the far post. January 2005 brought Fernando Morientes; a year later, Robbie Fowler brought closure on his Anfield career.

But there was never as much pressure for the club to perform in January as there was this year. For a club that has not performed well under pressure in recent years, and a manager inexperienced in dealing with such burden, that's quite the weight to contend with.

After a summer which prioritised yet more bloodletting of Liverpool's squad, and a concerted effort to rid extortionate wages from the club's payroll, the squad was so stretched it was almost see-through. Slapstick attempts to lowball Fulham over Clint Dempsey saw the American move to Tottenham, making this squad one strapped to a torture rack of administrative ineptitude, each game another agonising turn of the wheel. It barely survived four months; another five would surely see it snap.

The younger members of the squad also had their elasticity tested. With a lack of options from the first team available, Brendan Rodgers called upon Raheem Sterling, Suso and Andre Wisdom. All three impressed to begin with; all three, by November, looked like players who had been used far too much, far too early. They were.

The problems were not just physical, but mental. Once the carrot has been snatched and gnawed at from such a young age, motivation becomes difficult. Sterling not only became weary from playing so much football but from an on-going contract situation; for Suso, overconfidence and motivation after was a far bigger opponent than most Premier League defenders.

How quirky fate can prove; how things can work out for the best. Few at Liverpool would have thought so at the time.

Dempsey has been quiet at White Hart Lane, though the spotlight naturally gravitates towards Gareth Bale regardless. The money saved from that deal helped fund the signing of Sturridge early in January. His arrival relieved the burden upon Suarez; the later addition of Coutinho felt a luxury, an adornment to what has started to look a fearsome front line.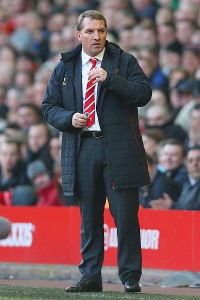 Clive Brunskill/Getty ImagesThe January additions have given Brendan Rodgers a chance to rest key players.
Their arrival has had an effect throughout the squad since January departed. Not only does the pair provide genuine quality, but their presence simply makes the squad bigger and gives Rodgers far more options to choose from.

It also allows him to give those needing a rest ample opportunity to have it. In the club's under-21 fixture against Manchester United on February 26, Wisdom, Suso and Sterling all started; the efforts to dim the dizzying, glaring limelight shone upon them have been necessary and welcome. Earlier in the season, Sterling missed just 30 minutes of league football in 16 games. Since the turn of the year, he's played just 170 minutes in the league. Suso last appeared against Sunderland on January 2, while Wisdom has not been seen since the 2-2 draw with Arsenal in January.

All of this cannot be laid at the feet of Sturridge and Coutinho, of course. The re-emergence of three players written off by many -- including the manager -- has swelled the squad. Downing, Jordan Henderson and Jose Enrique are three players growing increasingly comfortable with what is expected of them, and now appear three players capable of being called upon.

With the squad originally so small at the start of the season, the feeling was that somebody, anybody, in January would have done for Liverpool. That Sturridge is a goal-scorer who possesses pace and strength is a bonus for the squad; so too that Coutinho appears to be a mercurial talent -- no bad thing given the meagreness of excitement in that position over the years.

There is a growing feeling the attacking conundrum has finally been solved with these two signings. That this season would become their best goal-scoring season since 1996-97 after 28 games seemed a prediction worthy of a sectioning after that arid afternoon against Arsenal, a day after the morale-sapping transfer window slammed shut on Liverpool's fingers.

Too often poor seasons are filed under ones of transition. Such judgments should not be cast towards Liverpool and Rodgers until the end of the season, at least. But that three talented young players in Sterling, Suso and Wisdom have been integrated into the squad and now have motivation to stay there is a surprise, welcome titivation to the season.

The next step for Liverpool is to replicate January's business in the summer. This time, it will be the defensive positions that require scrutiny. But for now, while the brute of injury keeps quiet, Liverpool's squad seems in a favourable position for the first time in a long while.

Some will say this has all proven a bit fortuitous for Liverpool, others will say this is a by-product of learning from mistakes. Liverpool have a chance to prove it was judgment, rather than luck, this summer.

That is something they must do properly if they want to continue their goal of Champions League football within the next few seasons.