Little new as Swansea are put to the sword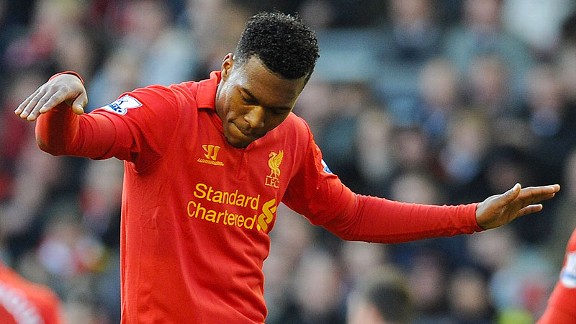 John Powell/Liverpool FC/Getty ImagesIt was smooth sailing for Daniel Sturridge who scored in Liverpool's 5-0 win over Swansea.
As unlikely as it seems, a comprehensive 5-0 victory revealed little for Liverpool on a leisurely winter afternoon at Anfield.

There will be efforts to declare this as a further sign of progress or disregard it as a result expected against an understrength Swansea side. In truth, it deserves neither superlatives nor scorn. It was a routine victory against a team fundamentally low on confidence, their selection essentially confirming non-selection for their Capital One Cup final next weekend. This was a team not playing for places -- nor pride, it seemed -- as heads dropped from the first whistle.

- Match report: Liverpool 5-0 Swansea

But they still had to be beaten. Monday night marked a game in which defeat seemed unthinkable against a West Bromwich Albion side without a win since Boxing Day. Lesson learned, perhaps, though there is still much more education to come.

With Daniel Sturridge returning from injury to support Luis Suarez, Liverpool rattled off 23 shots in the first 45 minutes. That it yielded only one goal -- a Steven Gerrard penalty -- is the perfect tale of the tape for Liverpool's season. Chances aplenty, misses aplenty. That was soon rectified in the second half as the flat-track bullying commenced.

Philippe Coutinho, an ever-growing presence in the game on his first start, notched his first goal with a deft shoulder-drop; Jose Enrique turned into his cartoonish best as he flicked and tricked his way into the box, lashing his right-footed shot high into the net. Five minutes after the restart, the game was over; within 15, it had become embarrassing for Swansea, as Suarez floated, glided and slipped through the defence to make it 4-0.

By the time Sturridge scored from the spot to make it 5-0, everything that was already known became even clearer. Suarez is phenomenal, so too is his telekinetic relationship with the football; Sturridge's pace and touch transforms the front line; Gerrard's renaissance in the midfield continues to excite; the defence, when facing smaller players and protected by the midfield, can keep clean sheets.

Nothing new there, then. No eyes opened further, no minds slammed shut. This season's oft-repeated, trite and untrue statistic of Liverpool not beating a top-10 side -- West Ham were 10th when they triumphed 3-2 in December -- is no more. But a cynic could claim this team was not in the top 10, either, but rather sat on the bench or were wearing suits in the stands.

The only thing that may have changed is the romanticised view of Swansea boss Michael Laudrup which many Liverpool fans seem to possess, irrespective of poor team selection.

When Brendan Rodgers sits in the dugout and scribbles on his notepad, try to cast a glance over his shoulder. He would be forgiven for simply drawing horns on a photograph of Laudrup.

Liverpool have faced a number of issues so far this season, not all self-inflicted. Laudrup may be the biggest one of that kind. Not only did he architect victory over Liverpool in the Capital One Cup in October, but the Dane's chiseled chin casts a shadow over Rodgers with every movement as he peers over his predecessor.

Plainly put, Swansea are enjoying a better season than Liverpool. They're enjoying it full stop. That's without caveating the relative success of the two sides, either. Forget the trophy cabinets and highlight reels of yesteryear. Up until Sunday, Swansea were above Liverpool, and despite the 5-0 hammering, look set to dance around Wembley with trophy in hand. That is something Rodgers' side won't be doing this season.

Every defeat for Liverpool prompts its detractors to glance toward the table, cup final and dugout. In a season in which Liverpool have not climbed higher than seventh, some regard this cellar-dwelling as contemptible. That Rodgers' old side has flourished after his departure and sat above his new one nags and needles even more.

Over the past few seasons, Liverpool has been a club engulfed by disenchantment. Every mistake from a defender is not just debated, but dwelt upon. Every miss from a striker prompts not only heads in hands, but heads driven into heavy objects nearby. Reality, in all its brutishness, is never enough; what if? is always the big, right hook after the deadening jab of what is.

So it has proved for Rodgers. Each defeat is suffixed by some with mutterings of Laudrup, the manager who is usurping Rodgers' efforts in Wales last season. That villainous hindsight strikes once more. Though the 40-year-old would have been on few short lists when the job became available, Laudrup was not a name shouted from the tower, either. He won the double at Brondy in Denmark and took Spanish side Getafe to the UEFA Cup quarterfinals, but did little of note at Spartak Moscow and Mallorca. Much like Rodgers, he is a young manager yet to prove himself at the highest level.

But Rodgers was not a player of supreme majesty. Nobody played football in their gardens to mimic the Northern Irishman, recreating his goals at World Cups gone by. Rodgers never even had his own Panini sticker. He talks about tactics and triangles in great detail, his face forever furrowed. Laudrup breezes through interviews with a suave smile, shrug of the shoulders and flick of his faultless hair. That Laudrup guided Swansea to seventh in the league and a point above Liverpool adds to the mystique.

This is not to get dragged into the murky world of comparisons. Plenty of mud has been slung already with not even a season played. But there can be no denying that the Laudrup presence at Swansea has made things more difficult for Rodgers and easier for those who think he is not of sound disposition to manage the Anfield club.

The rancour toward Rodgers will not change with this 5-0 win, but maybe eyes focusing elsewhere may turn a lighter shade of green.

But if Liverpool have discovered anything this season, it is that a good result can easily be followed by a poor one. They should never get swept up in the waves of euphoria, nor washed up on the rocks by the tide of despair. Success over 90 minutes guarantees little, least of all consistency.

In a game in which a lot happened but little was learned, perhaps that should be the lesson above all -- and the solution can be worked upon over the next few weeks, with no league game until March.