WBA presents Liverpool with a true must-win fixture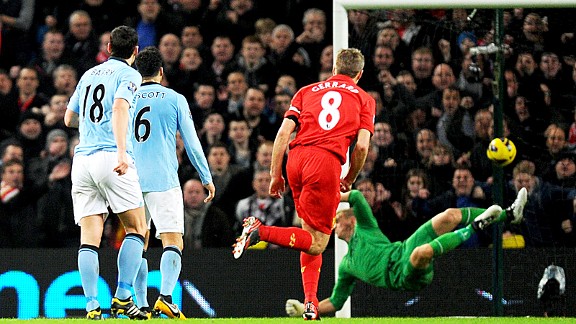 GettyImagesSteven Gerrard is part of a midfield trident that has brought balance to Liverpool
In a sport immersed in preposterous hyperbole, there is little use in saying the next game is important.

Every game is important. Every team in every division of every country faces a season-defining fixture, usually with classical music played in the background and a low, histrionic voiceover to accompany it all. Wigan's trip to West Ham becomes "War of the Worlds"; Leeds versus Leicester is the modern-day "Les Miserables." The battle for 12th has never been so fierce and bloody.

- Rodgers: Gerrard keeps getting better

So forgive this minor indiscretion, particularly after recent trips to the Emirates and the Etihad: Liverpool's game with West Bromwich Albion is the most important of the season so far.

On the surface, it seems little more than a routine home game made minutely more appealing because of the Monday night kick-off. Granted, West Brom are just two points behind Brendan Rodgers' side and could overtake them with victory. True, this game represents Steve Clarke's return to Anfield, nine months after his departure. But for Liverpool, and Rodgers, it is much more important than that.

It is a chance, for the first time this season, to sustain some semblance of momentum. Thirteen league games remain; 13 games Rodgers will feel are wholly winnable. This feeling of momentum is not new for Liverpool this season - but to feel it so unbridled, without fear of the fixture list ahead, certainly is.

Five points from the previous four games might not be a tally to have the Liver Birds flapping their plumage, but context is king. Visiting last season's top three and playing with such assurance is not to be scoffed at, nor is leaving with the nagging feeling it should have been four, six or seven instead. The demolition of Norwich at home also pleased many observers.

For the first time this season, the barricade has been dismantled. For the first time in Rodgers' reign, there appears no insurmountable hurdle. They will face no side currently above 13th in the table away from home, and improved home form gives hope when hosting top-six sides Tottenham, Chelsea and Everton.

On the pitch, there are signs of improvement. After years of woe up front, a shining light: Liverpool have already scored 44 league goals this season - just three short of last season's total with 13 games remaining. They have scored in 17 of the past 18 games and drew their last blank in November away to Swansea. The midfield, too, has found its balance and must be kept, with Steven Gerrard, Lucas Leiva and Jordan Henderson providing the trident of energy, intelligence and, well, Steven Gerrard.

The back five remain a worry both individually and collectively, with only Glen Johnson absolved of any criticism this season. Still, Liverpool possess the league's best home defensive record, keeping six clean sheets from the past seven games. With Rodgers and his staff showing what hard graft at Melwood did for the forwards, that their attention will now turn to defence should offer some comfort.

Yet things are never that simple at Liverpool. This is Anfield; this is contradiction. It has been a season shakier than a teacup at a T-Rex party. The impressive wins away to West Ham and at home to Fulham bookended the rotten 3-1 defeat to Aston Villa. Liverpool's season in a snapshot. Three games unbeaten and just three defeats in 11 could easily be regarded as just one win in four in a season that has yet to yield three consecutive victories.

Now is the time to halt such undulation, and against the side who started it all back in August. What humour Fate has. How apt that summer's afternoon brought weather of all design; the rain that fell as the Hawthorns slowly swelled soon gave way to sunshine. For Liverpool, the opposite: a bright start soon disrupted by thunderstorms as red cards, penalties and goals swept them aside.

Rodgers is not one to believe in revenge. He writes his notes from the dugout in ink, not blood. But it does represent a chance to show the progress made from that day. In the West Midlands, he turned to Joe Cole and Andy Carroll in his hour of need. Now, the bench is youthful but talented, with players such as Raheem Sterling, Joe Allen, Fabio Borini and possibly even Philippe Coutinho available. Now, Gerrard knows his midfield role and Luis Suarez has support up front from Daniel Sturridge.

That progress will mean nothing without a victory, however. Anything less and the doubts of previous months come back. In this strange season, optimism has never been higher than now, after five points from a possible 12. A win Monday would make it eight from 15; following that up with another against Swansea would be 11 from 18. Defeat, however, leaves them looking behind once more - it's harder to accelerate onwards if your eyes are on the side mirror.

The one-game-at-a-time mantra will be repeated all throughout Anfield, and rightfully so. But nobody said dangling carrots wasn't a fun pastime.

Nine victories from the last 13 games would see them equal their best points total since 2008-09. They have a long way to go before that is even a remote possibility, and a lot to prove. They must prove they can sustain momentum properly; they must prove they can build upon good results against good teams with the expected results against the rest.

The proof must start on Monday, and there's nothing hyperbolic about that.