Excellent Liverpool give away lead again -- but all is not lost
No one might want to admit it residing in the world of shoulda coulda woulda over the past few days, but Liverpool will be happy with two points from Arsenal and Manchester City.

Ignore that they should have held the lead against both sides. Disregard the fact both games could have yielded the maximum six points available. Suspend your disbelief during the replays of squandered chances and slapstick mistakes, the eradication of which would have put Liverpool just five points from fourth.

For just one moment, forget the why, what, wherefore and how. Focus on the facts: Liverpool have the fifth-best league record over the past six games, scoring 16 goals, in a period that includes visits to all of last season's top three. Arsenal may no longer have Robin van Persie and Manchester City have misplaced their fear factor, but Liverpool have had issues of their own in this topsy-turvy season.

Whether it is because of transition, transfer woe, or whatever buzzword is being used this week, it is only recently Liverpool appear to be fully operational and playing in the manner manager Brendan Rodgers expects. The same can be said for the supporters and their expectations, too. The past two away performances have played to a backbeat of the happy, harmonious travelling band in the corner; the moaning hum has slowly subsided and replaced by contentment. Sometimes, there are even roars of approval. Sometimes.

Former manager Gerard Houllier loved to talk of turning corners. So many were turned that the Frenchman ended back where he began with right angles in his eyes. There are no corners turned under Rodgers yet, for the road has been bumpy, but straight. To turn a corner indicates the necessity to change direction, to look for change of scenery. No such requirement, so far, for Rodgers.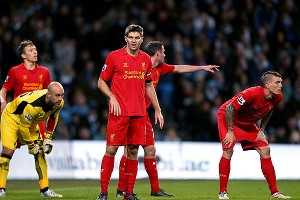 AP Photo/Mike EgertonYes, Liverpool have yet to beat a side above them this season, but they also produced their best football under Brendan Rodgers at Man City.
But something has certainly changed at Liverpool. Perhaps it is the reintroduction of Jamie Carragher at centre back, his eyes and ears being shared across the back four. Perhaps it is the buzzsaw Jordan Henderson, snapping at anyone with the ball and giving second thoughts to those without. Perhaps it is Daniel Sturridge, in all his pacey goalscoring glory - how Liverpool are enjoying a timely reminder of what that can bring to a squad.

Then again, for all the statistics about who and how Rodgers' side have beaten teams this season, trips to those in the top six have been separated by fine margins. Four points does not tell the whole story; it does not even provide a synopsis. A linesman's flag at Goodison Park; a rightful blow of the referee's whistle at White Hart Lane; better accuracy here, stronger defending there. Be it self-inflicted or from external agents, results away to the top six have flown by in the winds of fate.

With the importance of two points from the last two games established, now is the time for the why, what, wherefore and how at the Etihad Stadium.

No form table will placate those who departed Manchester on Sunday afternoon having seen one of the best games this season; no well-meaning statistics or complimentary words will distract from the fact Liverpool should have taken three points from the champions. Sometimes, things are just too obvious to ignore.

For once, let them live in their world of shoulda coulda woulda without reprimand, for it is a deserved haven after an astonishingly controlled performance from start to finish. More than any points won or lost, more than any final score, that Liverpool produced their best football under Rodgers away to Manchester City should be the thing Liverpool hold dearest.

But they won't. That's human nature. There is little solace in the knowledge this was one of the best away performances of the past few years, at a team with such quality.

At no point, even at 1-0 down, did Liverpool resemble a team without a firm grasp of the game. City's opener was against the run of play; they would argue Sturridge's equaliser was against all form of sportsmanship. Alas, they should have played to the whistle, which stayed firmly in the referee's pocket as Edin Dzeko writhed around on the floor as if he had received a piledriver or chokeslam.

The aforementioned trio Carragher, Henderson and Sturridge were magnificent throughout, but this was an afternoon where most shined under the blue moon. Stewart Downing was both industrious and intelligent on and off the ball; Jose Enrique returned from injury and looked better than ever; Luis Suarez was still Luis Suarez, even in one of his more subdued games in recent memory.

Everything just seemed to work for Liverpool in a performance with few chinks in their armour, admittedly an armour which is still constructed of tin foil for now. Suarez and Sturridge consistently elicited surprise from the supporters: Suarez for constantly defying all logic with his touch and movement, Sturridge for constantly defying the critics and showing a side few have seen. Brought in to score goals, it conspires Sturridge is also strong, quick, possesses an incredible first touch and is willing to work hard for the team.

But still Rodgers waits for his defining moment as Liverpool manager. Still Liverpool wait for the defining moment of the season, the line in the sand that heralds their arrival, even if it is only a matter of time before the tide of reality washes it away. It seemed set to be here for so long, especially when Steven Gerrard capped an incredible midfield performance with a goal to defy adjectives. As the ball span towards his right foot, Gerrard donned his red cape; images of previous magic moments flashed before his pupils. It was time to take City to school. He took aim and hammered the ball beyond Joe Hart, his celebration every bit as emphatic.

That was meant to be the three points for Liverpool. Two points closer to whatever target has been set. It shouldn't matter either way. Liverpool were hurting the champions before that goal, they would hurt them after it. But it does matter.

A lot will be written of Pepe Reina and his decision to meet Sergio Aguero in the penalty area like an over-keen teenager on an ice-rink heading towards his adolescent crush. The Spaniard had two choices: keep tight to him or push him halfway to Old Trafford. He chose neither. Fingers will be pointed at Reina and rightfully so - to take such a risk with your side in control within five minutes of taking the lead was the wrong one.

But this is football. Not every game needs a scapegoat to feast upon. Reina has saved many chances with his quick feet and sweeper-keeper style throughout the years for Liverpool, and though Aguero should not have been given the chance at all, he took it with unnerving ability. Most goals can also be attributed to not just one mistake, but two or three. Step forward Martin Skrtel - as he seems so fond of doing on the pitch - by choosing not to. On another day, in another world, Reina sends Aguero into the stands and Liverpool win 2-1.

But they continue to populate that world of ifs and buts, the land of shoulda coulda woulda. After a 2-2 draw away to a very good Manchester City side, the bigger picture should engulf all, for the speck of sunshine on the horizon can be seen from afar. To take two points in the last two away games against teams in the top six should point to progress, as should the form in general; that it should have been six points instead of two should give hope with a kinder fixture list ahead. Sadly for Liverpool, it won't.

Maybe it is time it should.