Liverpool show grit to move back into top four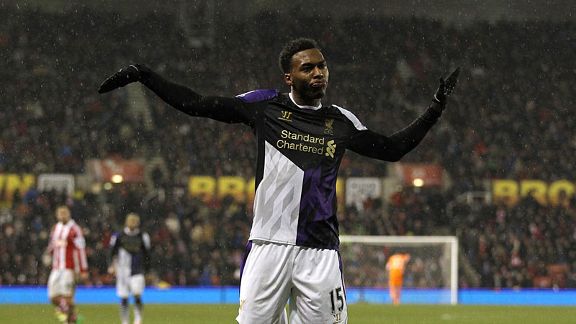 PA PhotosDaniel Sturridge celebrates wrapping up Liverpool's dramatic 5-3 win.
Having slipped to sixth place and seen every other result go against them this weekend, Liverpool showed tremendous character to get a win at one of the more difficult venues in English football as they edged out Stoke 5-3 in a thrilling game in the Potteries. They made hard work of it at times, but the Reds' potent attack came through for them as Brendan Rodgers' side reclaimed its spot in the top four.

The 5-3 scoreline tells its own story; Liverpool were simply irresistible going forward and worryingly vulnerable at the back. It was far from being a perfect performance and there were aspects that may cause Rodgers a sleepless night or two this week, but rather than worry about the negative, I'd prefer to focus on the positives, of which there were plenty.

- Jolly: Three things: Stoke vs. Liverpool
- Hughes fumes at 'soft' penalty

Not least the result itself. Not many sides win at Stoke. Prior to Liverpool's success, only Norwich had emerged from the Britannia Stadium with maximum points this season. Chelsea were beaten, Everton needed a stoppage-time penalty to avoid the same fate, and Manchester City also failed to win against Mark Hughes' men. Combine that with Liverpool's pitiful record in this fixture, and any win would have been a good one. So to score five goals against a side that had previously conceded seven on home soil all season is a fine achievement.

Having Daniel Sturridge back is huge for Liverpool. The striker looked like he had never been away and wasted no time getting back among the assists and goals after coming on as a second-half substitute. If he can stay fit for the remainder of the season, his partnership with Luis Suarez will greatly increase Liverpool's top-four prospects.

Steven Gerrard's performance in a new role as the deepest-lying midfielder was also encouraging. The switch meant Lucas playing further forward than usual, and it may take a game or two for that new setup to jell. The skipper is more than capable of performing that job -- Rodgers apparently sees him performing an Andrea Pirlo-type role -- which may present Lucas with a problem when the dynamic Joe Allen returns to fitness.

Stoke will obviously feel aggrieved at the loss. The third goal in particular will have angered Hughes, and in terms of chances, they perhaps created enough to feel they deserved a draw. It was a crazy game, and there could quite easily have been several more goals scored. In the end, viewers had to settle for just eight. It was a fantastic game for the neutral, but it was stressful in the extreme for the fans of both teams, who were put through the mill as momentum shifted one way and then the other.

Just as they did in this fixture last season, Liverpool got off to the perfect start with a goal inside the first five minutes. Unlike last year, they quickly built on it and added a second.

Stoke had played a huge part in their own downfall, with Ryan Shawcross the chief culprit. He could do little about the first one, as Aly Cissokho's wayward shot struck him and wrong-footed Premier League debutant Jack Butland in the Stoke goal. The second one was poor from the big defender, however, as his indecision allowed Suarez to gleefully claim his 21st goal of the season and celebrate by flexing his muscles in front of the home fans, who had been taunting him seconds earlier.

Liverpool were cruising 2-0, and if Philippe Coutinho could finish, the game would have been over before halftime. The little Brazilian's woes in front of goal have been apparent all season. It's an area that he seriously needs to work on if he's to make the step up to the genuine world-class player most feel he can become.

It was perhaps too easy for the Merseysiders in the first half, and they allowed their intensity to drop as halftime approached. Out of nothing, Peter Crouch headed Stoke back into the game, and within minutes, the lively Charlie Adam had rifled them level. A complacency and sloppiness had crept into Liverpool's play, and both goals were avoidable.

The home side had the edge going into the second half. Their tails were up after drawing level, and it was important that Liverpool weathered the early storm. Stoke began the half on the front foot, but the game turned on a contentious penalty decision. Stoke were doubly aggrieved by it, as not only did they dispute the award of the penalty kick but they were also convinced that Raheem Sterling had handled the ball on his way through.

The ball did strike the young winger's arm, but it came off his chest first and it's asking an awful lot of the officials to expect them to have seen that at normal speed.

As for the penalty incident that followed, Rodgers admitted it was "soft," but technically it was a foul. You don't necessarily expect to get that decision, especially away from home, but the defender didn't get the ball and his knee caught the hip of Sterling as he ran by him. Outside the penalty area, there would have been no debate whatsoever about whether it was a foul.

Liverpool were denied two more clear-cut penalties than this one at Stamford Bridge recently, so they'll have felt there was some justice about getting this one.

With a 3-2 lead, Rodgers tried to kill off Stoke by introducing the fit-again Sturridge for the fading Coutinho. It paid immediate dividends, as the front man brilliantly committed the home defence before teeing up Suarez, who found the net with customary aplomb. Goal No. 22 of the season and that should have been game over.

Yet again, though, Liverpool's vulnerability came to the fore as they conceded another terrible goal to let Stoke back into it. Simon Mignolet won't want to see this one again; it's the third away game in succession in which the goalkeeper has been culpable for a goal.

Which way would this topsy-turvy game go now? Stoke had already come from two goals down once and were threatening to do so again as Liverpool got jittery. In times of crisis, however, keep calm and give it to Suarez. Sterling did just that, and the Uruguayan produced a sumptuous ball to the back post, where Sturridge arrived to meet it. Butland made an incredible save to keep out the striker's first effort, but Sturridge showed great skill and composure to juggle the ball on his chest and head before lashing in the rebound to make the game safe.

The final whistle was greeted with a massive sigh of relief by Liverpool's players and supporters. It had been as stressful a 90 minutes as they've had all season, but the team came through it and recorded what could be a huge win when the points are tallied up in May.

Having topped the table just a few weeks ago, to find themselves in sixth place could have been psychologically damaging to the Reds, but the win at Stoke keeps them in the top four and well in the hunt.